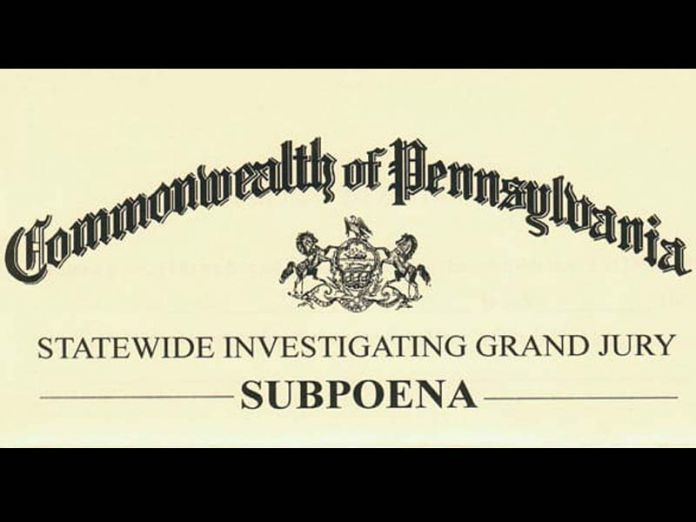 Multiple individuals have been served with subpoenas in recent days to appear before the Pennsylvania Statewide Investigating Grand Jury, the Beaver Countian has confirmed.
According to two individuals who have been interviewed by state police, the Grand Jury will be convening again in June to hear testimony about alleged public corruption in Beaver County. Next month's testimony will focus specifically on the City of Aliquippa.
The Beaver Countian is not identifying subpoenaed witnesses it learns of by name.
Aliquippa City Councilman Matthew Mottes has been one of the individuals quietly assisting the Pennsylvania State Police for months as part of ongoing investigations into city government. With the Grand Jury back in action, and Aliquippa in a state of disarray, Mottes has decided to come forward publicly.
"I ran for Council because I wanted to make Aliquippa a better place," said Mottes, who took office in January. "I want to see people move into Aliquippa instead of move out (…) The things I was seeing in government when I took office were not believable."
Councilman Mottes said he began assisting the Pennsylvania State Police soon after he started familiarizing himself with city government.
"The Pennsylvania State Police are definitely trying to make the county a better place," said Mottes. "They seem committed to getting rid of the problems of corruption that have created a bad stigma for Beaver County."
Mottes acknowledges that coming out publicly will send shock waves through Aliquippa city government that will likely rattle other local officials.
"I really don't care what they all think," said Mottes. "If they have done nothing wrong then they have nothing to worry about. If they have done something wrong then maybe they have something to worry about now, huh?"
Although Matt Mottes has not been subpoenaed to testify before the Grand Jury next month, he said he is personally aware of other individuals who have been. He declined to speak in detail for this article about what the Grand Jury is looking into, saying he did not want to disclose anything that could hinder ongoing criminal investigations.
Along with the public corruption probes into Aliquippa city government, State Police Station Commander Sgt. Amanda C. Selden indirectly confirmed to the Beaver Countian last week the existence of active, ongoing, investigations into Aliquippa police as well.
The last time the Beaver Countian was able to confirm testimony before the secretive Statewide Investigating Grand Jury about public corruption in Beaver County was back in February.
See Also:
– Pennsylvania State Police Execute Search Warrant At Aliquippa City Building
– Aliquippa Water Authority Chairman Submits Resignation Amid College Tuition Controversy
– Aliquippa Mayor Refused To Talk With State Police About Deltondo Leak But Now Asks Community To Speak Up
– Aliquippa Water Authority Threatened To Fire Employees If They Spoke To The Media
– Source: Aliquippa Mayor Dwan Walker Called At Midnight And Threatened Me
– Aliquippa Cited After Lying To The Department of Environmental Protection
– Former Candidate For Aliquippa City Council Convicted Of Perjury
– District Attorney Files Lawsuit To Have Aliquippa Councilman Removed From Office
– Aliquippa Mayor Contacted Feds About Guns Allegedly Missing From City's Police Department
– Facebook Posts Attributed To Aliquippa's Assistant Chief About Fallen Officer James Naim Going Viral