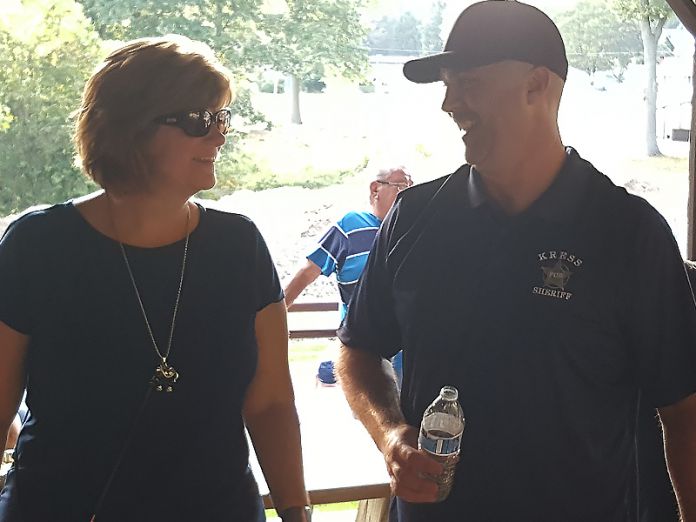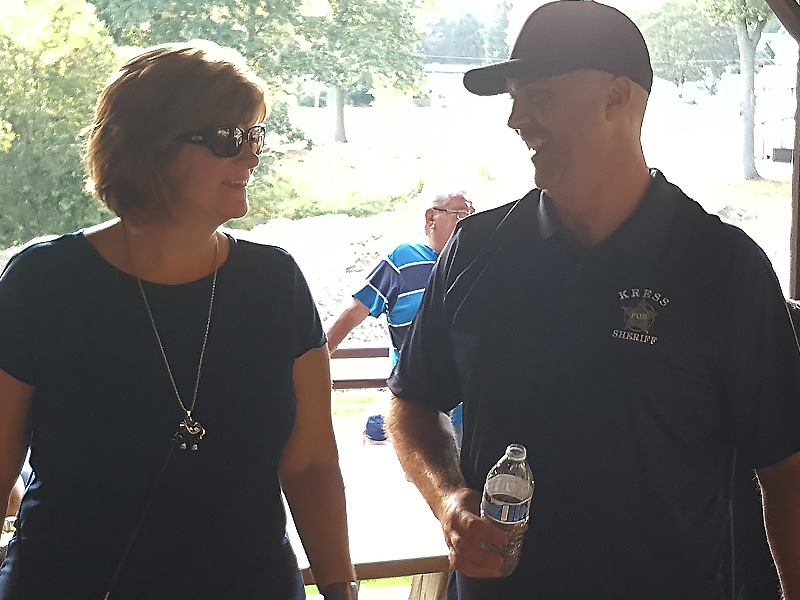 Although the next county elections are not until 2019, Democrat Wayne Kress is already ramping up his campaign for Sheriff. Kress hosted a fundraising event in Monaca yesterday evening that was attended by an estimated 250 of his supporters.
Among those in the crowd to back Kress was Republican Commissioner Sandie Egley.
Wayne Kress told the Beaver Countian that he believes the public is already suffering from a bad case of buyer's remorse with the Sheriff's Office — Guy had bested Kress in the general election for sheriff at the end of 2015. Kress said he is looking forward to taking on Guy again, with the goal of earning an opportunity to bring meaningful change to the department — something he said Sheriff Tony Guy has failed to do.
"He told us he was going to downsize the Sheriff's Office and shrink its budget, he told us he was going to cut the duties being performed by Deputies, he told us he was going to get rid of the problem children down there," said Kress. "Instead he keeps asking for more and more money, is trying to get his Deputies full police powers, and fired one of the only guys down there who was man enough to stand up for what was right […] Tony Guy is a liar and people are going to see I am a man of my word."
Manning the grills to cook the hundreds of hamburgers and hotdogs that were served along with roasted pigs were former sheriff's deputy Curt Larrick and his son. Larrick had been instrumental in the Pennsylvania State Police's investigation into corruption in the Sheriff's Office; he currently has a federal lawsuit pending against Sheriff Tony Guy alleging he was fired by Guy for political reasons when he took office — an accusation Guy denies.
Perhaps most notably in attendance was Republican Commissioner Sandie Egley, who brought her husband and children along with her to enjoy the picnic dinner. In a subtle wink to her political affiliation, Egley appeared at the Democratic function wearing a necklace with an elephant pendant symbolizing the Republican party.
Kress told the Beaver Countian he had first gotten to know Egley during the last county election.
"I'm a Democrat and she's a Republican so we have some different views on national politics," said Kress. "But locally those differences don't matter, we both see local government the same way. I've gotten to know her well over the past couple of years and we've been talking a lot more over the past year […] I have a lot of respect for her, I think she's trying to do the right things."
Kress said that he and Egley both share the same "habit of telling it like it is."
Commissioner Sandie Egley told the Beaver Countian she was happy to show her support for Kress at his fundraiser. After meeting with Kress at his event, Egley issued a formal press statement in support of his campaign for sheriff.
"Doing the right thing isn't a Democrat, Republican, or Independent thing, it's a personal choice," said Egley. "I have talked with Wayne about a smaller government, decreasing out of control budgets and straight talk. The time to move forward is now and I will do my best to promote positive change. If that positive change happens to be a Democrat, so be it."
Democratic Commissioner Tony Amadio also spent time at the event, likely making Wayne Kress one of the few things he and Commissioner Egley currently agree on.