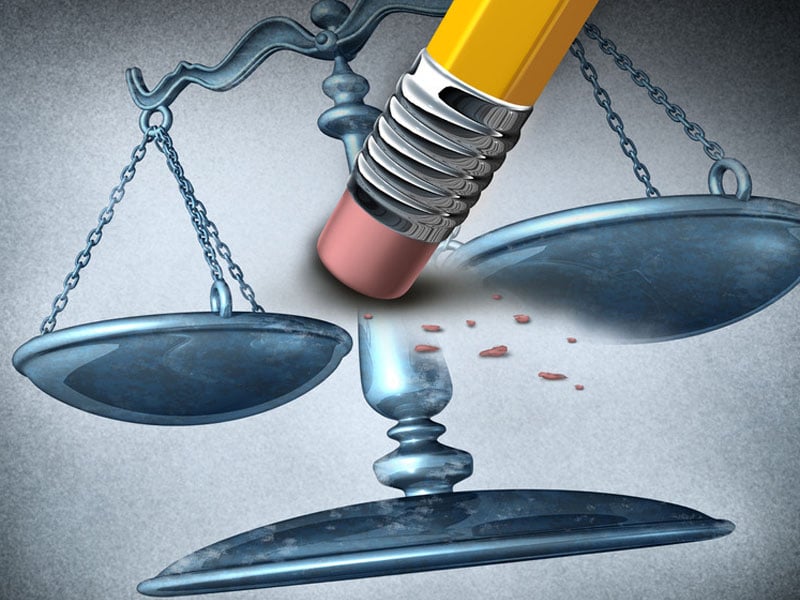 A legal analysis conducted by the Beaver County Clerk of Courts has concluded that District Attorney David Lozier was wrong in his assertions that a Beaver Police dash cam video depicting Officer Jeff Wijnen-Riems' arrest of James Edward Cicco was improperly filed in her office.
District Attorney Lozier sent a letter to Common Pleas Judge Dale Fouse and Clerk of Courts Judy Enslen on March 29th, accusing defense attorney Gerald Benyo of misconduct for filing a copy of a dash cam video that captured the August 2016 arrest of James Cicco. Lozier alleged that Benyo had improperly filed the video with the Clerk of Courts in violation of rules of procedure for the purpose of creating a record that could be obtained by the public. Attorney Benyo insisted he filed the video as an exhibit because he referenced it extensively in motions before the court and wanted to properly maintain the record in the event he had to seek appeals on behalf of his client. Benyo said his filing was routine and in no way violated rules of court.
"My office is in charge of maintaining exhibits for the court, with just a few exceptions such as narcotics, firearms, and biological hazards," Clerk of Courts Judy Enslen told the Beaver Countian. "This video is an exhibit of court that was properly filed with my office […] A legal analysis concluded the video is a judicial record."
Enslen said her office stores exhibits in various locations based on different factors, including the size of the item, and that the Beaver Police dash cam video has been kept in a safe because it is contained on a small flash drive. She told the Beaver Countian that as the video was correctly filed with her office, she will be maintaining proper custody of the exhibit.
The Pennsylvania State Supreme Court has held that the public has a presumptive right of access to judicial records, including court exhibits (See: Commonwealth v. Upshur; Appeal of: WPXI, Inc.). Enslen told the Beaver Countian that because District Attorney Lozier has raised objection to the video's release in his letter, as informal as that objection may have been, the court would likely use its discretion to allow him an opportunity to argue the matter before it would provide a copy of the exhibit to the public.
The State Supreme Court has determined that a judge can withhold release of a court exhibit to the public if one of the parties to the case files a motion to seal and can show an overriding interest that outweighs the public's presumptive right of access. District Attorney Lozier insists the court should not release the video solely by asserting that it could taint a potential jury pool in the case, an argument that has been explicitly rejected in other cases that have appeared before the Supreme Court. Examples of exhibits where courts have determined overriding interests outweighed public disclosures include exhibits consisting of autopsy photographs or personal information of victims such as social security numbers.
The Beaver Countian has been consulting with attorneys on how best to proceed on behalf of the public, which could include seeking the video through a "motion to intervene" in District Attorney Lozier's case against James Cicco, or separately seeking the video and potential financial civil penalties against the District Attorney under Pennsylvania's Right-to-Know Law. The Beaver Countian has also been exploring possible legal options available in the federal court system that could see issues of access addressed in more systemic ways.
District Attorney Lozier has been resisting the public release of the dash cam video for months as two separate judges in Beaver County have together responded to pretrial hearings in the case by dismissing the dozens of felony charges filed against James Cicco.
Beaver Patrolman Jeffery Wijnen-riems had alleged that Cicco resisted arrest, assaulted him, grabbed a hand drill, and taunted his K-9 partner during an encounter on August 19th. Eyewitnesses alleged the officer was aggressive and used unnecessary force against a man who they say was clearly trying to surrender. Cicco suffered gruesome injuries during the arrest as a result of Wijnen-riems deploying his police K-9 on the man — police dash cam video of the incident played in court appears to show the dog mauling Cicco while he is handcuffed. An investigation into the incident by the Pennsylvania State Police found no criminal wrongdoing on the part of the officer. Beaver County Judge Dale Fouse subsequently ruled there was no evidence to sustain charges that Cicco had resisted arrest or taunted a police dog.