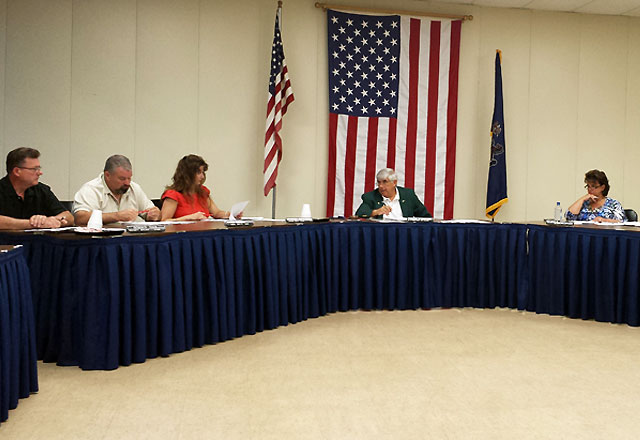 It was standing room only at the public meeting of Economy Borough Council last night. The nearly four dozen citizens in attendance had largely gathered to learn if Councilman Gregory Trecha's resignation would be made official.
Council President Larry Googins presented Trecha's resignation letter shortly after the meeting was called to order, and council voted unanimously to accept it. Googins then asked his fellow council members to begin compiling lists of names to be considered for Trecha's temporary replacement. Council will appoint a member to fill that vacancy within the next thirty days. The appointed member will serve through the end of this year.
Economy Borough Resident Paul "Butch" Thompson, who is running as a Democrat for a seat on Council, was the only member of the public to directly address recent controversies. Thompson noted that Council President Larry Googins appeared in the same video that helped to spark a public debate about Councilman Trecha.
"Tonight I would ask you for the good of the community, to give this community a chance to start healing," Thompson told Councilman Googins. "This community is being divided under your leadership … and I think the only way it's going to start [healing] is if you resign."
"That's an issue that is two years old, and has been resolved," Googins replied, insisting there was nothing racist about the video. "I was the victim of that prank."
Thompson then turned his attention to Councilwoman Courtney Barthelemy, who recently came under scrutiny after a man filed a police report against her alleging an incident of road rage. "Let's face it, you're held to a higher standard," said Thompson. "That police report, did you say those things or did that gentleman make those things up?"
Barthelemy refused to answer his question. "Sir, I have no comment on that," she replied before referring the man to the last public council meeting's official minutes. "That is my answer sir, I'm sorry if it's not to your liking."
An examination of minutes from the Borough's previous council meeting showed nothing related to the alleged incident involving Councilwoman Courtney Barthelemy.