Folks who know Frank Papa's name probably link him to the iconic Brighton Hot Dog Shoppes and their equally iconic plastic cups. Soon, folks will come to know him as a purveyor of upscale dining and fine wine.
But the first thing that's apparent when meeting Papa is that he's a Beaver Countian.
Beaver Countians will recognize it in part by his common use of calling things by what they used to be long ago. If you're one, you know that Walmart Plaza in Center Township is the old Gee Bee Plaza, the East Rochester-Monaca Bridge is the old Toll Bridge, etc. The examples seem endless.
Papa still calls the intersection at the end of the Rochester-Bridgewater Bridge in Rochester "Conway's Corners," and he tells the story of how he and his sister would walk from their home near the old Rochester Hospital to the old bus stop near the old Didio's every day to meet their father coming home from the steel mill.
It's a not a short walk but that's what you did in those days, said Papa, 75, of Patterson Township. The family didn't own a vehicle until he was about 10, and his dad caught the bus at Conway's Corners, which used to be the only route between Pittsburgh and New Castle, he said.
It's a very sentimental spot for him. It's apparent he thought the world of his dad.
So when the old Didio's came onto the market six or seven years ago, Papa bought it. And when the old gas station next door came up, Papa made sure the former owner removed the tanks, and he bought it.
Beaver Countians, ever nebby, wondered what the long-time owner of the Brighton Hot Dog Shoppes was up to. And wondered. And wondered.
All of this backstory is leading into how Papa also came to own the majority share of the old Keystone Bakery location at Stone Point Landing right across the Beaver River in Bridgewater – and how he's about to open a beautiful modern restaurant there.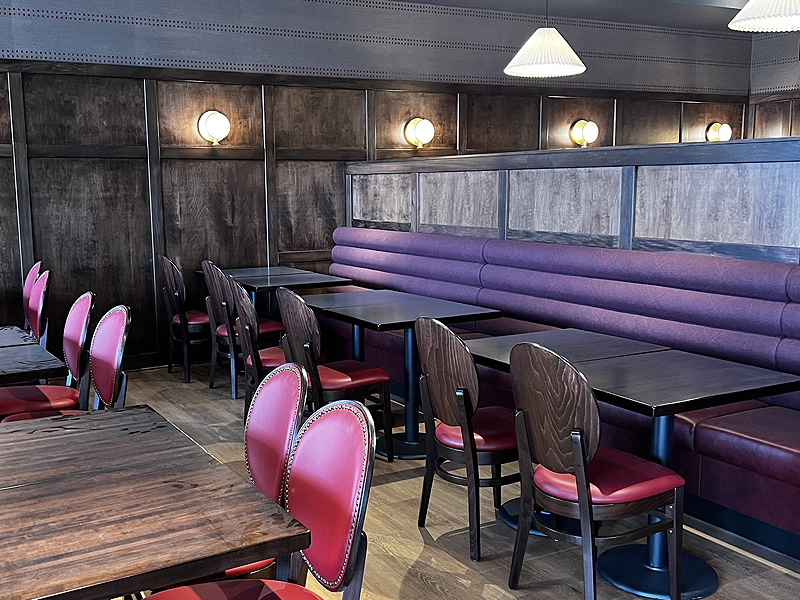 It seems Papa, who built the Brighton Hot Dog Shoppes from two in the '70s to nine company-owned and three licensed locations in Beaver, Lawrence, Butler and Allegheny counties and eastern Ohio, had always had an itch in the back of his mind to create an upscale spot.
(And, let's pause to note that Papa's not an idle guy. It's not like he needed something to do. He collaborated with Regis Luger in 1992 to open a commissary in Bridgewater where the Hot Dog Shoppe's hot dogs and other menu items are made fresh daily. He developed the Elysium On The Park condos near the courthouse in Beaver, a professional building in Chippewa Township, and converted a former housing project into the Mayfield Village Apartments in West Mayfield.)
He's in no way disparaging to other upscale local eateries such as the nearby Wooden Angel or Jackson's near the Beaver Valley Mall in Center Township, but there just aren't enough locally, he said. He and his better half often found themselves driving out of the county to Cranberry Township or Boardman, Ohio, for more variety.
Being a true Beaver Countian – he'll note he was only not in Beaver County for the two years he was in the Army – he wanted to stay local.
So how did the old Didio's project stall and the new Frank G.'s Place take off?
You see, the Didio's building turned out to be "built like a fort," Papa said, with absolutely nothing up to code. The executive chef he planned to work with on it unexpectedly died, and Papa found himself at loose ends.
As chance would have it, just across the river, another opportunity arose.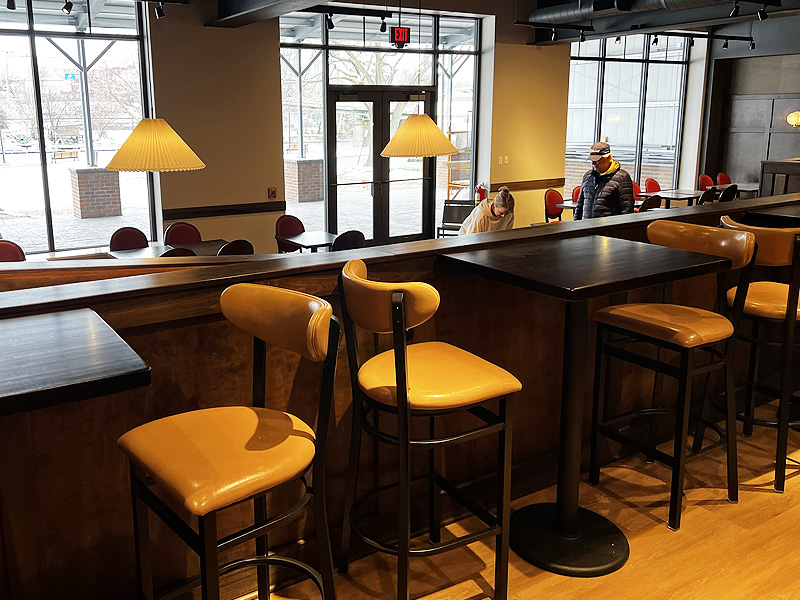 Papa closed on the Stone Point Landing property, most recently the former Oak Arbor Grill, just days before the COVID shutdown. In hindsight, that turned out to be a blessing, he said, and allowed him the time to do the entire renovation he wanted.
Over the next two and a half years, he completely gutted its two levels. Completely. If you've been in the space under former names, you are in for a surprise. Almost nothing is where it used to be.
Papa partially blamed the layout of the former restaurant space for its serial turnover. "It was all cattywampus," he said. The bar was in the wrong place, forcing customers to walk through diners and sit in a corner, he said. The seating was all grouped into two areas and offered little intimacy or atmosphere.
Now, the bar is on the second level and includes high-top tables. You can walk from the entrance directly to the bar area and have a nice view of the river. Seating for about 80 is now broken up into three more intimate areas and includes horseshoe booths, banquette seating, and typical tables and booths.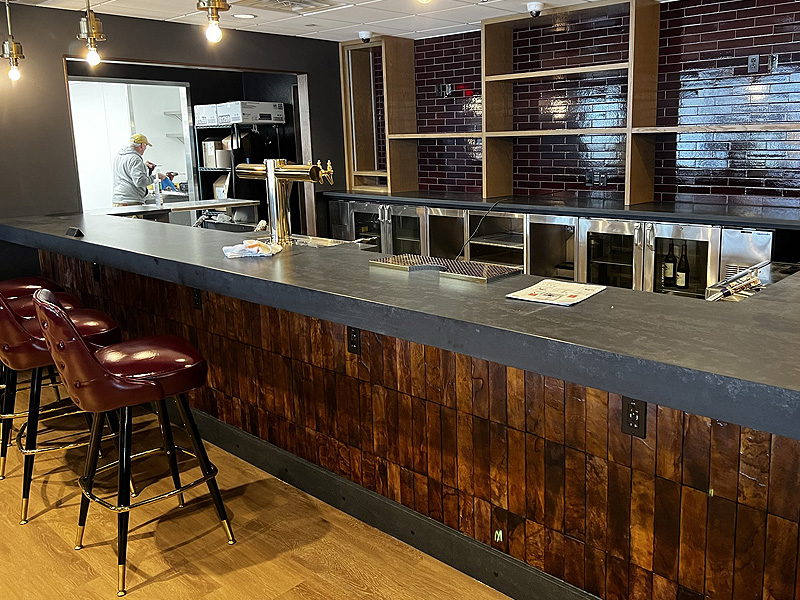 The patio is at least double its former size with seating for about 60, is all under roof, and includes its own bar. Another uncovered patio is planned for just beyond it. The entrance walk is also now under roof, and the entry will feature a wine case. The venue also includes an event room that holds 96 and will be served by the restaurant's kitchen. It is glass encased on the restaurant side and also has a river view.
Executive Chef Nick Bell was allowed to design and create an entirely new kitchen with all new appliances and new, well, everything. Bell, who was most recently the executive chef and general manager at Mitchell's Fish Market Seafood Restaurant and Bar at the Galleria of Mount Lebanon, said the opportunity was exciting for a chef to totally create his kitchen from scratch. There is even a new loading dock.
Bell said the menu will be "upscale casual … nice but available to everyone." He's curating a core menu that includes sandwiches and salads for lunch, and items such as short rib pappardelle, seared salmon and center cut filet for dinner. He also plans "fairly extensive" daily features and will include local produce and products as much as possible.
Bar Manager and Lead Bartender Reed Rowse was allowed the same design input with the new bar area. A well-known local mixologist, Rowse is planning to create infused liquors such as cucumber tequila and watermelon vodka to add to a list of creative cocktails.
"Our goal is to exceed people's expectations with a provocative and sophisticated atmosphere, and to have fun," said Papa, who also hired Christina Law as general manager. "I hired the best people and let them run with the ball," Papa added.
Asked if he'll continue with the old Didio's project, Papa was hesitant. "I keep trying to wind down a little," he said with a chuckle. "But people keep saying I won't."
Frank G.'s Place is expected to open within the next few weeks.
See Also: "Restaurant War" Pits Jerry's Curb Service vs Brighton Hot Dog Shoppe vs Hank's Frozen Custard