Aliquippa Police Chief Donald Couch was placed on paid administrative leave tonight by a vote of City Council.
Couch's leave coincides with the Pennsylvania Statewide Investigating Grand Jury's renewed activity in their investigations into allegations of public corruption in Beaver County.
The move to place Chief Couch on leave was spearheaded by Aliquippa Councilman Matthew Mottes, who for the past several months has been quietly aiding the Pennsylvania State Police with their investigations into Aliquippa. Mottes first revealed his role as an asset for State Police in an exclusive interview with the Beaver Countian on May 29th.
"This was the right thing to do, it was absolutely the right thing to do," Mottes told the Beaver Countian after tonight's vote. "This will be the first step of making the City right."
Councilman Mottes contacted Councilman Arthur Piroli and Councilwoman Vickie Fratangeli individually yesterday, notifying them of his desire to place Chief Couch on leave, saying he had firsthand knowledge that Couch was the subject of investigation by State Police.
Several confidential sources have independently confirmed to the Beaver Countian that they have been interviewed by State Police about issues centering around Aliquippa's Police Chief.
Councilman Mottes said he hopes the action taken tonight helps prove to the public that change in Aliquippa is possible. He said he believes the Pennsylvania State Police need to be a key partner in making that change happen.
"We want a renewed partnership with the State Police," said Mottes. "We need them to help our department."
Mottes said he believes distrust has been eroding the relationship between the Aliquippa Police Department and other agencies for far too long.
"We are working to change that," said Mottes. "With the help of State Police and other agencies I want every unsolved murder to be solved in Aliquippa, from Will Motton to Sjavante Gilliam to Rachael DelTondo. Everybody deserves justice."
Councilman Mottes said reforming the Aliquippa Police Department is a very personal mission for him.
"There are over 10 people who I grew up with that have been murdered," said Mottes. "About half of those murders remain unsolved."
Councilman Mottes informed Councilman Donald Walker and his brother Mayor Dwan Walker minutes before tonight's meeting began that he would be making a motion for Chief Couch to be placed on leave.
The final vote to suspend Couch with pay was unanimous. City officials told the Beaver Countian that Chief Couch is part of his department's police union, and any actions they take must be in accordance with binding bargaining agreements.
Chief Couch was escorted out of the municipal building immediately following the vote; he met officers at the Aliquippa Police Station where he surrendered his badge, gun, and other gear. He also turned over the car keys to his departmental vehicle.
The Beaver Countian was present at the meeting with its camera crew to capture the events on video as they unfolded.
Chief Couch's administrative leave comes as the Pennsylvania State Police have conducted dozens of interviews focusing on the City of Aliquippa and its police department. The news stands in direct contrast to public assertions made by District Attorney David Lozier last month that no such investigations into the police department were ongoing. Lozier has faced harsh criticisms for the involvement of the Aliquippa Police Department in an investigation into the Mother's Day murder of Rachael DelTondo.
"They would not be part of this team if there were any question as to their capacity or their integrity," Lozier had insisted.
Aliquippa City Council will be appointing Assistant Chief Joseph Perciavalle to the position of acting Police Chief. Perciavalle has told City Officials he intends to contact the Pennsylvania State Police as his first official action, asking them to take over the investigation into the murder of Rachael DelTondo.
"I don't feel Aliquippa Police should ever have been investigating the murder of Rachael DelTondo," said Mottes. "Perciavalle and I are on the same page."
It is unclear if the Pennsylvania State Police will agree to become involved in an investigation that up until now has been conducted by a team consisting of only Aliquippa Police and the Beaver County Detectives Bureau.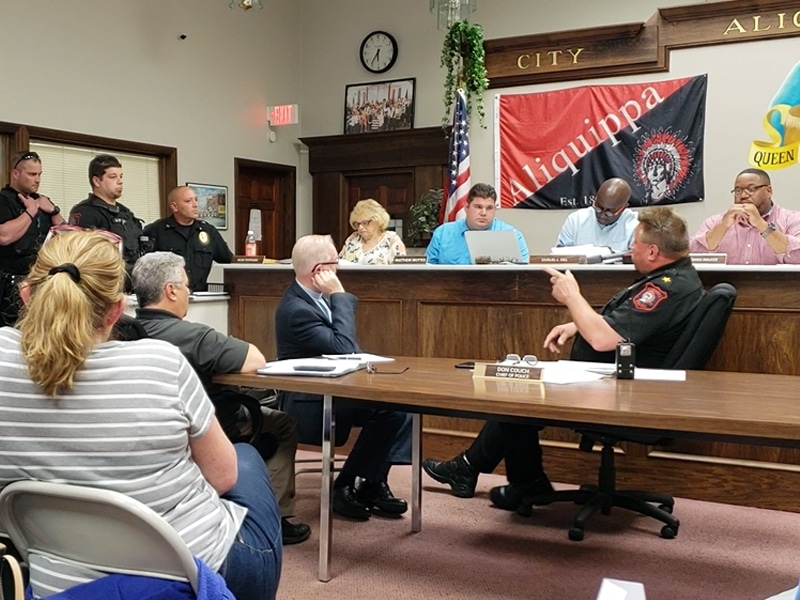 Vote to suspend Chief Couch:
Video by Bill Waddell for the Beaver Countian.
Chief Couch walking outside:
Video by John Paul
See Also:
– FBI Among Agencies Conducting Years-long Investigations Into County Corruption
– EXCLUSIVE: State Police And Witnesses Contradict Statements By District Attorney About Ongoing Investigations
– GRAND JURY ACTION! Subpoenas Served In County Corruption Probes – Aliquippa On The Hot Seat!
– Pennsylvania State Police Execute Search Warrant At Aliquippa City Building
– Ambridge Council Places Chief Mann On Paid Leave – Hires Private Security Firm To Investigate Police Department
– Investigation Of Ambridge Chief Includes Inquiries Into Time Sheets
– State Grand Jury Convening Next Week On Alleged Corruption In Beaver County