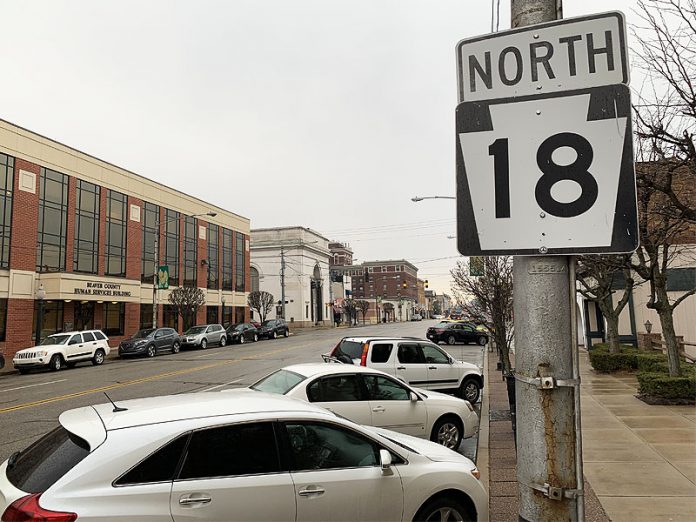 PennDOT's orange cones already dot the county's roadways and they will multiply starting this month, with no town ultimately more transformed than Beaver Falls.
The $6.05 million project to overhaul Seventh Avenue, its main thoroughfare, starts next month. With it, 3.24 miles of roadway from the end of Route 65 in New Brighton to 20th Street in the city will become an entirely new experience.
Its four lanes will become three newly paved lanes, one in each direction and a turning lane between them. Bicycle lanes will be added in each direction, as well as a new parking configuration.
Northbound parking from Eighth to 20th streets will become back-in reverse angle parking. PennDOT District 11 Executive Cheryl Moon-Sirianni said the reconfigured parking is being used in the Erie area and allows drivers to more easily pull back out into traffic.
Work will also include curb ramp installation, and guide rail, drainage, and signal updates. Long-term single-lane restrictions will occur between Route 65 and Eighth Street during the work, along with additional off-peak restrictions through the anticipated spring 2020 completion.
The rest of PennDOT's work this year is a nearly equal combination of bridge replacement and repair, repaving and landslide remediation.
"There are 85 to 90 active landslides across the district (which includes Beaver, Allegheny and Lawrence counties)," Moon-Sirianni said. PennDOT prioritizes them according to traffic and school bus routes, she added.
Moon-Sirianni lives in Economy Borough, where her home nearly overlooks the Freedom Road project, the new stretch between Route 65 in Conway and Park Quarry Road in New Sewickley Township also known as the Crow's Run corridor.
She said work is continuing on Route 65 at the intersection with the $19.43 million upgrade project. Workers are modifying the turning radius to allow northbound trucks to turn right onto the new roadway and single-lane restrictions are expected through June.
The second phase of the Freedom-Crider Road upgrade will begin next year. Moon-Sirianni said it will follow its current route, but PennDOT will realign its current tight curves.
Other work occurring this year includes: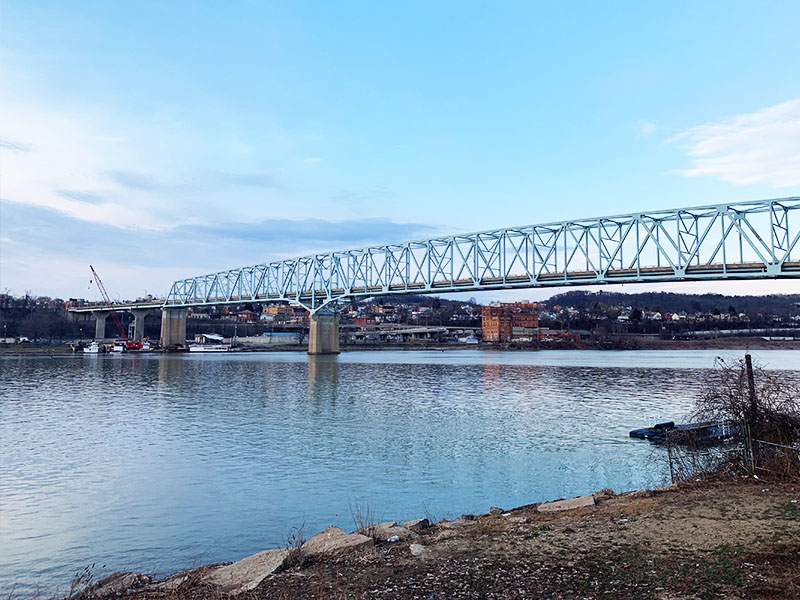 MONACA / CENTER TOWNSHIP
– Work will continue this month on Route 18/Brodhead Road from the Rochester-Monaca Bridge in Monaca to Frankfort Road/Old Brodhead Road in Center Township, and on Old Brodhead Road from Frankfort Road to Brodhead Road in Center Township. Additionally, milling and paving will occur on a section of Pennsylvania Avenue in Monaca.
Started last year, this $11.86 million project involves milling and resurfacing, concrete patching and bridge preservation along a total of 5.47 miles.
Work could begin as early as June and end in November. There will be off-peak single-lane restrictions in the four-lane section of Old Brodhead Road and single-lane alternating traffic in the two-lane areas.
– Minor work is left on Route 18 near the Rochester-Monaca Bridge and the new I-376 Monaca/Shippingport interchange. Additional improvements include guide rail upgrades, signal improvements, drainage work, shoulder repairs and signal updates.
– Chapel Road landslide remediation project is part of a three-slide group project estimated at approximately $1.5-2.5 million. Minor work may begin late this year on Chapel Road between Pleasantview Drive and Center Grange Road in Center Township, but the project is not expected to be detoured until 2020. The overall project is anticipated to conclude in the fall of 2020.
NEW BRIGHTON / ROCHESTER TOWNSHIP / ROCHESTER
– Route 18/Third Avenue from YMCA Drive/Veterans Memorial Bridge in Rochester Township to Fifth Avenue in New Brighton is being resurfaced.
Additionally, work will occur on Route 6018 in Rochester, which includes portions of Rhode Island Avenue, the Rochester roundabout, Brighton Avenue and Delaware Avenue. Improvements include milling and resurfacing, curb ramp installation, signal upgrades, concrete patching and overlay and ramp work. It will require closures and detours.
Started last year, the $10.07 million project includes 5.47 total miles of road. Work could begin as early as June end in November.
– Reno Street landslide remediation in Rochester Township is a $1.12 million project and part of the three-slide group project.
Work is expected to begin in mid-summer and a closure and detour for several months will be required to complete the repair located between Porter Lane and Highland Road in Rochester Township. The overall project is anticipated to conclude in the fall of 2020.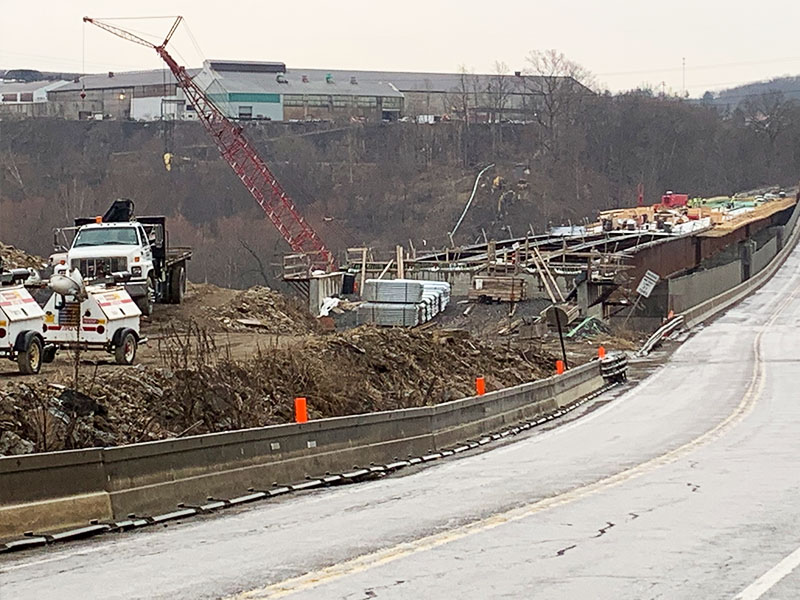 KOPPEL / NORTH SEWICKLEY TOWNSHIP
– The Koppel Bridge $27.58 million replacement project continues into its third year with an estimated completion date in May 2020. Work on the new span began in January 2017.
Work includes concrete deck placement operations, retaining wall construction, signage, pavement markings, drainage and guide rail installation. Traffic will be maintained on the existing bridge during the construction of the new bridge.
An approximate three-month closure of both bridges and a detour will occur from late summer through the fall when the new bridge and roadway will reopen. The old bridge will be demolished through the spring of 2020.
FRANKLIN TOWNSHIP
– The Fombell Road bridge over Camp Run in Franklin Township will be replaced at a cost of $537,372. Work is expected to be completed in September. In addition to the replacement, which will require a detour, substructure repairs and approach roadway work will occur. The bridge is anticipated to reopen in late summer, with the overall project completion in the fall.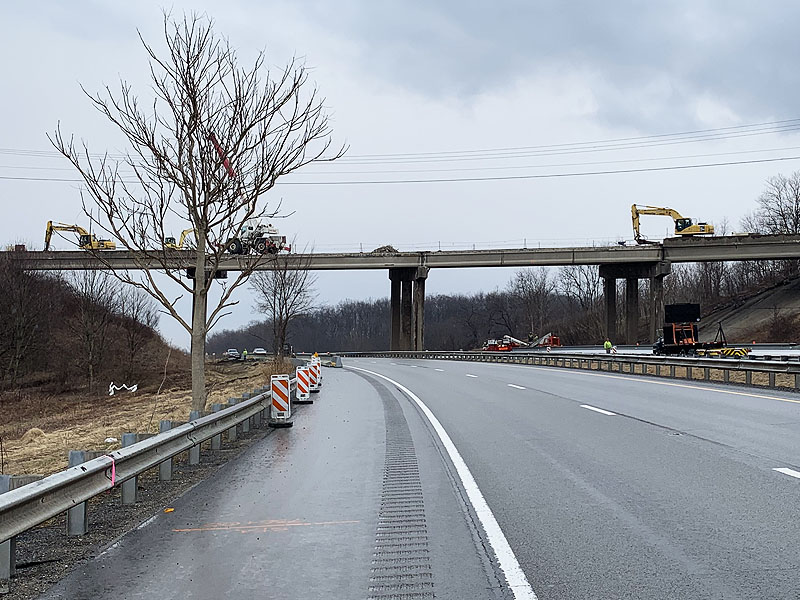 BRIGHTON TOWNSHIP / VANPORT TOWNSHIP / PATTERSON TOWNSHIP / CHIPPEWA TOWNSHIP
– Two separate Bradys Run Road landslide remediations in Brighton Township are also part of the three-slide group project estimated at approximately $1.5-2.5 million. Both are projected to start late this year, with one possibly ending in September 2020 and the other in April 2021.
One slide is located between Grange Road and Morrow Road and repairs will also include drainage improvements and pavement reconstruction. Traffic will be detoured.
Traffic also will be detoured during the work on Bradys Run Road in Bradys Run Park. Traffic also will be detoured during construction.
– The Dutch Ridge Road bridge over I-376 in Brighton Township is being replaced at a cost of $5.88 million. Work is expected to continue into November and includes a structure replacement and minor approach roadway construction. Traffic will be detoured on the bridge and traffic stoppages will occur on I-376 for beam removal and erection.
*Bradys Run Road bridge over the west branch of Bradys Run in Chippewa Township is a $1.43 million project started last August and projected to end in September. The bridge, between Marrow Road and Darlington Road, will require a full closure and detour from mid-March through July.
The following three projects will cost a total of $2.98 million. All are projected to be milled and resurfaced starting next month and ending in November.
– Tuscarawas Road from Yost Drive in Brighton Township to Georgetown Lane in Vanport Township.
– Wildwood Road from Dutch Ridge Road in Brighton Township to Route 51 in Patterson Township.
– Shenango Road/Darlington Road from Braun Road to Route 51 in Chippewa Township.
GREENE TOWNSHIP
– Route 30 from the West Virginia state line to approximately Route 168 in Greene Township will be realigned to correct a couple of tight curves and to add a left-hand turning lane.
It also will be resurfaced and upgraded to meet current standards in this estimated $11-15 million project. The 1.54-mile stretch could undergo work starting in December and will extend into 2021.
Work will also include guide rail and drainage improvements and slope stabilization. Traffic will be detoured for approximately 200 days during construction.
INDEPENDENCE TOWNSHIP
– The Route 30 bridge over a branch of Raccoon Creek in Independence Township will be replaced beginning next month. Work is expected to continue into the summer of 2020 on this $726,000 project.
This culvert replacement project between Newman Road and Clinton Frankfort Road will include minor approach roadway work. Traffic will experience a three-day detour in early May.
– Bocktown Road landslide remediation is expected to cost between $350,000 and $750,000 and possibly start in November and continue into fall 2020.
The area between Saratoga Drive and New Bethlehem Church Road in Independence Township will include paving and drainage improvements. Traffic will be detoured during construction.
DARLINGTON TOWNSHIP / BIG BEAVER
– Crescent Road in Darlington Township and Big Beaver is slated to be resurfaced at a cost of $2-3 million possibly beginning in late summer to late fall.
The project between Echo Valley Road in Darlington Township and Shenango Road in Big Beaver includes milling, resurfacing, base repair, drainage, guide rail, signage, pavement markings and other miscellaneous work. Flaggers will guide traffic through an alternating single-lane pattern.
– New Galilee Road bridge over the north fork of Little Beaver Creek in Darlington Township is being rehabilitated at a cost of $1.41 million.
Work is expected to begin this summer and wrap up in November and include concrete repair, scour protection, superstructure replacement and approach roadway repair. Traffic will be detoured during construction.
MIDLAND / OHIOVILLE
– Route 68 landslide remediation along a 1.1-mile stretch in Midland is slated to cost between $2 million and $3 million and could begin in late spring and extend into early fall.
The area between Smith Ferry Road in Ohioville and Route 168 in Midland will be paved and the drainage will be improved. Single-lane alternating traffic will be maintained through November, when the project is expected to be completed.