Beaver County is seeing its highest COVID-19 infection levels since the global pandemic began, according to the most recent data from the Pennsylvania Department of Health (DOH).
Over the past 7 days, DOH reported a total of 382 new cases in Beaver County. The numbers break down to 100 new cases reported on Nov. 17th, with 49 new cases on the 16th, 27 on the 15th, 54 on the 14th, 32 on the 13th, 58 on the 12th, and 62 on the 11th. There were 79 new cases reported on Nov. 10.
Two people have died from the virus in Beaver County so far this month. The county has seen 144 deaths from COVID-19 to date, a total of 87.4 deaths per 100,000 residents. Beaver County has an overall infection rate of 1,828.3 cases per 100,000 residents, according to DOH.
The highest single day reported in the county was back on April 17 when the Brighton Rehabilitation and Wellness Center reported a mass outbreak at its facility that saw 117 cases added to the county's totals in one day. That spike was not accompanied by other high infection dates, however, as community spread remained relatively low at that time.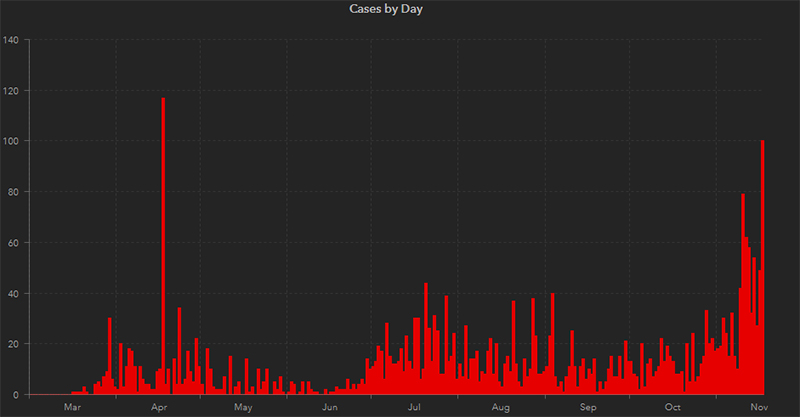 An Important Message To Our Readers
BeaverCountian.com's coverage of the novel coronavirus is being made freely available outside of our normal paywall. We believe the information we are providing is important to all members of our community and should not be limited to just those with financial means.
For those who are able to support our efforts, we would appreciate it if you considered subscribing to gain access to all of our award-winning local reporting. As always, thanks for being a reader of BeaverCountian.com!