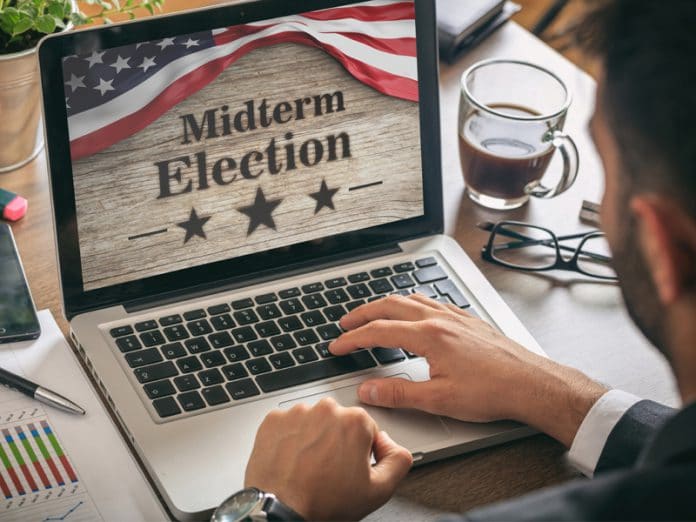 The Beaver County Elections Office door was almost like a continuously revolving turnstile early Wednesday afternoon.
Person after person approached the counter, provided ID, and requested an absentee ballot for the Nov. 6 election.
That's been the norm for the last two weeks, said office Director Dorene Mandity. But it's definitely not the election office's norm for a midterm election.
A staffer confirmed that 2,530 absentee ballots have been filed so far, and the deadline isn't until Oct. 30.
"Four years ago, we only had 1,300," Mandity said.
Mandity's staffers have been racking up very abnormal overtime, working from 7 a.m. to 7 p.m. each day trying to keep up with the demand. Thursday will be the first day in about two weeks that they can come in at the regular time of 8:30 a.m., she said.
"There is very little overtime for a midterm usually," Mandity said.
For those trying to predict what this might mean for the upcoming election results, here's some food for thought.
County numbers for party registrations and party transfers seem to indicate the Republicans are fired up. But the Democrats are leading in absentee ballot registrations and still hold a commanding lead in total registrants.
The only thing that seems a sure bet is that people are reacting to the political climate.
Of the 2,530 absentee ballots registered so far, 1,344 were to Democrats, 997 were to Republicans, and 189 were to other party or non-party affiliations.
If you look at the county's voter registrations since the 2016 presidential spring primary, you'll see the county Democrats' numbers slowly decreasing by 3,259 to a current total of 55,569, and the Republicans' slowly increasing by 3,134 to a current total of 41,149.
That leaves the Democrats with a current edge of 14,420 registered voters. And third-party or non-party affiliated voters have kept around 12,000 to 13,000 votes in possible sway.
A registration surge since this spring's primary has largely benefited the Republicans. They picked up 805 registrants compared to the Democrats, who picked up 108.
In addition, the Republicans took bigger gains this year through Oct. 21 in the number of people who decided to change their party designation.
A total of 931 people, which included 683 Democrats, changed their party affiliation to Republican.
County Democrats saw 478 people, which included 233 Republicans, change their designation to Democrat.
So what do the local party heads think of it all?
Stephen Dupree, chair of the county Democratic Committee, thinks his party's overall shrinking numbers are the result of older Democrats passing away. But he quickly couches that with a surge he says he's seeing in Beaver County Young Democrats membership and grassroots interest.
Dupree, 45, of Hopewell Township, has held the seat since February 2017. He said there's since been a concerted effort to "renew and revitalize" the committee with new people and to not fall back on the "good old boys'" way of selecting members. Of the about 150 current committee members, about half are new this year, "putting forth fresh faces and new ideas."
He said the committee has also reached out to nontraditional candidates focused on "voters' issues and common sense solutions." He claims the changes have made the party more cohesive and helped to bring in pockets that had been working on their own.
Dupree said candidates such as Terri Mitko of Brighton Township, running for the 15th District in the state House of Representatives, show the party has momentum. Mitko needed 300 write-in votes in the primary to get on the ballot, he said. She got 1,905.
Dupree also believes that 17th Congressional District candidate Conor Lamb "will get people out to vote."
Newly elected Beaver County Republican Committee Chair Jim Christiana, who is vacating the seat Mitko hopes to win, is also working on "rebranding" his committee.
Christiana, 35, of Brighton Township, said the Democratic Party of the '80s and '90s "has gone by the wayside … (as) nationally the party has shifted considerably left." The party of JFK and past steelworkers, "that Democratic Party left a long time ago."
Christiana now believes the county is benefiting from voters shifting to Republican. "We're starting to see the region reward good government," he said. But he believes the party has underperformed on registry numbers and says improving them is a goal. "We will see these numbers naturally continue."
"We're looking for our county to be a red county in registration," Christiana said. Since he took control of the committee about a month ago, committee members have increased from about 40 to about 70 and he said he plans to continue to build value and resources and be more effective and inclusive.
That said, Christiana is "extremely optimistic" about party wins Nov. 6, but "we will run all the way to the finish line."
As for those who plan to register for their absentee ballot by the Oct. 30 deadline, Mandity has some advice.
Absentee ballots are given to corresponding polling places, Mandity said, and counted on election night. Those who file them swear they're either going to be away or are somehow physically unable to be at the polling place on Election Day.
"So if someone sees you cutting grass on Election Day (and you filed an absentee ballot), they can challenge your ballot," she said. That happened once years ago, she said.
A successful challenge voids the vote and that's what happened in that instance.
Beaver County Party Registrations

| wdt_ID | Date | Democrats | Republicans | Green | Liberterian | Other | Total |
| --- | --- | --- | --- | --- | --- | --- | --- |
| 1 | 04/2016 | 58,828 | 38,015 | NA | NA | 12,248 | 109,091 |
| 2 | 11/2016 | 59,241 | 40,793 | NA | NA | 13,564 | 113,598 |
| 3 | 05/2017 | 56,048 | 40,010 | 80 | 75 | 12,404 | 109,117 |
| 4 | 11/2017 | 55,600 | 40,101 | 81 | 568 | 12,581 | 108,931 |
| 5 | 04/2018 | 55,461 | 40,344 | 83 | 557 | 12,887 | 109,332 |
| 6 | 11/2018 | 55,569 | 41,149 | 86 | 575 | 13,302 | 110,681 |