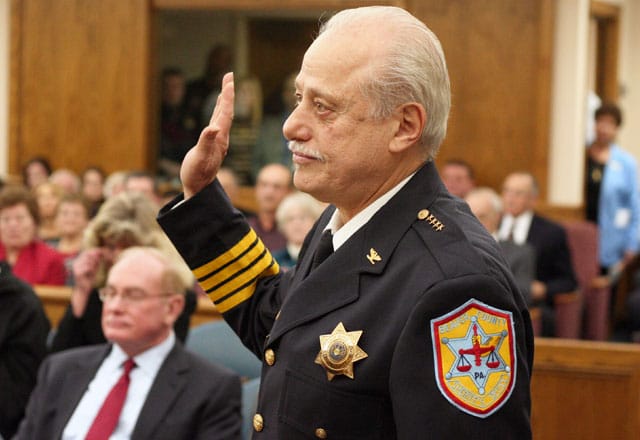 Note: Beaver County Sheriff George David has just been arrested by the Pennsylvania State Police, and was led from the courthouse in handcuffs.
"Sometimes people think we're Superman, that we can put on a red cape and just fly in and make everything ok," I remember Pennsylvania State Police Trooper Joseph Olayer saying to me. "You need to know that we're not, but we'll still try. We'll do our best."
Not long before I had been in the basement of the courthouse, terrified as the elected Sheriff of Beaver County pulled out his service weapon and began threatening murder. Two of his deputies were there with him, but they would later deny the events that unfolded. It would be my word against three men who were now hiding behind their badges. I have never felt more helpless.
It has been almost a year since that night.
We as a society rightfully praise as heroes the officers who run into a school under siege by an active shooter. But while heroism is regularly celebrated, something just as important is often left unrecognized… dedication.
Over the past year I have seen that dedication in Corporal Joseph Olayer and his partner Corporal Daniel Mosura. Day after day, week after week, month after month, they have been working tirelessly to reveal the truth of what happened to me that afternoon, and of what has happened to so many others.
It is because of their efforts, I will be one of the last that George J. David has terrorized. Small town politics and cronies with big time influence had blanketed his misdeeds from view for far too long. It makes me physically ill when I think of how many he has hurt over his 40 year career, abusing both power and persons to achieve his own self-interests.
I am thankful for Corporals Olayer and Mosura, and we should all be thankful for the dedicated men and women like them — strangers who step in front of us when danger arises, who encourage us to follow behind until our journey becomes safe once again.
– JP
photo George J. David at swearing in ceremony / Beaver Countian file photo