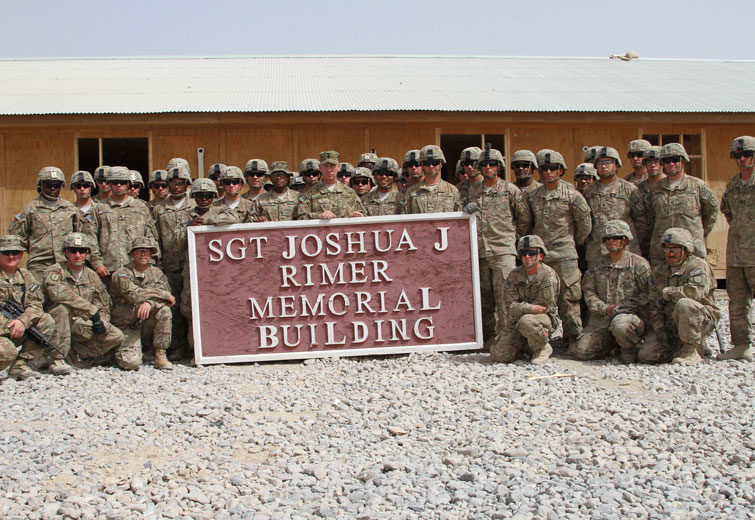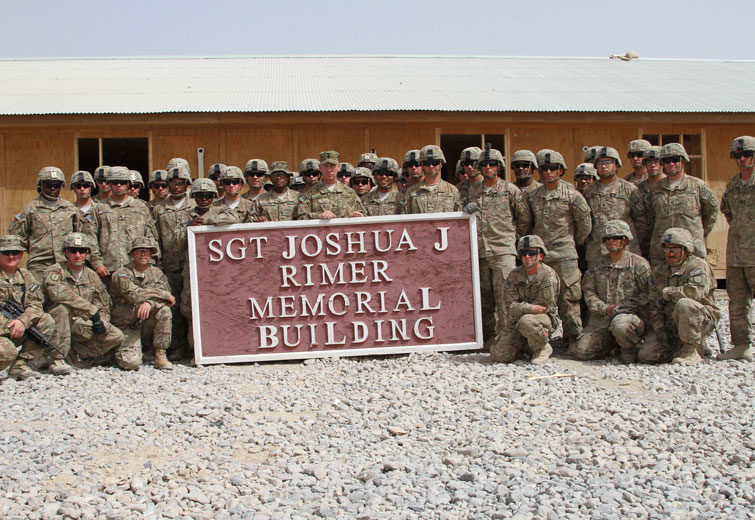 Editor's Note: The following article was submitted to the Beaver Countian by Sgt. Tracy R. Myers, U.S. Army Central Public Affairs. It is being published here in full as written by Sgt. Myers.
KANDAHAR AIRFIELD, Afghanistan — The skeleton of a structure built and occupied by U.S. Army engineers, and dedicated to a fallen engineer, awaits demolition by the 687th Horizontal Engineer Company.
Before this mission, many Soldiers in this formation did not know this American hero. Now every one of them will have his story engraved in their memory to keep alive and carry to the next generation of engineers.
As the Army proceeds with retrograde operations to fulfill the president's security transition plan in Afghanistan, buildings are being demolished to downsize the cost of sustaining unnecessary property.
"The Afghan National Army does not need excess buildings to operate and maintain," said Command Sgt. Maj. Dana Mason, 45th Sustainment Brigade-CENTCOM Material Recovery Element.
CMRE's mission to deconstruct and minimize U.S. bases that engineers helped build in Afghanistan leaves Soldiers of the 687th Eng. Co., 315th Engineer Battalion, feeling torn, said 1st Lt. Benjamin Waring, 2nd Platoon leader.
They have been tasked to demolish a building dedicated to Sgt. Joshua J. Rimer, an engineer Soldier who was assigned to the 4th Engineer Battalion, Fort Carson, Colo. Rimer, a native of Rochester, Pa., died July 22, 2009, in Zabul Province, Afghanistan, of wounds suffered when an improvised explosive device detonated near his vehicle.
"I understand this is an emotional and somber event these engineers have been tasked with," said Command Sgt. Maj. Ronnie Kelley, U.S. Army Central. "Sgt. Rimer is a hero who died serving others — although this building will soon be deconstructed, the memories of his actions and service to his fellow Soldiers and country will be reinforced in the next generation of engineers here today."
Kelley visited Soldiers of the 687th Eng. Co., July 26 to express his appreciation for their individual and consolidated efforts that aid the overall mission supporting the responsible and gradual transition of the United States Forces' bases.
The platoon will take measures to ensure Rimer's legacy stays alive in the memory of their Soldiers by conducting a ceremony hosted by the battalion chaplain prior to the deconstruction, said Waring.
"We are still discussing the best course of action to honor the fallen," he said. "Once the ceremony is complete, retrograde operations will begin."
Bricks and stones do not hold the memory of honor, integrity, selfless service and sacrifice lived by Sgt. Rimer — those will live on in the hearts of those who knew him and the engineers who learned of his service as they take part in the somber requirement of deconstructing this building.
"This building was constructed by the engineers, occupied by the engineers, and dedicated to an engineer. It's only right for this building to be brought down by the engineers," said Waring. "The Soldiers, [noncommissioned officers] and officers of 2nd Platoon, 687th Eng. Co., are greatly honored to be the ones tasked with conducting the retrograde operations."
The Soldiers of 2nd Platoon plan to handle this sensitive mission with honor.
"Most Soldiers do not feel that their actions are being tracked at such a high level; to see the USARCENT command sergeant major taking the time to visit our project site was a huge morale booster," said Waring. "It showed them that what they are doing doesn't go unnoticed."
As the great Gen. George S. Patton once said, "An Army is a team; it lives, sleeps, eats, and fights as a team."
"None of this would be possible without the joint effort of the entire platoon," said Spc. Luis Zapata, interior electrician. "We work together as a team to accomplish the mission."
For now, the company works around the shell of a structure once known as the Sgt. Joshua J. Rimer memorial building, demolishing the surrounding buildings until the ceremony is held to honor a fallen hero.