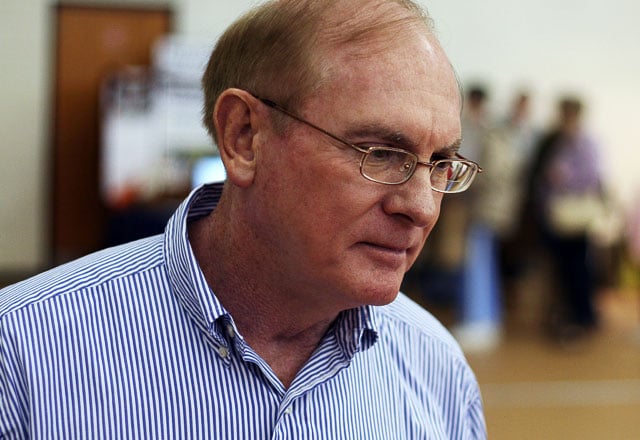 It was just a couple of years ago now, when the popular Republican Commissioner Charlie Camp decided against running for reelection. A man with an All-American smile and a Hugh Hefner swagger replaced by a decidedly drab engineering type — An obscure Republican Supervisor from Brighton Township named Dennis Nichols.
During the primary everyone knew Nichols would hold the lone Republican seat of the county's triumvirate, and everyone knew he was going to be irrelevant. He would be approached with decisions only after they had already been decided, handed forms to sign only after the other two had signed them. Sure he would be allowed his pet projects, minor expenditures and initiatives giving him something shiny to flash in front of his Republican base, little things to keep him content — But the real governing, the heavy lifting as it were, would be handled by the two Democratic Commissioners, Tony Amadio and Joe Spanik.
At least, that is how it was supposed to work. What happened instead is something no one could have imagined, and very few have come to fully realize — Although still maintaining the title of minority, Commissioner Nichols is now the captain at the helm of county government.
Dennis Nichols' climb to the top started almost immediately following the election. Having already served several terms between them, Amadio and Spanik seemed to take their power as Commissioners for granted. They continued on as usual, coming and going from the courthouse, attending off-site meetings and glad-handing at various functions. The election brought a far different reality for Dennis Nichols. Accustom to flying around the country during his life in the private sector, Nichols seemed almost giddy of his now short 5 minute commute from Brighton Township to the courthouse. Regularly the first Commissioner to arrive and the last to leave, Nichols spends more time behind his desk than either of the other two Commissioners. His constant presence gives him a de facto power, he became the go-to Commissioner simply because he is often the only Commissioner available to go to.
Commissioner Tony Amadio is seldom seen at the courthouse now. Circles of minor illnesses which seem to loop from one to the next have regularly left him missing for weeks at a time, leaving him to appear only during obligatory meetings — Endless family tragedies and dramas see his reserved spot at the side of the courthouse more often occupied by a secretary's vehicle than his own. The Chairman of Commissioners is losing the little pieces of the puzzle, and clearly lacks vision of the big picture as a result. He is something of a blind man that allows himself to be led by whoever manages to place a hand on his shoulder. While he says he still loves the job, Amadio just doesn't act like he wants to be Commissioner anymore.
During his time as the only Commissioner in the building, Nichols has made an unlikely ally in the otherwise empty wing of the courthouse. Along with three offices aligned one after the other in the Commissioners' unit, there is a fourth space at the end of the hall. A spartan room occupied by County Financial Administrator Vince LaValle.
That LaValle is still even employed by the county is almost a minor miracle in and of itself. After his long-time boss and political ally Controller Rick Towcimak was ousted by David Rossi, one would have expected LaValle to fade into obscurity. His ties to the now infamous Representative Mike Veon, his work as accountant for the Voluntary Action Center (which saw its director Darla LaValle indicted for financial improprieties), the political enemies he made as Chairman of the Democratic Committee; there were more than enough reasons why LaValle could have been pushed off the cliff. He instead managed to find a small ledge for himself. After losing his spot as Deputy Controller, Amadio and Spanik gave LaValle a foothold by creating a position of director for the two person payroll office. He would use that little ledge as a basecamp for a grand expedition, quickly climbing into the position of County Financial Administrator — A position that came with an office smack in the middle of the Commissioners' wing.
Together the two misfits of county government, Nichols and LaValle have become unlikely allies. LaValle has endeared himself to Nichols, the lone Republican now looks to the former Chairman of the Democratic Committee as his most trusted adviser.
A chess champion of sorts who uses elected officials as his pawns, LaValle is the consummate politician, although he has never run for a county office himself. During his short time working next to the Commissioners, LaValle has single-handedly been able to widen the already existing chasm between Amadio and Spanik — Leaving himself as the only bridge between the two. Regularly playing each of the Democratic Commissioners against one another on various issues facing the county, LaValle became Dennis Nichols' king maker, consistently providing him with the second vote needed to move the county, consistently making sure the third then conceded. The Commissioners have always voted in unison, regardless of how strong their private disagreements may have been.
It was a favor Nichols would return.
Now two men divided, it wasn't long before Amadio and Spanik began ceding power to LaValle at the prodding of Nichols. The list of LaValle's titles continues to grow: Director of Payroll, County Financial Administrator, Director of Central Services, Director of Information Technology, Director of Micrographics, Director of Recreation and Tourism. Nearly all of the county's business is now being filtered through LaValle, and Commissioner Nichols is working to develop a new title for him which will encompass the entirety of that responsibility.
Nichols and LaValle have not only managed to separate the two Democratic Commissioners from each other, but also from formerly trusted advisors.
Officials like County Solicitor Joe Askar and Human Resources Director Rick Darbut find themselves sitting in the minority seat left empty after Nichols' stand to power. They are the ones now being approached only after decisions have been made, being presented with documents only after they have already been signed. Their counsel would steer the two Democratic Commissioners in a direction far different than the one planned by LaValle and Nichols, and the two know it.
LaValle continues to work quietly behind the scenes as Commissioner Nichols forwards their agenda, passes their initiatives, and directs their vision for county government. Whether their control leads to a new fiscal prosperity for the county, or just more political turmoil, remains to be seen.