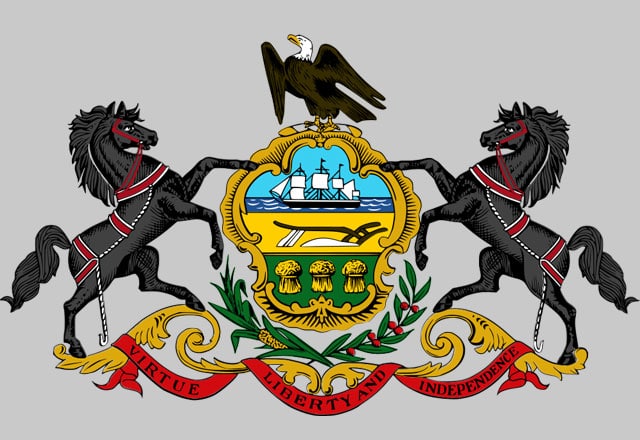 Sheriff George David has been placed on house arrest until his trial in July. The judge has ordered his personal arsenal of approximately 700 firearms be removed from his property.
Townspeople once referred to them as the Yellow Dogs; groups of private police forces established by the Pennsylvania Legislature in the 1800s. Existing under the elected County Sheriffs in Pennsylvania, the "Coal and Iron Police" became infamous.
Although they had police powers bestowed upon them by the state, the Yellow Dogs were funded solely by private corporations. While their official purpose was to protect properties owned by the large mineral companies, they were in practice a corrupt bunch that helped to break up strikes, attack unionized labor leaders, and serve as muscle for unscrupulous businessmen. They were a group largely comprised of hoodlums who intimidated and terrorized all who dared to question their purpose or tactics.
Local police and Sheriffs offices across the state were complicit in many of the transgressions by these Yellow Dogs, often refusing to enforce the law equally and justly.
In 1905, following a particularly brutal period of the Coal and Iron Police, then Governor Samuel Pennypacker decided it was time for a statewide law enforcement organization to be established — A group of well trained and honorable men who would be funded by taxpayers to serve public, rather than private, interests. The Pennsylvania State Police was born.
It would take twenty-five more years, and another series of brutal assaults, before the Yellow Dogs were officially disbanded in Pennsylvania. It would take nearly 100 years for them to resurface in ad hoc fashion right here in Beaver County.
Over the past two years I have spent countless hours reporting on previously untold stories of corruption and brutality which have arisen in our county under the leadership of now Sheriff George David. While the names have changed along with the times, many of these stories remain the same. From his time in the Aliquippa Police Department, to his days as Chief of Security at the Beaver County Jail, and now as the elected Sheriff, these stories have repeated themselves time and time again. They are stories of pseudo law enforcement patrolling and protecting the private interests of business tycoons, of those with badges acting as muscle for organized crime, of power being used to crush dissent, of violent acts becoming tools to terrorize any who question their purpose or tactics.
Once again we see local authorities refusing to enforce laws, county detectives failing to take reports of abuse, judges declining to dole out punishments to the corrupt, and a District Attorney who refuses to enforce the law equally and justly. And as they first did over 100 hundred years ago, we again see the Pennsylvania State Police stepping in to right the wrongs that others refuse to even acknowledge.
Pennsylvania State Police Corporals Joseph Olayer and Daniel Mosura were joined by over a dozen of their fellow soldiers of the law inside of the Beaver County Courthouse today. As part of a hearing in a criminal case being prosecuted by Senior Deputy Attorney General Laurel Brandstetter, these men have once again helped to expose the misdeeds of Sheriff David, and the lies of those still seeking to protect a band of modern-day Yellow Dogs he has amassed under his command.
There are many good and decent Clerks and Deputies of the Sheriff's Office who will return to work with far less trepidation tomorrow because this group of honorable men and women served them well today. I continue to be thankful for these strangers who step in front of us when danger arises, who encourage us to follow behind until our journey becomes safe once again.
See Also: Editorial: A Muckraker's Thoughts On The Thin Blue Line
Note: In the interest of full disclosure, this reporter is a named victim in criminal charges filed against Sheriff George David by the Pennsylvania State Police.