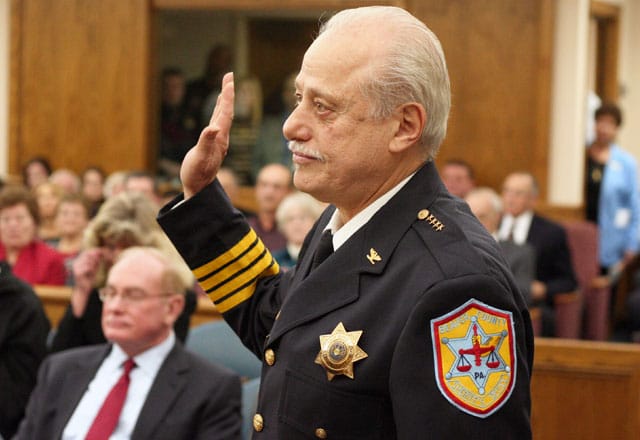 Sheriff George David wasn't actually breaking the law when he was secretly caught on tape giving a heavily discounted gun permit to a man who offered to testify as a character witness for him, he was simply pretending to break the law to see if one of his secretaries would expose him.
That's the bizarre story concocted by Sheriff George David back in August, when he and his attorney Myron Sainovich filed a criminal complaint against secretary Stephanie Guidice after he discovered the Beaver Countian had a tape showing him breaking yet another state law.
There was, of course, no "plot to snare a mole" by Sheriff George David as the Beaver County Times once again so naively reported today without question. Stephanie Guidice was not the Beaver Countian's source, and the person who was our source didn't violate the law by recording the Sheriff breaking it.
The reality of the situation is this: Sheriff George David was caught on film by a confidential source for the Beaver Countian breaking a law he had broken many, many, many, times before. David has handed out free and discounted gun permits as political party favors since he took office, and taxpayers are the ones who have been left holding the bill.
I ask Sheriff David this: Was there a "plot to snare a mole" when you violated state law by giving a free gun permit to Beaver County President Judge John McBride? Or what about the free permit you illegally gave to your attorney and political crony Myron Sainovich?
What about in 2012 when you gave a free gun permit to State Representative Jim Christiana? Or what about the free gun permit you gave to his campaign staffer Jennifer Price on the same day? Was that a snag-a-mole too?
Sheriff George David has put his secretaries through a living hell because he believes they are the sources who have been exposing all of his many wrongdoings in office, and I suspect he may now begin a similar witch hunt to determine who gave me the names of some of the people he's illegally given free permits to. Maybe he'll blame Stephanie Guidice again, or some random part-time Deputy, or maybe even the County Controller. Maybe he'll file another criminal complaint with District Attorney Berosh, and maybe the District Attorney will conduct another ridiculous four month long investigation to find out who my source is this time.
I propose an alternative.
Maybe instead of the District Attorney's Office spending so much time and money trying to find out who is exposing Sheriff George David's criminal activities, they should invest those resources into holding Sheriff George David and some of his Deputies accountable for their actions.
No one has done anything, and no one has said anything for years, because they fear becoming a target of Sheriff David and his co-conspirators.
I, for one, have grown tired of people talking to me through tears because of the torment this man continues to put them through.
Note: In the interest of full disclosure, this reporter is a named victim in criminal charges filed against Sheriff George David by the Pennsylvania State Police.