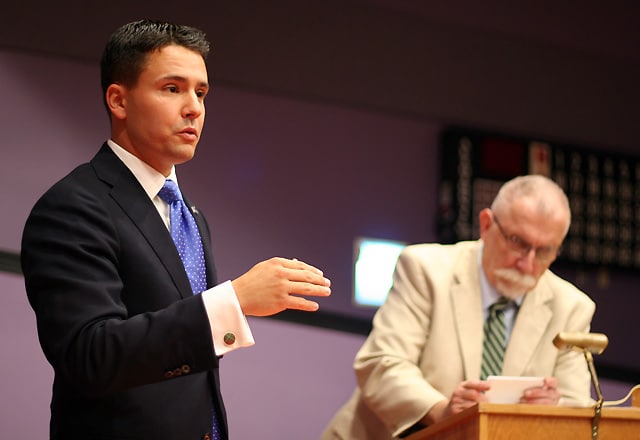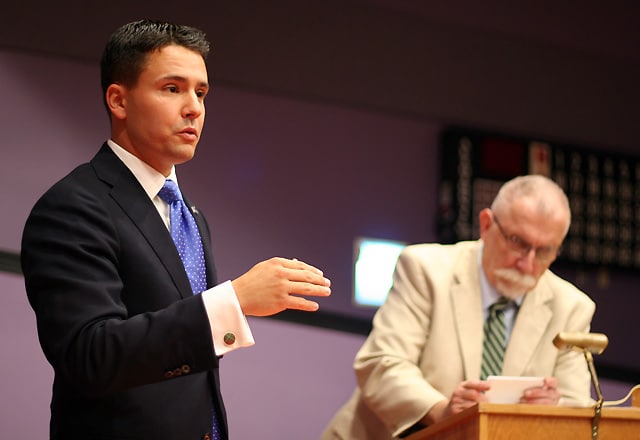 Barely two dozen people gathered in the "Center At The Mall" this evening to watch the AARP sponsored debate between Representative Jim Christiana (R-Beaver) and Bob "Bobbie" Williams, the Democratic candidate for the 15th Legislative District.
Jim Christiana once again demonstrated why the Democratic Party has had difficulty finding a serious challenger willing to take him on. By the standards of any fair minded observer Christiana dominated the debate, showing a deep understanding of a broad range of issues raised by those in attendance. Williams was left looking unprepared by comparison, a student who never finished reading Chapter 1 sitting down for a quiz on Chapter 13.
Even Williams seemed to recognize how unprepared he was to have a serious debate on legislative issues, often forfeiting his rebuttals and veering off topic after acknowleding he was unable to answer some questions directly.
"Hopewell is 26 square miles of things that have been there forever" said Williams when asked about state regulation of local zoning ordinances. "You need to have proper zoning for people to live and have recreation."
Christiana picked up on the actual intent of the question, zeroing in his answer. "If we're going to expect a pipeline that will go from Bradford County to Beaver County to have 100 different zoning ordinances that need to be abided by, companies have said they will not do business here."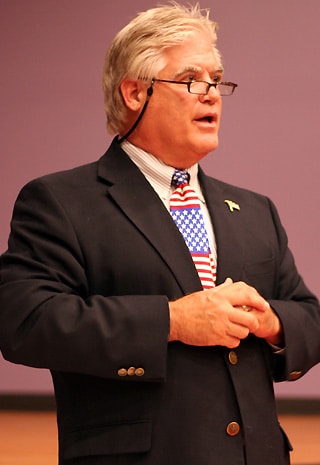 When asked about legislation proposed by Representative Jim Marshall that would provide the Ambridge Reservoir with additional protections from fracking, Christiana said current regulations are sufficient to protect the public's water supply. "Government never goes far enough, government never does enough, government never spends enough" said Christiana sarcastically. "Act 13 tripled the set-back requirements. To go any further is something I'm not willing to do at this time."
"I never realized how large the Ambridge Resevoir was until I saw it from the air in a picture. I had my wedding photos taken there, I just thought it was a body of water with one finger going out, not the other five" said Williams in his response. He added that each municipality should have the ability to pass its own individual ordinances to regulate the gas industry as they saw fit.
"Either you're for having the jobs here, or you're for over-regulation of the gas industry" quipped Christiana in rebuttal.
Both Williams and Christiana agreed on the need for a Voter ID program in the state, although Williams said he believed the law should have been given 1 or 2 years to take effect.
"I'm sure you've done your due diligence to make sure your new bride has the proper ID to vote" said Williams to Christiana. "We're working on it" Christiana laughed back. It was one of the only glancing blows Williams managed to muster.
Other topics the candidates touched on included property taxes (Christiana wants to do away with them), payday lenders (both candidates believe the open market should decide their fate), caring for an aging population (Williams said ways need to be explored to allow more seniors to be cared for at home – Christiana touted his independence from Governor Corbett by fighting attempts to slash line items for the elderly), and using lottery proceeds to fund Medicaid (Williams said he would support it – Christiana said he was firmly against it, calling it an attempt by Obamacare supporters to pay for mandates by taking funding from senior citizens).
"The only thing that I can do is make you a promise… that I will listen to you… that I will get back to you" concluded Williams. "I am in this race for you the people… not a certain few who are looking to grab it all."
"Right now I am asking for a 2 year extension on my contract to keep fighting for the big issues that people care about" said Christiana, who ended by announcing he had just appeared on the Public Cable Network of South Korea — A country which he said is waiting to purchase the natural gas products that Beaver County is preparing to produce.