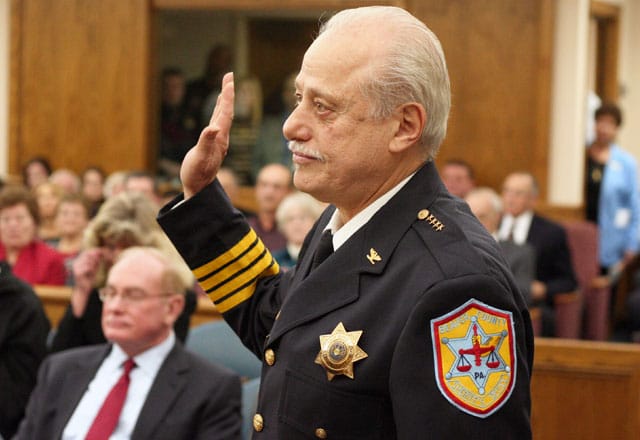 The Beaver Countian supports efforts by the Beaver County Times and the Pittsburgh Tribune Review to unseal transcripts of arguments presented in court as part of a Habeas Corpus hearing held at the beheast of Sheriff George David.
Monday's hearing saw Mercer County Senior Judge Francis J. Fornelli dismiss one count of intimidation of a witness against David pertaining to Deputy Thomas Ochs.
While most of that hearing was held in open court Judge Fornelli moved the proceeding into chambers for argument, saying he was worried about tainting a potential Beaver County jury pool.
Times' courts reporter Kristen Doerschner stood up and spoke out against actions being taken to close the proceedings on Monday. Judge Fornelli ignored Doerschner at the hearing, but her voice is now being heard loud and clear throughout the region.
The Beaver County Times and Tribune Review both filed motions in Common Pleas Court yesterday to have transcripts from a closed portion of the hearing released to the public. Both news organizations also published articles critical of Judge Fornelli's attempts at shielding proceedings from public view.
David is currently facing six counts of intimidation of a witness along with charges of reckless endangerment, simple assault, and making terroristic threats. The charges stem from an incident in April 2012 where Sheriff David pulled out his service revolver and threatened to murder this reporter along with Beaver County Prothonotary Nancy Werme and Beaver County Times Reporter JD Prose.
Two deputies who were in the room and witnessed Sheriff David's hours long tirade initially lied to protect him. They have since been testifying under promise of immunity from criminal prosecution.
David is also facing a charge of harassment from an unrelated incident in which he allegedly threatened to dismember and cannibalize one of his campaign staffers.
Much too much involving Sheriff George David and his cronies has been concealed from the public for much too long. Years of inaction by County Commissioners and the District Attorney's Office have eroded public confidence in local government. What the people of Beaver County need now is not a court which seeks to further cloak truth from public view, but a judicial process which is transparent and works to rebuild trust in our system.
Judge Fornelli has previously sealed other transcripts in which Sheriff David's attorneys attempted to get a gag order issued against this journalist to prevent further reporting on David's abuses of power and persons. The court docket for Sheriff David's case has been riddled with errors, and at least one scheduled hearing has failed to materialize in the public record at all.
During various criminal hearings for Sheriff David I have watched as his most loyal inner circle of deputies provided "security" for the proceedings, personnel from the Clerk of Courts Office sat behind him hugging his wife, and the judge's own tip staff shook his hand and patted him on the back smiling. It is not an atmosphere which conveys a sense of impartiality. Public hearings in private chambers and sealed transcripts only add to the already uneasy feeling that things in this case are not as they should be.
I am a named victim in the criminal case pending against Sheriff George David, and can ethically only join these lawsuits filed by the Beaver County Times and Pittsburgh Tribune Review in spirit. I do so with pride and gratitude.
Note: In the interest of full disclosure, this reporter is a named victim in criminal charges filed against Sheriff George David by the Pennsylvania State Police.