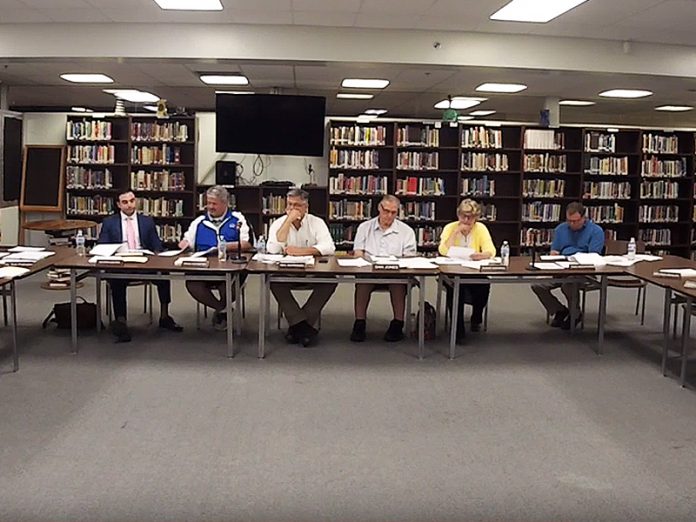 Listen To This Article:
The Blackhawk Area School Board is demanding that BeaverCountian.com not publish video of its public meetings without asking for permission and waiting for the Board to vote its approval.
BeaverCountian.com has published the recording it made of last night's Board meeting in direct violation of those requirements, believing them to be grossly unconstitutional.
As part of BeaverCountian.com's efforts to make county and municipal meetings more widely accessible to the public, multimedia contributor Matthew LaComb attended Wednesday's meeting of the Board. LaComb said he recorded the meeting without interference, but at its conclusion he was confronted by Board President Doug Schaefer and Solicitor Victor Kustra.
Kustra can be seen on the recording whispering in Schaefer's ear before Schaefer addressed LaComb.
"The only question I have is are you with, I guess, the Beaver Countian," Schaefer asked, looking at LaComb who was sitting in a chair provided for members of the public.
LaComb replied that he was.
"We just have a Board policy, it's OK that you're allowed to video tape the meeting, but I'm assuming you're going to want to put it on your website," said Schaefer, laughing.
"So in order to do that, you would just have to ask permission and then the School Board would have to vote. Because it would just be a violation of our policy."
LaComb responded, "That policy, I believe, is a violation of the Pennsylvania Sunshine Act."
Solicitor Kustra then addressed LaComb, "What's your basis for believing that is the case, because technically, school boards don't have to video tape their meetings. That's something that we have a policy in place that we're offering that as a complement to the public."
"But I have a right to film a public meeting," replied LaComb.
The basic premise of the Pennsylvania Sunshine Act is simple: when a governmental body convenes a meeting of a quorum of its members where "deliberations" or "official actions" are occurring, the public must be given advanced notice of the meeting and must be permitted to attend. Among the provisions included in the law is a mandate that the public be permitted to record the meeting.
Kustra shot back, "We're not saying that you can't film it, we're saying that it has to be a Board vote in order to broadcast it beyond what you're seeing right now."
"All we're asking is because of the current Board policy is for you to just ask for the right to rebroadcast and then we can vote on it at the next session," explained Schaefer.
"And then if it's approved, you can go ahead and post that."
Countries including Iran, North Korea, and China require reporters to seek official governmental approval before publishing news, but the Constitution of the United States of America guarantees press freedoms and prohibits prior restraints on speech.
In following with BeaverCountian.com's standard practices, LaComb then disengaged the Board and provided them with the phone number of BeaverCountian.com publisher John Paul.
BeaverCountian.com has published its video of last night's meeting of the Blackhawk Area School Board — including the exchange with LaComb — which can be viewed here.
BeaverCountian.com multimedia contributor Matthew LaComb contributed to this report.
See Also:
– BeaverCountian.com Contributor Refuses To Sign Baden Borough's Paperwork Before Recording Public Meeting