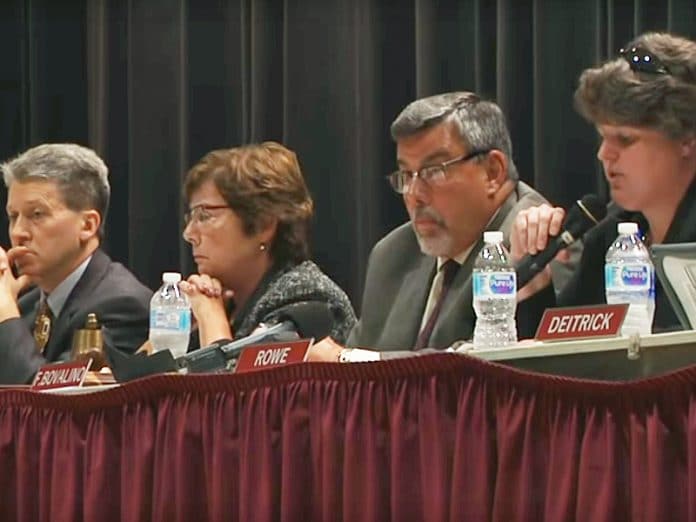 The Beaver Area School Board accepted the resignation of district high school principal Steven Wellendorf at their public meeting held tonight. Despite accusations previously made by third parties, Wellendorf admitted that his suspension had nothing to do with his religious affiliations or any personal animus on the part of other district officials.
Wellendorf was placed on administrative leave in August after the district became aware of "concerns regarding his workplace conduct."
Shortly thereafter, Beaver County Young Republicans President Luke Beradelli, age 37, made public statements asserting that the principal was being retaliated against because of his affiliations with Beaver Valley Young Life (BVYL), a nonprofit international Christian group dedicated to proselytizing to students about a strict following of scripture.
The Beaver County Times published Beradelli's unsubstantiated accusations and publicized a rally he organized ahead of a meeting of the Beaver School Board, despite having no one directly involved in the controversy who would attest to his assertions. The Republican Committee of Beaver County subsequently joined in Beradelli's claims about an "attack on First Amendment Religious Freedoms at Beaver Area School District," urging area Republicans to attend his rally.
BeaverCountian.com published an in-depth investigative report that called Beradelli's claims into question and exposed hidden attempts by some in the community to undermine district superintendent Dr. Carrie Rowe because of her sexual orientation.
Rowe came out as gay last month at the school board meeting that followed BeaverCountian.com's report. Beradelli backed down from his claims of religious persecution and failed to call for an end to Rowe's employment contract as he had publicly announced he would be doing.
The school district issued a press release tonight formally announcing Wellendorf's resignation.
"Mr. Wellendorf was placed on administrative leave in August after District Administration became aware of concerns regarding his workplace conduct. Mr. Wellendorf acknowledges that the District's concerns did not relate to his religious beliefs, affiliations or social opinions, nor were they the result of any personal animus directed toward him by any District employee or School Board member. The District would like to assure the community that the concerns did not involve criminal allegations."
The press release went on to state that no additional comments will be made by any of the parties concerning the personnel matter.
"Neither the District nor Mr. Wellendorf will comment further on the circumstances surrounding this negotiated settlement beyond what is contained in this statement," said Superintendent Dr. Carrie Rowe. "The District and Mr. Wellendorf recognize the absence of detailed information creates the opportunity for speculation and conspiracy crafting; however, Mr. Wellendorf is entitled to privacy in this matter and that privacy will be respected by the District and the School Board."
Dr. Rowe acknowledged the public controversy that erupted after Wellendorf's suspension, and said such division within the community has a negative impact on students in the district.
"As a community, we need to set aside our differences and work together toward our common goals. We request that the community discontinue its hurtful commentary where this matter is concerned, which has no purpose other than to perpetuate the division, and that we move forward together to support the success of our students."
Steven Wellendorf will remain off work until his resignation becomes effective on October 31. As per his negotiated settlement with the district, he is exiting his position in good standing.
See Also:
– In-Depth: Beaver Area School District Facing Controversies And Protests Involving "Young Life" Group
– Republican Party Joins Call For Protest Against Beaver School District – Counter-Protests Planned
– WATCH: Beaver Superintendent Comes Out As Gay – Promises All Students "You Have A Safe Space Here."
– WATCH: Berardelli Backed Down – No Claims Of Religious Persecution – No Calls For Superintendent's Ouster
– Democratic Committee Chairman: "Beaver County Republicans Continue to Divide."