The Beaver County Chamber of Commerce General Election debate is underway in Penn State Beaver's auditorium. Republican Senator Camera Bartolotta and her Democratic challenger James Craig have already begun arguing the merits of right-to-work laws and natural gas impact fees in the 46th District when a figure slips in, quietly shakes a few hands and takes a seat in the back.
It's State Rep. Jim Christiana, but not as you're used to seeing him. He's late, and he's traded in his custom-made suit for a pair of jeans and a plaid button-up. Not that it matters. For the first time in 10 years, Christiana isn't a candidate for state office.
His self-imposed expiration date has arrived after serving a decade in the Pennsylvania legislature. So on this night, he's just a Beaver County resident, interested in hearing what the night's slate of candidates has to offer.
At least that's what he posits afterward, flashing a grin.
Because Christiana knows very well that he isn't just a concerned citizen; he's the newly elected chair of the county's troubled GOP committee, and his stated agenda is to get "good, conservative candidates elected."
"After 10 years (in the state house) and a Senate race, I realize there are a lot of ways to influence outcomes without being on the ballot," Christiana said.
In fact, it's the one thing Christiana knows for certain as he hurtles ever closer to the November election and an early retirement.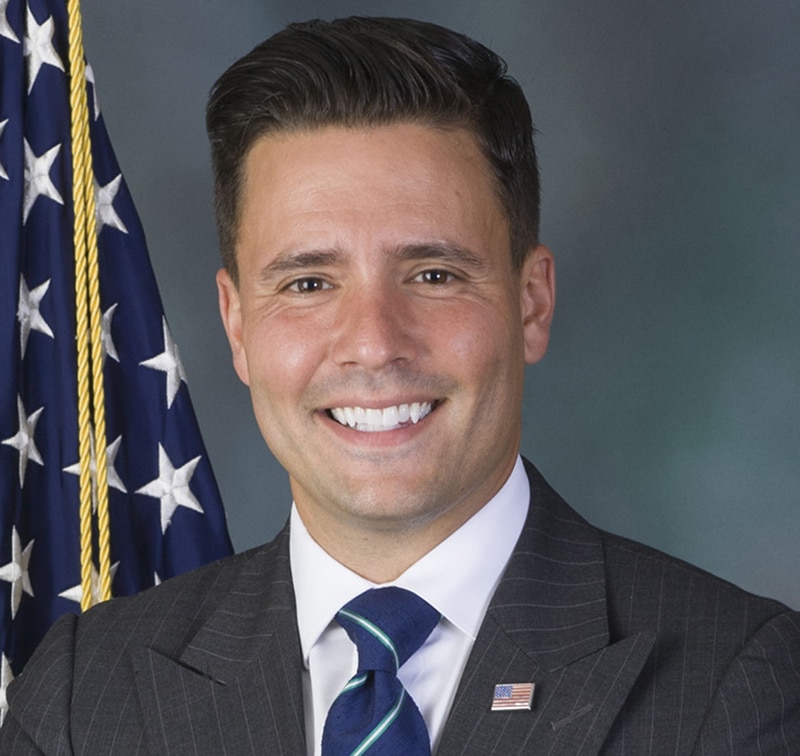 Christiana, a fourth-generation Beaver Countian, was born into a blue collar, union family with a healthy distrust of politics and politicians. And perhaps for good reason. Beaver County has long had a reputation for the kind of insular, self-serving bureaucratic antics that mark small towns.
Christiana got to see that reputation in action when he began attending Beaver Council meetings. He was a junior at Washington & Jefferson College then, majoring in political science, and he was appalled at what he perceived as the rubber stamping of fundamental borough issues.
What council needs, he thought, is young blood.
"And if there are no other young people here stepping up, I'll do it," he declared. He announced his candidacy for council in 2005.
Christiana's family didn't get it, but they also didn't fight it. He had always been a serious kid, the type who analyzed every possible outcome before arriving at a decision. They figured he'd done the same with this one.
Longtime family friend Dave Shallcross, who had served on both Beaver Council and the Beaver School Board, also didn't doubt Christiana's intentions, but he wondered if the college student appreciated the realities. If watching politics from the outside is frustrating, trying to enact change from the inside is downright maddening.
Case in point: During his term on the Beaver School Board, Shallcross got an automatic appointment to the joint operating committee of the Beaver County Career & Technology Center, then known as the vo-tech. At his first meeting, a fellow committee member offered Shallcross a lesson in normal operating procedure: "You sit back and watch what we do, and then you vote how we vote."
At 22 years old, and still six months away from graduating college, Christiana entered the Beaver County political fray, joining a council made up of eight other men, all of whom were approaching middle age or older.
His first vote was the authorization of a budget that would raise taxes 1 mil, or about $150 for the average Beaver homeowner of the time. He questioned it. Didn't the borough have a surplus from the prior year? It did, the other council members confirmed.
The vote was 8-1. Christiana dissented.
Shortly thereafter, he was appointed chair of the finance committee. It was meant as a rebuke, but Christiana wasn't chastened.
"Jimmy wasn't afraid of anything," Shallcross said.
Christiana worked alongside the borough manager, pulling obscure financial records and offering detailed – sometimes excruciatingly so – committee reports. Within the year, he'd drafted a proposal that used the savings from the early payoff of a fire truck to reduce taxes by 1 mil.
It passed. And it gave Christiana a record. The kind of record that that plays well to a conservative audience in a larger political campaign, which is exactly how he used it.
"That vote is what legitimized my age when I was running for state legislature," he said.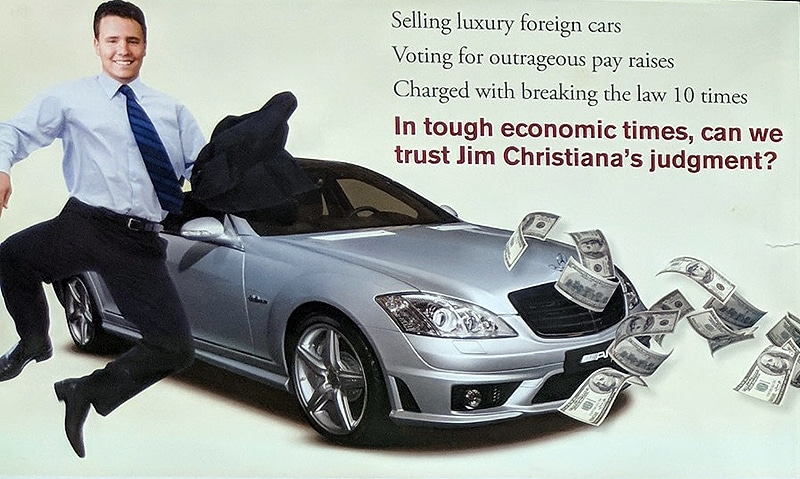 Office manager Monica Babir flips on the light in Christiana's Monaca office and points to a framed campaign ad hanging on the wall behind her boss's desk.
"Here it is," she says.
The ad, which was paid for by the Democratic State Committee and sent to homes in the 15th district during the 2008 general election, features a photo of Christiana jumping in the air next to a luxury car while hundred-dollar bills drift by and calls the candidate, among other things, "a reckless, habitual violator of the law." It's become both a joke and a motivator for Christiana and his staff.
And, like most campaign ads, it straddles that thin line between truth and hyperbole.
It's true that Christiana has broken the law multiple times. But most were traffic tickets. And, yes, he did make a living selling cars at a Mercedes-Benz dealership. But being a salesman doesn't preclude you from holding public office.
Christiana largely ignored the attacks and held himself up as the new option in Western Pennsylvania politics, a candidate who valued transparency and bipartisanship and wasn't afraid to rattle the status quo.
It worked. In November 2008, 25-year-old Christiana ousted his middle-aged incumbent, Democrat Vince Biancucci, in a close race, winning by margin of less than 900 votes. It would end up being the only nail biter in his state legislative career. He'd go on to win the 15th District four more times, capturing more than 60 percent of the vote in each race.
Despite his decisive victories that winked at lifetime, or at least longtime, legislative prospects, Christiana continued to promise a self-imposed term limit of ten years.
"To me, it's a product of transparency," Christiana said. "If I couldn't do it in 10 years, let someone else do it. I like term limits. I think they set expectations."
Whether Christiana met voters' expectations is a matter of opinion, one that falls mostly, but not exclusively, along party lines. That he was a legislative work horse is indisputable.
He spearheaded the development of PennWATCH, a website that allows residents to monitor the state's budget, spending and revenue; introduced the tax credit considered largely responsible for bringing the Shell cracker plant to Potter Township; authored two bills that allow for expanded flexibility of school choice tax credit programs; helped secure private school status for the McGuire Memorial School; and brokered a bipartisan solution to the Highmark-UPMC contract dispute.
"I'm pretty proud," he said. "You know how hard it is to get one major piece of legislation through?"
Christiana's decade-long career in the legislature hasn't been without controversy, however. Some have been of the eye-roll-inducing variety, such as his stint as a custom-made-suit model in Whirl Magazine and a high-priced golf outing on Highmark's dime.
But others have raised more concern.
In 2012, BeaverCountian.com uncovered hidden ties between the legislator and a political action committee that had "accidentally" sent $120,000 to his campaign headquarters.
More recently, Christiana has sparred with the Beaver County commissioners, notably over the sharing of a leaked document on social media and the county's contract impasse with Gateway Rehab. In both cases, the commissioners called him out for what they viewed as meddling, Sandie Egley requesting a meeting of the GOP committee's executives and Dan Camp penning a strongly worded letter to Christiana and copying eight other local politicians.
Christiana emerged from all of it relatively unscathed, and the general consensus is that he could have easily won a sixth term in the state house, if he'd wanted it.
"When he first took office, he was a 25-year-old kid and people thought he was going to fail. But instead, he's grown – as a legislator, as a man, as a father," said Jen Nolfi, Christiana's constituent outreach specialist. "He's done what he said he was going to do."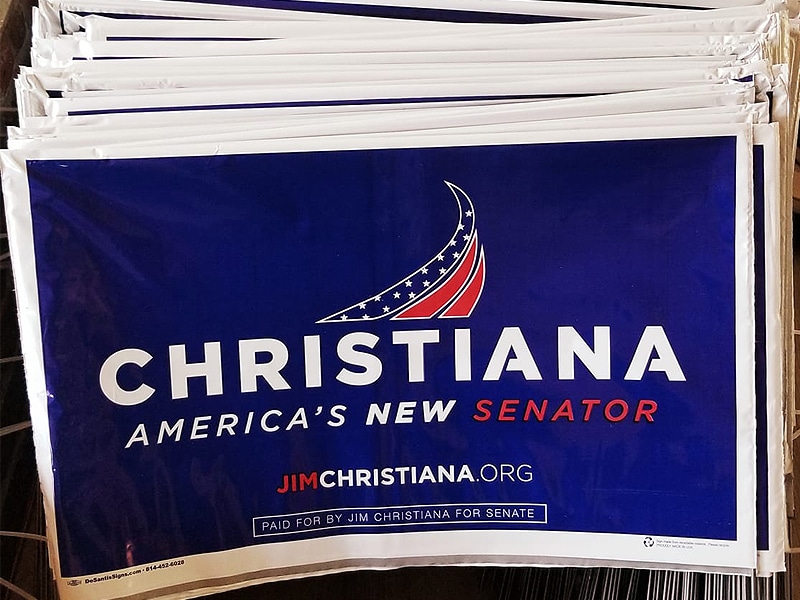 If you were a Republican living in Pennsylvania in May 2018, your phone likely registered a call from an unfamiliar number in the days before the primary. And if you answered, this is what you heard:
"Tuesday is Election Day and I need you to go out and vote for my good friend, Lou Barletta, a very special guy."
It was President Donald Trump, stumping for one of his earliest and staunchest supporters, Congressman Lou Barletta. Barletta was locked in a battle to become the Republican nominee for U.S. Senate and the right to battle Democratic incumbent Bob Casey Jr. in the general election.
His primary challenger: State Rep. Jim Christiana.
Christiana's leap from state legislator to U.S. Senate hopeful wouldn't have been so surprising if it didn't come with a host of seemingly insurmountable obstacles. Not only would Christiana, little known outside of Western Pennsylvania, need to take his message statewide, he would have to do it without the endorsement of the Republican Party.
So for months he crisscrossed the commonwealth speaking directly to constituents because that's how he prefers to deliver his message and because he didn't have the money for an all-out media blitz.
In the days before the primary, Christiana told staffers Babir and Nolfi, "I don't think I could make one more call. I've talked to everyone."
As they settled in to watch the returns, Babir felt a surge of optimism.
"I really thought he was going to do it," she said. "Because he's Jim. He never stops."
Though the Republican nomination went to Barletta, Christiana managed to take more than 250,000 votes, about 37 percent, and win 19 counties, including Beaver and Allegheny.
"With what they had and without the support of the Republican party, he crushed it," Babir said.
Christiana didn't see it that way at first, when the defeat still stung, but five months removed, he's able to appreciate his showing. Perhaps not surprisingly, his pride is focused on the finances.
"I turned $260,000 into 250,000 votes," he said. "That's just over a dollar a vote."
Barletta, he contends, spent $17 per vote.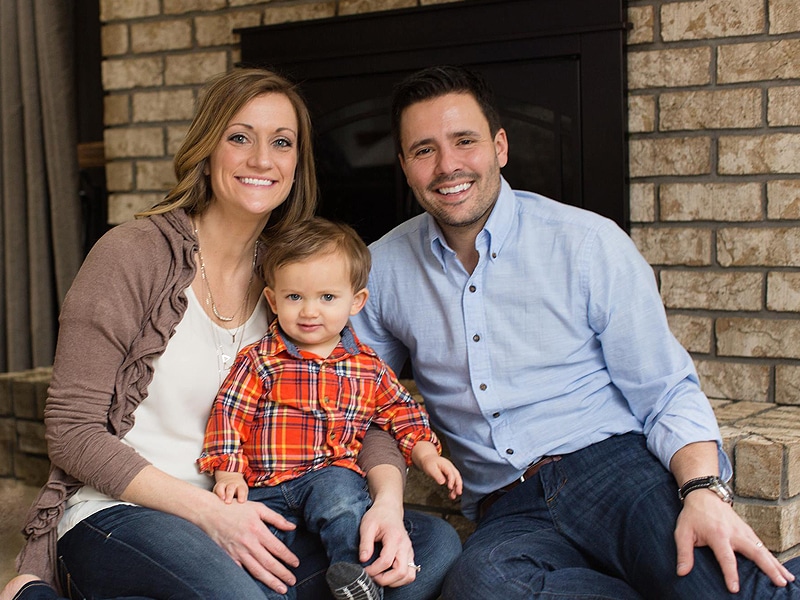 In August, BeaverCountian.com uncovered racially-charged Facebook posts made by then-Beaver County Republican Committee secretary Carla Maloney in which she referred to African-American football players as "overpaid baboons."
The discovery soon became a national story and resulted in the resignations of Maloney and chairman Chip Kohser, who fellow Republicans say knew of the posts and ignored them. The departures left a Jim Christiana-sized hole in the Beaver County Republican Committee, or at least that's how Christiana saw it.
His wife, his staffers, even some of his Republican friends, thought he was crazy. Why get involved in local politics when you've just retired from state politics?
Christiana saw it as a calling. He's long lamented that the GOP committee concerned itself too much with the day-to-day business of Republican office holders and not enough with the election of Republican candidates. Here was an opportunity to change that.
"I want to get back to the committee's core purpose," Christiana said. "A lot of people in the middle are looking for another option. They're starving for compromise. It may be filled by a third party. My hope is that the Republican Party can fill that void."
What he will do beyond steering local party affairs is still an open question. He and his wife, Jayann, are expecting a second child – a girl – in January. They already have a son named Nolan. And Christiana has established a company called JC3 Ventures that he may use for "future opportunities," whatever those may be. Some have suggested he become a lobbyist, which he soundly rejects ("I don't want to become a cliche"). Others believe his new law degree will yield job offers.
Christiana just doesn't know.
"I know this is hard for people to believe, because I've always had a plan, but I don't have a plan right now," he said. "My entire professional life I've had to meet deadlines – campaign finance, petition circulation, election day. This is the first time I can make a decision not based on someone else's timeline, and I don't have all the answers yet."
Accordingly, Christiana is noncommittal when asked if he'll ever run for office again. But others, including friend and former councilman Shallcross, are happy to make predictions for him. Whether the predictions are based on actual insight or raw hope is unclear.
"Without a doubt, he'll run again," Shallcross said. "Someday, that kid is going to be senator or governor."