Editor's Note: BeaverCountian.com agreed to withhold the names of the two medical marijuana patients interviewed for this story. Both patients are concerned about the stigma, the risk to their jobs and even federal prosecution. Because they are patients of Dr. Robert Fadden, who spoke with BeaverCountian.com and set up the interviews, we felt secure in honoring their requests.
Crohn's is an inflammatory bowel disease that ravages the body. Among its more common and unpleasant symptoms are abdominal pain, persistent diarrhea, weight loss and fistulas – tunnels created when ulcers eat through tissue.
Flare-ups typically come in unpredictable waves, a good, symptomless spell giving way to an acute attack – or vice versa – without reason or warning. But there are people for whom Crohn's is an unbroken battle.
Cindy is one of those people. Her longest so-called flare-up lasted 29 years.
She tried a panoply of drugs to control her symptoms, without much success. Immunosuppressants eased the Crohn's but left her body susceptible to other diseases. One nasty case of shingles spread to her face and threatened blindness. Steroids helped for a while, but long-term use thins the bones and eventually forced Cindy to use leg braces and a cane to get around.
At her best, she could mask her pain enough that her co-workers wouldn't guess she was ill. At her worst, she dropped to 90 pounds and required a feeding tube.
"You've got to start eating," Cindy's mother begged.
"I can't," Cindy replied. Food only resulted in further agony.
Finally, in frustration, her mother asked: "Do you know anybody who smokes pot?"
Cindy could hardly believe the question. Her mother was a nurse; her father a doctor. They had built their careers on a deep faith in the power of Western medicine to cure and curtail.
But 10 weeks ago, at the age of 57 and increasingly frustrated with her medicinal options, Cindy began to wonder if her mother's hastily offered suggestion could be the right one. She walked into her Chippewa Township-based gastroenterologist's office and asked Dr. Robert Fadden:
"Do you think it could help me?"
Fadden thought it could.
Approved practitioners across the state are giving similar advice to the 52,600 patients currently certified through Pennsylvania's medical marijuana program.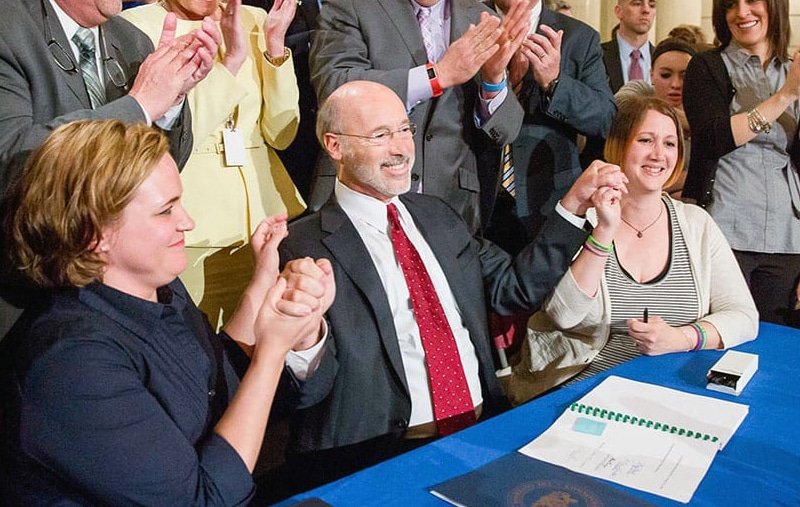 Gov. Tom Wolf signed the medical marijuana bill into law in April 2016, and the first dispensaries opened last February.
In that time, 900 physicians, including at least seven in Beaver County, have been cleared to certify patients. The state Department of Health, citing privacy protection, declined to say how many county residents are participating, but it's enough that Fadden's practice hired a dedicated medical marijuana program coordinator.
Fadden and another approved area doctor described the county's medical marijuana seekers as overwhelmingly elderly with a wide range of reasons for trying the treatment. Some have severe, chronic pain and are looking to lessen their dependence on prescription opioids. Others have terminal diseases and are hoping for more control over their final days. A few simply want a medication with fewer, less intense side effects.
And of the patients who have reported back to their doctors, most have said this: medical marijuana was the right choice. But because there are no county dispensaries, these patients must drive as far as Downtown Pittsburgh or Butler each month to get their supply. They absorb the entire cost, by cash only, because insurance won't cover it and banks won't deal with it, and they still risk possible federal prosecution.
Nonetheless, advocacy groups think it's just a matter of time before the state decriminalizes the drug altogether.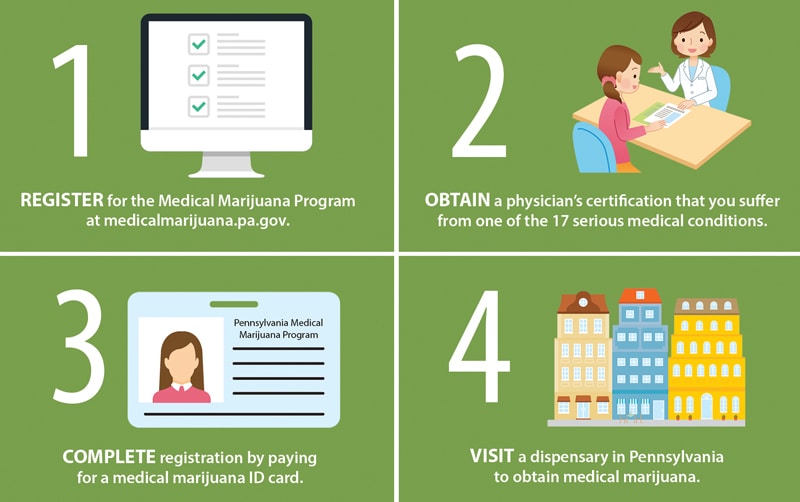 Getting started
The world has long known of the healing properties of cannabis – its medicinal use dates back to at least 8000 BCE – but it's the psychoactive effects that have received outsized attention and resulted in its modern-day prohibition.
The U.S. federal government effectively banned its use in 1937, but the legalities haven't stopped those who are looking for a high or a way to curb pain, inflammation, nausea and anxiety. And it hasn't stopped the states from passing their own laws. Some states have legalized it; others have decriminalized it. Thirty states – including Pennsylvania – have approved bills or ballots making marijuana legal for medical purposes.
Pennsylvania's law is meant to offer patients who are out of options and desperate for relief, like Cindy, a different way to treat their most persistent and painful symptoms.
The path to obtaining medical marijuana in Pennsylvania is just four steps long:
Create an online profile in the Department of Health's patient and caregiver registry.
Locate an approved provider to confirm diagnosis of one of the 21 qualifying medical conditions. Those conditions include things like cancer, Crohn's disease, epilepsy, neurodegenerative diseases, opioid use disorder and chronic pain.
Return to the patient and caregiver registry to pay $50 for a medical marijuana ID card.
Take that ID card – typically issued in days – to an approved Pennsylvania dispensary to make your purchase.
It sounds simple and straightforward. But it is deceivingly complex, designed to offer what protection it can to those who participate.
Though 34 states have legalized or decriminalized marijuana, it remains federally illegal, and the Department of Justice can still technically enforce its use and possession. States that passed medical marijuana laws and patients who use the treatment do so largely without fear because of a 2013 DOJ directive to use "its limited prosecutorial and investigative resources to address the most significant threats."
A well-regulated state medical marijuana program likely does not qualify as a significant threat.
Still, Pennsylvania's process takes pains to sidestep federal landmines.
For example, for doctors to prescribe a schedule 1 drug like marijuana outside of a Food and Drug Administration-controlled study is a violation of federal law that could endanger their medical licenses and malpractice insurance. So Pennsylvania only requires doctors to certify that a patient has a qualifying condition.
Another example: The DOJ is still quite concerned with minors' access to marijuana and considers it one of the aforementioned significant threats. So Pennsylvania requires a caregiver to register on a minor's behalf. Patients who are homebound or otherwise unable to get to an approved dispensary can also designate a caregiver to pick up their product. (Caregivers also register online and pay for a medical marijuana ID card, but must take the extra step of completing a criminal background check.)
"It's a good law," said Dr. Sam Urick, who has an office in Center Township. "There's big potential for this to help so many."
Urick is one of seven county providers permitted to certify medical marijuana patients. The others are a diverse mix of pain management specialists, family care providers and gastroenterologists.
When Urick applied to become one of the approved providers, he did so with his grandmother on his mind. She died of colon cancer more than two years ago. In her last months, she had a lot of pain and virtually no appetite.
"If this had been legal, we would have had her on it right away," Urick said. "Maybe she would have gotten three more months. God, if we could have had her for three more months."
Thus far, Urick has certified nearly 100 patients, some his own, some who found him on the DOH website. But they all tended to have one thing in common.
"They are desperate for relief," said Fadden, the gastroenterologist who certified Cindy.
Fadden applied to be an approved provider because he thought his patients would benefit. Crohn's disease and inflammatory bowel disease, which many of his patients suffer with, are listed among the state's qualifying conditions.
What he's found is that most of the 70 patients he's certified have come to him with different qualifying conditions: cancer, amyotrophic lateral sclerosis, Parkinson's. One patient, an 88-year-old man, had suffered for years with shingles pain that continued long after the blisters disappeared. He was doubled over and clutching his side when Fadden certified him. Others are chronic opioid users hoping to cut back on the addictive pain medication.
Because Pennsylvania's program requires medical marijuana maintenance to be done through pharmacists and nurse practitioners employed by the dispensary and not the doctor, Urick and Fadden often don't hear the outcomes for the patients they've certified. Those patients they have heard from are largely pleased with the treatment.
"I have to say, I think it's actually helping," Cindy said. Her flare-up has eased and, most days, she's able to eat without incident.
Another one of Fadden's patients, a middle-aged man who suffers from ulcerative colitis – a condition that "attacks your colon and everything in it" – was more emphatic.
"I have no symptoms," he said. "I've slept every night for the past four months, I can actually go through a whole week without any problems. I'm going out to eat with my family tonight, and that is not something I could have done before."
He actually began experimenting with marijuana as a treatment long before Pennsylvania approved it for medical use. The steroids he was taking to control his symptoms ballooned his body. At one point, his doctors began administering chemotherapy drugs in order to give him fewer steroids.
Eight years ago, during a trip to California, he decided to try marijuana. It helped, so he continued using it when he returned to Pennsylvania.
Though his use is now legal in the state, the patient asked not to be named for fear of losing his job. Neither patient interviewed wanted to reveal what type of the drug or how much they use.
Both Urick and Fadden say there are legitimate patient concerns, particularly for those who are employed by the federal government or by companies in states without medical marijuana programs.
Cindy has a fairly progressive, Pennsylvania-based employer, but she worries that shifting politics will embolden the DOJ to take a harder look at medical marijuana programs and even prosecute medical marijuana patients.
And then, there's the ever-present stigma of being a marijuana user. Before the governor even signed the medical marijuana bill into law, those opposed to the treatment decried it as nothing more than a way for recreational marijuana users to get a legal high.
"I know the general perception," Cindy said. "But these are people who are in pain, damaged."
"It's not a recreational outlet," Fadden's ulcerative colitis patient concurred. "It's the thing that makes me feel like eating."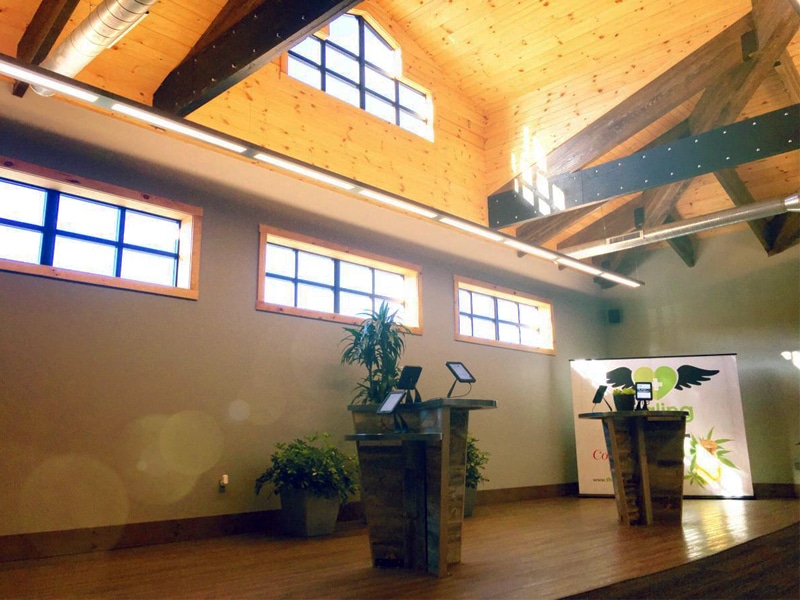 Finding what works
"You want a tour?" Chris Kohan, the co-owner of The Healing Center asks a pair of growers who have come to deliver product to his dispensary.
For 20 minutes, Kohan leads the two men across a single-story, 7,100-square-foot building in Monroeville that, with its high ceilings and wood-paneled walls, bears a striking resemblance to a ski lodge. It's The Healing Center's second location. The first sits on a city block in Washington, Pa.; the third will open sometime next year in Cranberry Township. Currently, there is no dispensary in Beaver County.
But it's not the rustic decor that Kohan wants to emphasize. It's the security measures. Pennsylvania required each of its permitted dispensaries to adhere to a 40-page checklist that covers everything from the type of security and surveillance system in place to the information that appears on a receipt. At The Healing Center, every car that pulls into the parking lot is photographed and every patient is monitored via a state-wide electronic tracking system, ensuring no one skirts the 30-day supply limit.
Not surprisingly, the storage of the product is of utmost concern. Kohan's is housed in a temperature and humidity-controlled, double-locked vault with a reinforced door. As he pulls it open, the skunky aroma of marijuana drifts out. Inside are 149 different products available to those with a medical marijuana ID card.
The choices are overwhelming, particularly for those patients not familiar with marijuana's multiple forms and strains. It's one of the reasons each Pennsylvania dispensary must employee a pharmacist who can look over patients' medical records and current prescriptions and recommend products and dosages that are most likely to be effective.
Much like finding the prescription cocktail that works best, that process can take time. Patients may need to test different products and dosages before finding the one best suited to their pain or condition. Due to the federal ban, medical marijuana is not covered by insurance, which can make getting started a bit pricey. Once patients find the right form, strain and dose, Kohan calls it "very affordable."
The Healing Center's most popular product is the vape cartridge, which ranges from $35 to $80 for a one-month supply, depending on the dose and strain. Prices have fallen since February, and Pennsylvania recently approved the sale of dry leaf – for cooking and vaping only – which tends to be cheaper than pills, oils, tinctures and topicals.
Payment is cash only, as banks don't want to deal with the possible legal consequences.
"I hope (the prices) keep coming down," Kohan said. "It's about getting the product to the patients."
In 2010, Kohan's childhood friend and The Healing Center co-owner, Jay Richards, lost his sister to one of the state's qualifying conditions. It was the impetus for opening their dispensaries. It hasn't been a cheap process. Before the pair was even awarded a permit, they had spent nearly $1 million in real estate and other expenses. Each location costs upward of $2 million to get off the ground.
"We had a vision," Kohan said. "Seeing how (medical marijuana) was helping people and knowing people in this state didn't have access – it didn't seem right."
As of August, The Healing Center has provided that access to more than 2,000 people. Kohan said nearly 80 percent of them describe positive results.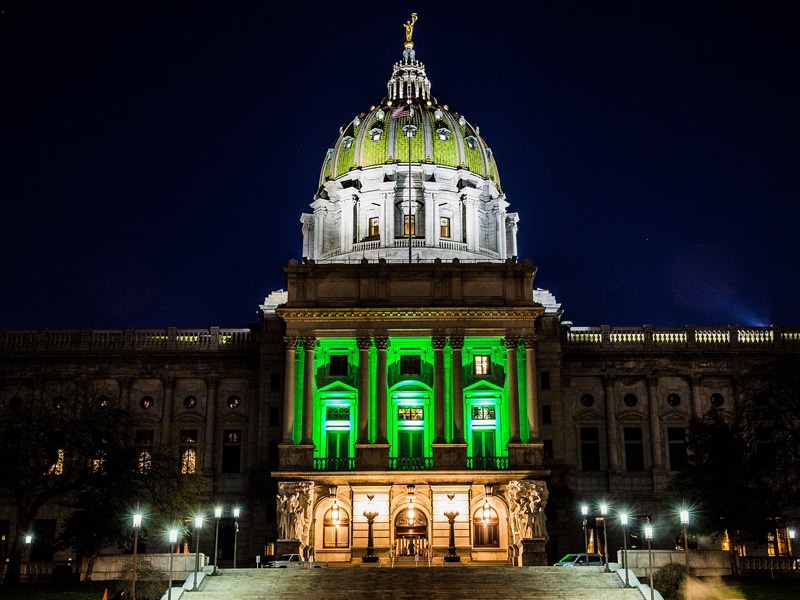 Setting expectations
Dr. Robert Fadden wants to make this perfectly clear: medical marijuana is not a panacea, and it will not work for everyone.
Those who are predisposed to schizophrenia shouldn't take it. The very young should proceed with caution. Some bodies simply won't tolerate it. And there is some risk of addiction.
"But it's extraordinarily safe," Fadden said. "You can't overdose on it."
For patients who have spent a lifetime on pharmaceutical drugs with life-altering side effects, that kind of safety is paramount.
Fadden's ulcerative colitis patient was able to come off all of his prescription medication with the help of marijuana. And pharmaceutical-grade medical marijuana has allowed him to better control his symptoms because he can choose the strains and exact dosages. The outcome is better results and better days.
Cindy has a similar goal: to take as little medication as possible and still control her disease. That the medical community is able to prescribe life-altering medications but prevented from recommending a safe alternative strikes Cindy as absurd and shortsighted.
"They say, 'we want you to take these drugs that can truly damage you, that have long-term, irreversible side effects," she said, "But we don't want to talk about marijuana because that's a drug in a completely different class.'"
Fadden believes that the medical mindset could change once there is more high-quality, clinical research available on marijuana's effectiveness. The research conducted thus far has been narrow and somewhat inconclusive. One recent study suggests that legalizing medical marijuana leads to increased overall use and dependence, a position those opposed to marijuana have long taken.
"I think there will be an explosion of research in the next 10 years," Fadden said.
In Pennsylvania, at least, that prediction is likely true. The state's medical marijuana bill includes a research program, which allows for the establishment of eight clinical research centers, designed to further the medical community's understanding of the ways in which marijuana works on the body.
Results are likely years away, but the fact that this kind of research is being done at all is heartening to those who believe patients should have more choices in their treatment.
And, depending on the results, the research may give more fuel to those who are pushing for legalization of the drug. Nine states have already legalized marijuana for recreational use, and a growing number of people in Pennsylvania are urging the state to follow suit.
This past summer, Auditor General Eugene DePasquale said Pennsylvania could expect to collect more than $580 million per year by legalizing, regulating and taxing marijuana. The Keystone Cannabis Coalition has spent the election season urging voters to "pull the lever straight Democrat" for the best chance at legalization.
The governor is in favor of decriminalization, which could help curb racially skewed drug arrests, but has declared the state, "not ready" for full legalization. Pennsylvanians disagree. Three polls taken in the past year show that nearly 60 percent of state residents favor a law allowing recreational use.
"I think it's a short time before it's legal for all comers," Fadden said.