In 1987, a barge loaded with 3,100 tons of New York City trash left Long Island and set out for North Carolina. The southern state had agreed to dump the garbage in one of its landfills for a bargain price.
But upon seeing the floating island of trash, North Carolinians had a change of heart. They didn't want all that junk in their state. Neither did Louisiana, Texas or Florida. Shipping it abroad proved just as futile. So the barge wandered the Atlantic for two months until a Brooklyn-based incinerator agreed to burn it.
The debacle terrified Pennsylvania officials. There's a lot of open land between Pittsburgh and Philadelphia, and they feared that land had a future as a dumping ground.
So they quickly passed Act 101 of 1988, a law designed to sidestep an impending trash crisis by establishing a robust recycling program, overseen at the county level by a recycling coordinator.
In Beaver County, that job belongs to the Department of Waste Management and Recycling Director Holly Vogt. And Vogt, according to Beaver County Commissioner Sandie Egley, is "a rock star."
Vogt's task is to coordinate the recycling efforts of Beaver County's 54 municipalities, ensuring those mandated to recycle are doing so and those not mandated to recycle are trying to. (The designation depends on population density.)
In six years at the post, she's implemented eight new programs and helped municipalities apply for dozens of state-level recycling grants. Every grant application she's touched has been funded. Her efforts have been lauded by her peers across the state and her program held up as an example for others.
This year, three county entities applied for the coveted and competitive 902 grant, which funds development and implementation of recycling programs. The borough of Beaver received $234,000, Vanport Township got $130,500 and the county collected the state max of $350,000.
Since January, the department has received nearly $1 million in total grant money.
But according to a state-funded, multi-year financial management plan, the department could be accomplishing even more, if only county government would allocate a few much-needed resources, including administrative support.
The report, conducted by Public Financial Management Consulting Group, reads: "If the County can give the Director some administrative support, the Department will have more capacity to potentially secure larger grant awards by developing new recycling programs and gathering sufficient data for grant reporting … the County should consider re-assigning staff from another department to Waste Management or splitting their duties between their current office and Waste Management. One possibility that the Board should consider is assigning one of the three administrative staff in the Commissioner's Office to support Waste Management."
Commissioners received the report over the summer and have yet to act on any of its recommendations.
But it's budget season, and Egley, for one, said she would like to see waste management get the resources it needs.
"Holly is very aggressive and so innovative in her approach," Egley said. "I think putting money to use in waste management is a smart move, especially with Shell and all of the development. I think investing in the department will benefit us tenfold."
(Chairman Dan Camp did not respond to messages left at his office and on his voicemail for this story.)
Vogt agrees she could use the help.
"I have the smallest department in the county, and I'm the only director who doesn't have a secretary," Vogt said. "But I'm not complaining. I have a great staff."
It's a staff of three that has somehow managed, despite that lack of resources, to offer a host of programs that larger, neighboring counties, do not, including year-round electronics recycling and a composting site. Imagine what they could accomplish if they were, as the report suggests, "free to identify other projects for potential grant funding."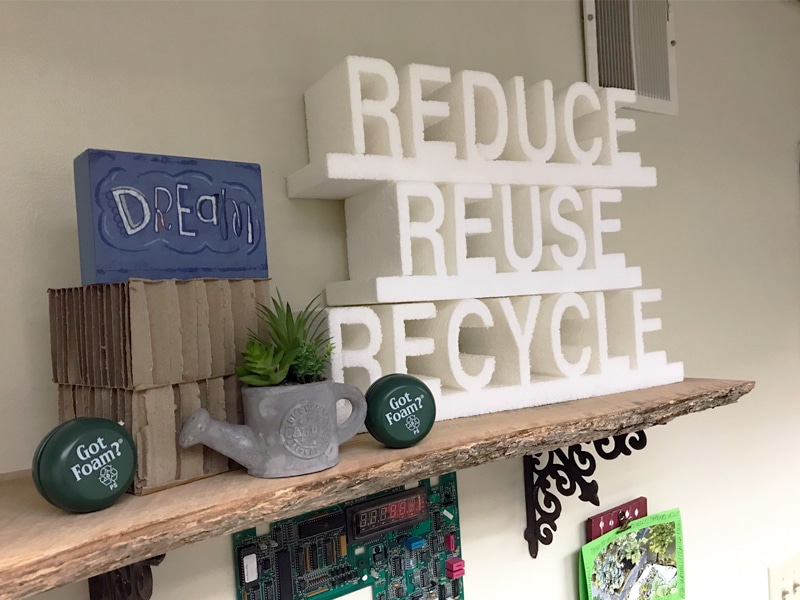 Vogt never longed for a career in garbage. She majored in recreational therapy in college. Later, she fell into a job in municipal government and found she liked helping residents and writing grants. So when she saw an ad for the waste management director position, offering a chance to do both, she applied.
"Ew," her children cried when they found out. "You're going to work with trash all day?"
Actually, Vogt never thought she'd get the job. She knew next to nothing about recycling. But her promise in the interview to "give 110 percent and more if you give me an opportunity" and her ability to write successful grants sealed the deal. She immediately began training programs through Penn State University and the Professional Recyclers of Pennsylvania.
Now, she can tell you the internal temperature of the county's compost piles in winter (138 degrees this morning), a use for liquified polystyrene (school glue), and the cost to ship out a load of old electronics via tractor-trailer ($6,000).
She explains it all with such excitement that you wonder if you should consider a job in garbage, too.
Her passion is partly by design. She knows if she can't get residents and fellow county officials to care, she won't be successful.
In Beaver County, the ease with which you can recycle, and your likelihood of doing so, depends largely on where you live. Those who call mandated municipalities, like Aliquippa, Beaver Falls and Chippewa Township, home get the luxury of curbside recycling. Residents of Beaver get curbside recycling and yard waste collection. But those who live in non-mandated municipalities like West Mayfield, where curbside recycling is not required and cost prohibitive, must cart their recyclables over to the county's recycling center in Bradys Run Park.
(To its credit, West Mayfield did start collecting yard waste, and Vogt recently presented officials with a key to the county composting site.)
"We have to make it easy and we have to educate," Vogt said. "The more times we can get in front of (residents) the better. If they don't know about it, it's all going to go in the trash can."
So Vogt spends much of her time developing educational programs and handouts. Her polystyrene – what most of us call Styrofoam – recycling program, which she launched at Blackhawk Intermediate School, received praise from her fellow recycling coordinators. And the Maple Syrup Festival, which used all recyclable and compostable materials and generated literally no waste despite the thousands of people in attendance, earned the department an award from the Pennsylvania Resources Council.
But the program that is most emblematic of Vogt's out-of-the-box thinking and financial stewardship is the paper shredding program. When the commissioners challenged each county director to find a way to save money, Vogt suggested purchasing a shredding truck. Instead of paying a company to shred and haul away confidential documents, the county could do its own shredding and get paid for the recycled paper. Vogt predicted the switch from paying for shredding to getting paid for shredding would pay for the truck in three years. It took two.
Plus, the program had several advantageous ancillary effects. Paper shredding companies keep records by zip code, making it impossible for municipalities with shared zip codes to claim the recycled tonnage on state reports and grant applications. With the truck, Vogt can easily keep track. More accurate numbers equal better grant applications. The truck also offered municipalities that never had the money to hire a shredding company a cost-effective opportunity to rid themselves of the sensitive documents they've been forced to store for years.
"She's an asset to the county," Egley said. "It blows your mind the things that she thinks of."
Vogt recently received the OK to move forward on her biggest project yet, a hands-on Education Discovery Center that would show residents, particularly kids, the impact of recycling on the environment. Think of it as a kind of science center for trash.
The center would be located in Bradys Run Park and anchor a host of new offerings, including an inclusive playground made from recycled materials, a picnic pavilion and an updated and energy efficient recycling center.
But construction is a long way off. Vogt estimates the center will cost about $4 million to build, and she has to raise that money herself.
"By the time I'm ready to retire, I hope I'm opening the doors," Vogt said.
In the meantime, she'll keep writing grants, keep working with municipalities to boost their recycling programs and – until or unless the county gives her an administrative assistant – keep answering the phones.
Lately, callers have had a lot of questions, like "Why is the recycling center only open three days a week?" and "Why does it cost 40 cents a pound to recycle my T.V.?" and "Why don't you take glass anymore?"
As with most governmental issues, it all comes down to resources and finances. You can't have a full-time recycling center without the manpower to staff it. You can't offer a costly year-round electronics recycling program without asking for help in offsetting expenses. And you can't take glass when recyclers across the country are rejecting it.
"They don't always like the answer, but I explain it anyway," Vogt said.
Because, the way she sees it, the residents are the reason she has a job.
"I feel we exist because of our residents in Beaver County," she said. "If they didn't use our services, we wouldn't be here."