Nemorio Ramirez sips black coffee in a warm Ambridge diner, describing his frantic sprint across the Mexican-American border nearly 30 years ago.
Ramirez, now 48, got across in his second attempt. The first time, border agents snagged him, very kindly fed and housed him, even gave him a towel, then sent him back. He remembers them fondly. Watching the unrest at the border recently is upsetting and in stark contrast to his experience, he said.
His path to eventual U.S. citizenship started illegally, but it resulted in the American dream: education, opportunity, a fulfilling job and family. It also contributed to an economic revival of his Mexican hometown.
It poses a stark contrast to the men sitting in cells just across the river in Aliquippa.
Those men were not as fortunate. They were captured by U.S. Immigration and Customs Enforcement (ICE) agents and the Beaver County Jail serves as temporary housing on their path to possible deportation.
Like Ramirez, most of these detainees had jobs. Like him, most fantasized of a life away from the violence and poverty of their home countries. Like him, most sent money home to support families that couldn't escape.
In sharp contrast to Ramirez's three children, two of whom are in local colleges, about 50 undocumented immigrant children are separated from their families just upriver at Holy Family Institute in Emsworth, according to a current employee and a previous employee, a Beaver County woman who asked not to be named.
A Columbian immigrant herself, she said her greatest sadness was the babies – and the teen mothers forced to leave their babies behind when they aged out at 18.
But Ramirez and others who work with local immigrants say they will continue to come however they can and will add to a significant community within the county. Ramirez says they keep coming with the same certainty: That it's better and safer here than there. They can find jobs immediately, mostly jobs Americans don't want but they take gratefully.
"Come today. Start working the next day. It never takes a week," he says.
These people live in fear in the shadows, silent and nearly invisible. They go from work to home, work to home. They venture out to shop in the middle of the night, Ramirez says.
"Do you see them?" he asks.
Why They Come Illegally

Undocumented immigrants come here because there is a slim-to-no chance that they'll make it otherwise and they're desperate, said Ambridge immigration attorney Jodi Gill.
They do so because people are frightened they can't complete the difficult task of proving credible fear of torture or persecution to qualify for asylum – and that's only if they're allowed on U.S. soil to make the application in the first place.
Those who don't qualify as a spouse, child or parent of someone with a green card can't look quickly or easily to chain migration.
And those who don't have a U.S. employer lined up who is willing to embark on an expensive and lengthy green card application process can't take that path.
People who say the immigrants should have entered the country like their ancestors did, Gill said, "Well, they can't anymore. … That shows a complete ignorance of the law and of current practice.
"There is no legal mechanism at this point. There are very limited opportunities to get on a path (to legal status)." So, often, these immigrants are led here by fear and desperation.
Ramirez recounted a story of a Mexican woman he knows whose husband was killed after the couple refused to allow their home to be used as a drug drop-off site. "She said, 'I have to get out of here with my two kids.'"
"Sometimes you don't have a choice just to run," Ramirez said. He said people will sell everything they own in order to pay the typical $10,000 asked by "coyotes," or guides, to get them across the border. If they don't succeed, they've lost everything.
And even amid that run, Ramirez said the violence in Mexico follows. He talked of the terror of criminal cartels, who kidnap people near the border and demand ransoms. The cartels assume the people know someone in the U.S. who can pay the money. He was recently involved in trying to raise $20,000 to rescue a friend who was kidnapped and badly beaten, he said.
"The biggest issue I see facing immigration in Beaver County is the lack of information and awareness of the people in Beaver County," Gill said. "People are listening to rhetoric and looking at Facebook memes."
Gill, who has worked with asylum seekers and refugees in the area, as well as the undocumented, said many of her clients work multiple jobs, are opening businesses and want to create economic growth.
"Our area is all family based," Gill said of local immigrants. They come here because relatives and friends are here. But they encounter "roadblocks" in Beaver County.
A couple she worked with from Allegheny County that already had several successful businesses there wanted to expand into Beaver County, she said. While scouting rental sites in a town she didn't want to name, a neighboring businessperson called police, Gill believes because of their skin color. The couple was frisked while their children waited in the car.
"They were terrified," Gill said. "They said they won't be back."
In fact, Gill said, the immigrant community in Beaver County is very scared. Many, she said, are working to get out of the county.
She noted a common misconception is that they take advantage of government benefits and don't add to the economy. In fact, many undocumented immigrants do pay taxes, she said. They pay sales, gasoline, tobacco and related taxes, as well as property tax related to their rental costs.
But in addition to state and local taxes, many use fake Social Security numbers for employment and never reap any benefit from the money they pay, according to the IRS.
Many also use Individual Taxpayer Identification Numbers obtained by the IRS to pay their required annual taxes. The most recent IRS data available, from 2015, indicates those without Social Security numbers, which include a large number of the undocumented, paid $23.6 billion in taxes.
Again, those people will receive no benefits such as Social Security or Medicare in return, Gill said.
Gill said they willingly pay the taxes to create a paper trail they hope will eventually help them become legal residents. She said there are people in Beaver County in the relief program known as DACA who did the same.
Ramirez, who first became a legal resident around 1993, didn't know about the ITIN IRS program, which began in 1996. He paid a fine he remembered as "a good chunk of money" to make restitution.
"It would be awesome to tell my friends about it," he said. "People I know want to do the things the right way."
Our Immigrant Community
David Diaz, 58, and his wife, April, 54, live in one of the big old corner Victorians in Beaver. Before they bought it and converted it back to a single-family home, it claimed 17 post addresses.
It is now known among the local Hispanic immigrant community as "Casa de David" or "David's House" – a play on words between the occupant's name and that of the Biblical figure – a place to gather and find fellowship.
"We don't consider us a church," April said. "We're just a bunch of people who get together and we care for each other."
They talk about how to apply faith to situations. They learn to plan ahead instead of surviving day to day. They talk about cultural divides, such as learning about the importance of buying health insurance.
Many come from countries where health care was free or cheap, so when a local woman developed cancer and eventually died, the community was stunned by the costs and all pitched in to help.
Some go back to their home countries for surgeries, the Diazes said. There are Ambridge family members who have traveled back to Honduras for dental work.
"We educate them that it's cheaper to pay (for insurance) than having no insurance at all," David said.
April is originally from Beaver. She met Venezuelan-born David in South Carolina, where he was working after getting a degree in computer information systems at Louisiana State University, and she was in college. She had studied and taught English as a second language in Spain. They married and eventually moved to Beaver to raise their three boys, one of whom is now in college.
Some time later, April's father convinced David that he should pursue his passion to help people. So David got a Master of Divinity degree on scholarship at Trinity School for Ministry in Ambridge.
Around 2012, the two started working with the local Hispanic immigrant community. It's a community that finds each other, they said. Walmart is a common introduction point, as are restaurants.
The Diazes have met about 15 families in the Ambridge area; three each in New Brighton and Beaver Falls areas; a couple in Chippewa Township; and others scattered throughout the county. Ramirez said there is a large community in neighboring Cranberry Township.
They come from all types of situations, the couple said. Some have applied for political asylum, some escaped poverty and violence, some came as Internet brides and found themselves with abusive men. They're from Mexico and a variety of Central American countries like Bolivia, Honduras, Guatemala and El Salvador.
As for the undocumented ones, David said he has a "don't ask, don't tell policy." He treats them all with the same compassion.
"The ones who are undocumented want to be invisible," April said.
They're frightened. They're probably scared of the current presidential administration, David added, and they're frightened of racial profiling by police. They talk quietly to each other in public to try to hide their accents.
The couple recalled an old story of when local police picked up two Hispanic friends just walking down the street. Though it was resolved, it distressed them.
"They literally just want to be left alone to live their lives," April said. "They want to help family back home and work to have a decent life here."
April says a majority of Americans may not have sympathy or understanding because they "haven't been exposed first-hand to the needs around the world."
"We know that we live in a bubble here. It's the kind of people we are."
David said he's struggling to get his mother out of Venezuela, which is proving very difficult with current family migration rules – also known as chain migration. Parents are considered low priorities.
"Nobody's safe in Venezuela," April said. "It's everyone for themselves." People are struggling to get family members out of horrific situations, David added.
Some choose to cross the border illegally out of fear of being turned away, they said.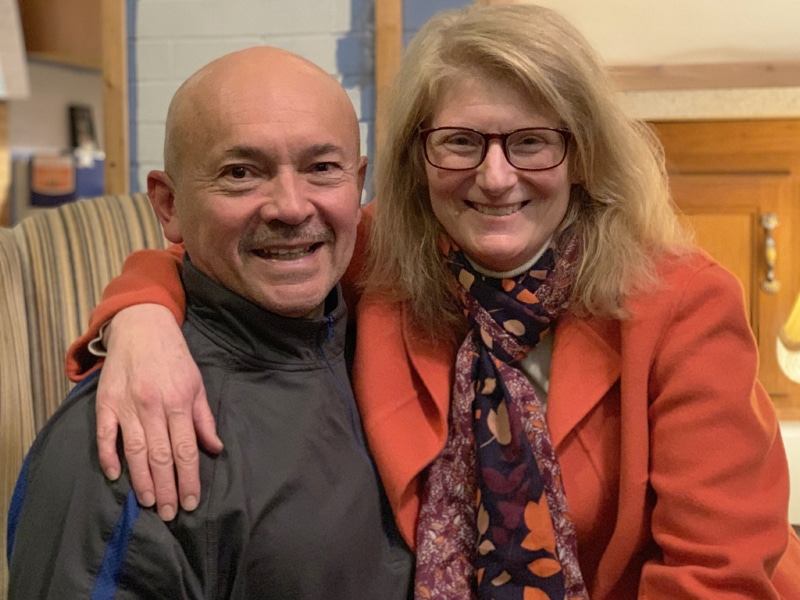 Working
As Ramirez said, it's not hard for immigrants to find jobs here.
"A lot of people hire without papers," Ramirez said. "They make more out of that because they don't have to report any employees."
Many work in restaurants. Some restaurants provide housing for them, Ramirez said. Ethnic restaurants, in particular, employ them and some are treated more poorly than other immigrant workers if they're not of the same ethnicity, Ramirez said.
"They work 12-hour days," Ramirez said. "Ten to 10 weekdays and 10 to 11 weekends."
When Ramirez first entered the country, he went to Chicago and worked in restaurants. His brother, also now a citizen, was in the Pittsburgh area and urged him to come here.
At that time, Ramirez was only allowed to wash dishes, but he wanted to be a chef. But only Chinese immigrants were allowed to be chefs in the Chinese restaurant where he worked.
His brother instilled in him the need for education to further himself. After becoming a resident, he attended Community College of Beaver County in culinary arts and now he proudly hands over his business card as head chef at a North Hills restaurant.
Like his brother, Ramirez sends money home to family in the tiny town of about 1,400 in Los Lorenzos, Guanajuato, Mexico. It was mostly adobe and poor when he left, but money sent from the U.S. has enabled it to become mostly brick dwellings now with many more people prospering, he said.
"That was amazing (seeing the evolution of the village)," he said. "Look what you have in Mexico because of Pittsburgh … It's not just about us."
Ramirez's brother's children are there, attending college, and his brother also funds an unrelated child's college education. Lack of access to education, Ramirez preaches, is the root of problems, "because I think a lot of issues we have is because of (lack of) education."
The Diazes said the Hispanics bring a strong work ethic with them. They don't expect handouts. "They're hard workers and don't complain," April said.
They find jobs here on construction sites, in painting and roofing.
April became emotional as she talked about the jobs the immigrants gratefully accept: scrubbing toilets, pushing brooms, wiping old people's backsides, care-taking.
"We are the ones who are working," Ramirez said. "There's nobody else. There's no one else who wants to do the stinking jobs."
Ramirez said he's seen Americans last two days at jobs Hispanic immigrants work at diligently. Yet he said that he hears Americans complain that their jobs are being taken.
"I hear that a lot," he said. "I don't let it bother me. It says a lot about you. If I take your job, it's because you don't want to do your job."
He and the Diazes also said they hear people complain immigrants take government assistance. "I don't know anyone on benefits," Ramirez said.
"I hear a lot of that and I don't see it. I don't know how they could … I do see a lot of Americans taking advantage. They say they can only work (so many) hours so they can still get their benefits."
David Diaz agreed, saying that assistance offices are very diligent.
Local immigrants probably are earning less than they should, they all said. They're also taken advantage of in terms of hours worked and that fact that they receive no fringe benefits.
An employer has a legal duty to verify that each employee working for him is authorized to work in the U.S., or they could be subject to civil fines and/or criminal penalties. But Ramirez said he knows this law is being skirted by some companies.
"All I know is, if I work hard, I can get whatever I need here," Ramirez said.
Profiting From The Problem
Businesses aren't the only ones profiting from the undocumented.
The Beaver County Prison Board agreed to start housing ICE detainees for the first time at the start of this year. ICE piggybacked off a 2010 agreement with the U.S. Marshall's Service, which had occasionally detained similar people, jail Warden Bill Shouppe said. ICE officials didn't respond to requests for more information.
The jail earned about $150,000 from the Justice Department this year through October for temporarily housing the detainees, Shouppe said. That money goes into the county's general fund.
If the jail is full, the standing agreement gives him the right to refuse them, Shouppe said. And every three years, the jail board can renegotiate the fees.
Shouppe said the jail has held at least 312 ICE detainees so far this year. They leave Aliquippa typically bound for ultimate detention at the York County Prison, which has one of the highest daily undocumented immigrant detainee populations in the country.
"It's been very uneventful," Shouppe said of the local program thus far. "They keep to themselves, eat, sleep and they're gone."
The jail typically houses three to seven detainees a week, and each person stays an average of a week or less, though one man once spent 18 days in Beaver County, he said. After 48 hours, they enter the general population.
Most, Shouppe said, are men between the ages of 25 and 40. There have only been a couple of women. Most had jobs and most come with some money. Most are Hispanic. They come from Guatemala, Costa Rica and Mexico, among other Latin American countries.
But not all. There was a memorable Swedish man who was caught after trying to connect with an underage girl in another state. And there was a Chinese national who was making his second or third exit from the U.S.
Most detainees, to Shouppe's recollection, do not have other criminal charges beyond the charge of illegal immigration. He estimated about 10 to 15 percent may have been otherwise charged. The detainees are able to have family and attorney visits, but Shouppe said it rarely happens.
Every Friday, a couple of ICE agents visit detainees and take questions about their cases. The jail has a counselor who speaks some Spanish, and offers a phone line that can be used for complaints. ICE translated some forms for the jail. But Attorney Gill is still critical that more translation services aren't available, a criticism she also levels at the county court system.
"Most of the time, there is someone (among the detainees) who can speak some English," Shouppe said.
Shouppe said most of the people have been brought in from outside the county. For some, it's their first stop; others are flown in from other states. There were some from nearby Moon Township, he said, but he recalled only one or two brought in by local police.
The use of county/community facilities is cheaper than private detention centers, and their usage numbers have grown, according to national reports.
But some of the agreements have prompted public outrage and protests over the assertion the public was profiting from human suffering, leading some counties in California, Texas, Georgia and New Jersey to opt out.
Beaver County Commissioners Chairman Dan Camp didn't return a call seeking comment on the contract.
Democratic Commissioner Tony Amadio said he was not present for the prison board vote to accept the ICE detainees due to a period of bad health and didn't know much about it.
"I really didn't have the opportunity to discuss it because I was laid up," he said. But he said he will be part of the process when the agreement comes up for renewal.
Nemorio Ramirez has visited people detained in local jails. One such visit was for an undocumented friend who was in the wrong place at the wrong time.
The friend was visiting two other undocumented friends who had gotten in trouble with the law. When police arrived, they took Ramirez's friend too. There was little Ramirez could do for him.
"You lose your freedom whenever you come here. You need to behave. You need to be hidden," he said.
The children at Holy Family Institute are not treated as prisoners, said an anonymous employee BeaverCountian.com is choosing not to name because it could jeopardize his employment.
Sr. Linda Yankoski, Holy Family CEO, said she is not permitted to speak about the children without the permission of the Office of Refugee Resettlement. The ORR didn't respond to requests for information.
But the unnamed employee was quick to say that Holy Family is not a detention center, it's a shelter.
It only accepts low-risk, nonviolent children. There are no bars on the windows, no locks on the doors, but there is 24-by-seven supervision. Girls and boys are separated dormitory style in different buildings. The man is allowed to supervise only boys, and no more than eight children at night, or four children during the day.
"We care for these kids like family …. These children have a significant amount of freedom for school and play," he said, adding that he believes most are happy. They're well cared for medically, well fed and clothed.
They have toys, they draw on the wall, "they're just like regular kids," he said. The most difficult thing for them, in his opinion, is the difference between what they eat here and what they were used to eating in their home countries.
They recently had their first Thanksgiving and they're looking forward to Christmas, and they got up at night to watch their first snowfall.
The man said almost all of the children arrive by air. Most arrive dehydrated, he said.
He said it may be a shock for some children who are treated as adults in other countries to realize they're being treated as children here.
"We are not political," he said, later adding. "Internationally, we wish this was not happening … I don't think you'd find anyone who says that's a good idea."
He said the children are smart and learning well. "We pray the time they spend with us is as good as it can be … at the end of the day we make a positive impact."
His former coworker, the Columbian born Beaver County woman, had a different take on the children's feelings during her year of employment.
"They didn't like to be there," she said. "Some are happy."
Others, "they cry."
Some come hugging themselves, and when they reach to hug the caretakers, they are not permitted to hug the children back, she said.
She is now looking for employment elsewhere and didn't want to cripple her chances by being named.
Giving Back
Coffee gone, Ramirez zips up his jacket to head back into the icy day.
He's got a trunk full of clothing and items to take to the Center for Hope in Ambridge. He also regularly donates and solicits from his community for the Salvation Army in Beaver Falls.
"We need to give back," he says, noting the homeless in need. "If you're going to be here, you need to help."
He wonders if it's possible that lawmakers could come up with some sort of sanctuary plan to help people come out of the shadows. He wonders if the people in the caravans were fed false information on purpose.
"My heart goes out to them," he says. But he remains optimistic for those already here.
"With time and patience and good behavior, you can do well," Ramirez says. "I think this is a privilege to be a citizen of the United States."