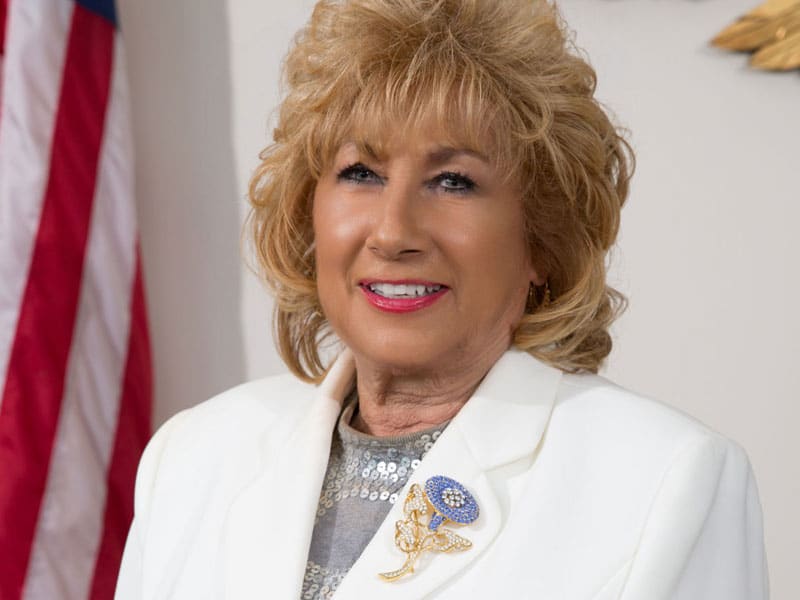 Beaver County Treasurer Connie Javens put forward misleading information about the county's financial situation during an interview on AM radio today. Javens called in to WBVP during an interview of Commissioners Tony Amadio and Dan Camp by Station Programming Director and Democratic operative Mike Romigh to talk about the county's current budgetary problems.
Treasurer Javens informed listeners that she does not believe the county is facing a financial crisis because she checked and there is still money in the county's bank account.
"I don't want to put either one of you Commissioners on the spot, but I'm going to ask you, do you know what's in our General Fund as we speak? […] As of today, we have $9,539,861.35 that's what we have in our General Fund," said Javens. "I do not like hearing our seniors and all of our young folks who are trying to stay above board threatened with these so-called budget deficits."
Commissioner Amadio then began an attempt at doing budgetary math live on air to project how much cash the county may have on hand by the end of the year.
"What's the payroll? […] Our next payday what is that going to cost," said Amadio. "I'm trying to figure this out, you said we got about $9 million in the bank?"
Radio host Mike Romigh, who has not attended the budget meetings, joined in on the on-the-fly budgetary projections. "If she's saying there's $9 so-many million dollars that is in the bank, and payroll is $2 million something, and you have 2 more pay periods before the end of the year […] you'd still have about 5 million," said Romigh. "Does that balance out so you wouldn't have to raise taxes?"
Treasurer Javens jumped back in, "You know what, you know what, I'm going to speak out here, there's not a cow in Texas that will tell me we were $17 million in the hole and in a week we find $13 million, there's not a cow in Texas going to tell me that."
Javens then proceeded to tell an anecdote she heard from her husband which was bleeped out with music by the radio station.
After Treasurer Javens hung up, Romigh doubled down on her remarks, suggesting information being provided about budgetary shortfalls is not accurate, "If there's one thing I agree on, I did mention to Commissioner Egley at one time as well, that you're getting bad advice, you're getting bad advice, from wherever you're getting it from, it's bad."
According to actual county financial data examined by the Beaver Countian, the sophomoric budgetary analysis conducted by Treasurer Connie Javens, Commissioner Tony Amadio, and Democratic politico Mike Romigh live on-air was grossly inaccurate.
Although the county's General Fund does in fact contain approximately $9.5 million in cash on hand, it also has significant outstanding expenditures weighing against it, including: $3.2 million in payroll due through the end of the year, a $4 million Tax Anticipation Note due payable by the end of the year, $1.2 million in outstanding payment obligations to the pension fund, $500,000 in health and pharmacy claims, $435,000 owed to First Energy as part of an estimated tax reimbursement, $230,000 in insurance claims, $125,000 in maintenance and support fees for the county's financial management system, and 4 additional check runs that will require payments for invoices to be withheld until next year due to a lack of funds. The county's various row offices are also holding additional non-essential invoices in their offices until next year at the direction of the Board.
Earlier in the interview, Commissioner Tony Amadio suggested budgetary proposals being offered by Financial Administrator Ricardo Luckow that would see the county accruing modest budgetary reserves instead of deficits was not appropriate.
"I didn't think counties and municipalities were allowed to have a reserve. I don't understand," said Commissioner Amadio. "I've been in government a long time, I didn't think municipalities, boroughs, counties, are allowed to do that. I might be wrong."
Commissioner Amadio is, in fact, wrong. Many responsible county governments in Pennsylvania maintain cash reserves and work to protect those reserves to prevent future financial crisis.
Commissioner Sandie Egley did not participate in the radio interview, having boycotted WMBA back in April after learning Station Programming Director Mike Romigh attended a Democratic Committee meeting and pledged to help the party retake majority control of the courthouse.