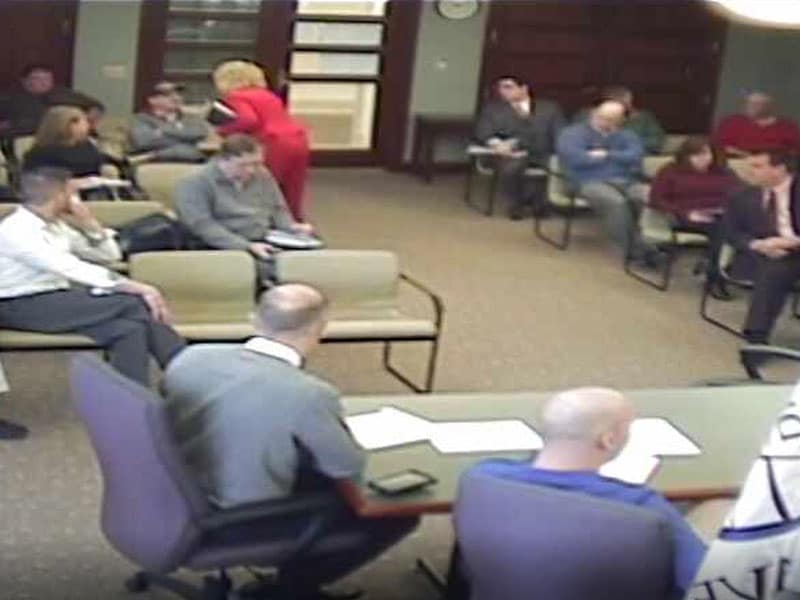 Beaver County Treasurer Connie Javens lost her temper at a public work session today, getting inches from the face of a concerned citizen who asked a question during a public comments session, yelling and pointing her finger at the man. Commissioner Sandie Egley tried to get Javens to back away from him, but she remained yelling in his face until being physically shuffled away from him by her own attorney.
Carl Hughes of Hopewell Township is retired after a 26-year career in the United States Navy and Air Force where he served as an intelligence officer. Hughes, who calls himself an avid reader of the Beaver Countian, recently started attending public work sessions as a concerned citizen when the Board of Commissioners began holding meetings about next year's budget. The man had asked several pointed questions of Beaver County Sheriff Tony Guy at a prior work session and expressed frustration at the time that Treasurer Connie Javens had refused to participate in the Commissioners' special budget meeting.
Hughes got his chance to engage with Treasurer Connie Javens today following her contentious appearance before the Board of Commissioners about the handling of tax bills and collections. Several other members of the public were also present for today's meeting in anticipation of an appearance by Javens. Hughes spoke up with the Commissioners agreeing to open the floor to public comments and questions.
"There appears to be a lack of transparency," Hughs told Javens. "I know you've been there for 25 years and you're used to doing things that you want to do when the times have changed."
Javens responded to Hughs by bringing up her political ally Republican Sheriff Tony Guy.
"Let me say one thing to you, I was here when you picked on the Sheriff," she said, now standing directly over the man as he remained seated.
"I didn't pick on the Sheriff, I asked questions," Hughs responded.
"Oh yes you did," replied Javens. "My attorney just told me today that I don't have to answer any questions."
Rather than asking questions at a public meeting, Javens suggested that Hughes spend an entire day with her in the Treasurer's Office.
"So you're not going to answer any questions then," asked Hughes.
"Why would I answer any questions," Javens again responded.
Commissioner Sandie Egley interrupted the two as voices began to be raised — Javens later blamed her yelling on her Italian heritage.
"I'm a concerned taxpayer, I'm not a fool […] Why is there no transparency from your office," Hughes again asked Javens, specifically mentioning her involvement with the sale of Friendship Ridge.
It was then that Treasurer Connie Javens got even closer to Hughes, leaning into his face, shaking her finger just inches away from him while yelling.
"I did what I was supposed to do," shouted Javens after making reference to her attorney who was in the room.
Commissioner Sandie Egley again attempted to interject, "Connie, please, please, please don't point at, at, at, citizens," as Javens continued to lean into the man's face pointing.
"Who's pointing," replied Javens, looking back at Commissioner Egley, "you got good eyes back there." Javens then turned back around toward Hughes, again sticking her finger in the man's face.
Egley continued yelling the Treasurer's name, struggling to regain control over the meeting, "Connie, Connie, Connie, Connie, Connie…."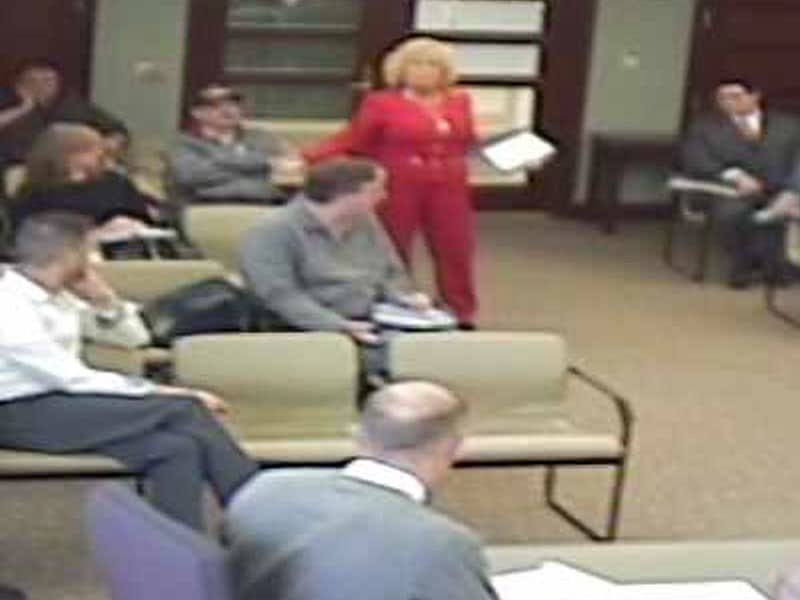 Hughs sat with his arms crossed, looking Javens directly in the eye, "You're not going to intimidate me, believe me."
Javens responded that she was 79-years-old and does not intimidate anybody, "If you don't have respect for the name, have respect for the Office of the Treasurer."
As the Beaver Countian got up to take photographs of Javens invading the man's personal space, her attorney began to physically shuffle her towards the door.
Attorney Gerald Benyo, who was at the meeting as an attendee, then started asking Javens questions of his own about the sale of Friendship Ridge as she made her way through the door. Treasurer Javens suggested he ask the questions of District Attorney David Lozier instead of her.
Treasurer Connie Javens' conduct was captured by the courthouse surveillance system. The Beaver Countian acquired imagery of the encounter (which does not include corresponding audio) after filing a written Right to Know request with the county.
Commissioners Dan Camp and Sandie Egley talked to the Beaver Countian following the meeting, both expressing their disapproval of Treasurer Connie Javens' inappropriate conduct.
"The actions by an elected official today were very unprofessional," said Commissioner Camp. "As an elected official, we need to remember everyday that we are hired and paid for by the citizens of Beaver County and our conduct should reflect the citizens we serve."
"[Carl Hughes] was very respectful to Connie [Javens], and that was something she did not deserve given the way she was acting toward him," concluded Commissioner Egley.
Courthouse sources tell the Beaver Countian that Treasurer Connie Javens' attorney was heard admonishing her about her behavior following the meeting.