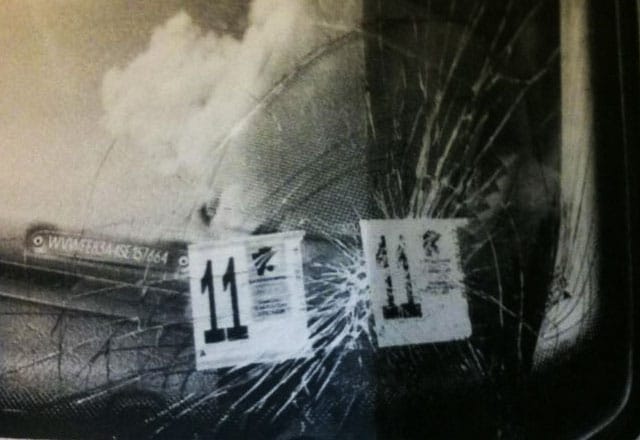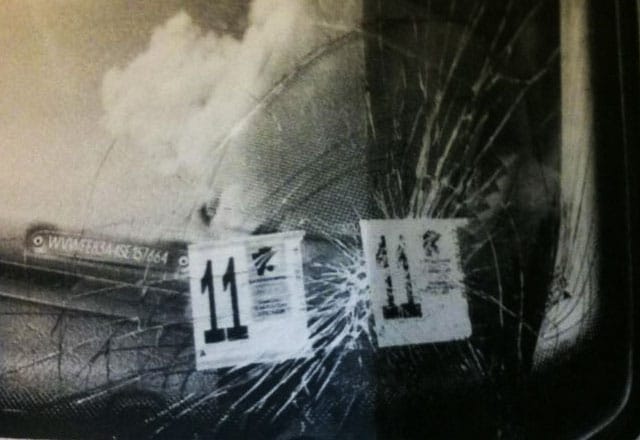 The Beaver Countian has obtained copies of photographs submitted by William C. Pittser as part of his private criminal complaint against Ohioville Officer Nevin Beatty.
William Pittser alleges that on July 17th he was pulled over by Officer Beatty for expired emissions and inspection stickers. He said Beatty came up to his car and rapped on his windshield where the stickers were. "He hit it with his knuckles," said Pittser. The man said the officer didn't hurt himself when he rapped on the window. He said the officer issued him a citation, and he then went over to his father's house.
"I didn't see a crack until after I was leaving my dad's house about two hours later," said Pittser. "Apparently there was a nick or ding in the window. When I put it in reverse it popped." Pittser said he was sure the crack had to be from the traffic stop with Officer Beatty, because no one had gone near his vehicle while he was at his father's house. In his complaint, the man said he subsequently had to replace his windshield which caused him to "incur more debts."
Officer Beatty has denied any wrongdoing, characterizing his encounter with William Pittser as a "routine traffic stop."
Pittser told the Beaver Countian he was encouraged to file a private criminal complaint against Officer Beatty by Mayor John Szatkiewicz. Officials in Ohioville have said that Mayor Szatkiewicz has "wanted to get rid of" the officer since he sparked a public corruption investigation into Chief Ronald Lutton. Mayor Szatkiewicz has denied those assertions, and has characterized the investigation into Chief Lutton as a "witch hunt." Law enforcement sources say the investigation into Lutton by the Pennsylvania State Police is still ongoing.
A trial for the private summary citation for "Criminal Mischief" filed against Officer Beatty by William Pittser was continued last week, after District Judge Tim Finn recused himself. A new hearing date has not yet been set.
Officer Nevin Beatty remains off of Ohioville Borough Police Department's schedule as a result of the private criminal complaint filed by William Pittser.