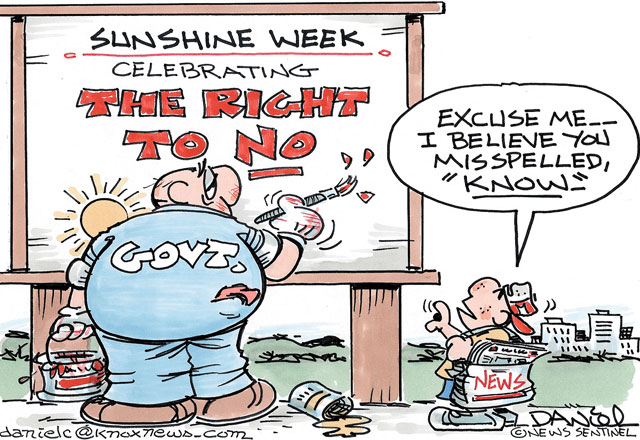 [text size="16″ width="100%" color="#000000″ font="georgia" line_height="24px"]
[dropcap_1 color=""]H[/dropcap_1]appy National Sunshine Week! Yes, spring finally feels as if it's on the way, but this week is dedicated to sunshine of a different kind.
Sunshine Week (March 13th – 19th) is a national initiative to promote a dialogue about the importance of open government and freedom of information. We here at the Beaver Countian are especially fond of sunshine — We're in the middle of filing over 140 Right-To-Know requests which will cover every municipality in the county.
Reactions by local municipal governments to the Beaver Countian have been mixed since our inception just two months ago.
One of our first articles examined the privacy practices of every municipal website in Beaver County. The article, titled "Public Matters Of Privacy", was met with action by Beaver Borough who updated the privacy statements on their website.
Mario Leone, Monaca Borough's Manager, sent the Beaver Countian an email about the report which read in part "I was very interested in the Public Matters story on websites. It is Monaca Borough's goal to insure that we are doing everything to the best that we can be doing it, and I have our webmaster looking into the issues of concern you have mentioned. […] Our slogan is Leading the way in Beaver County… and it is our goal to hold up to this claim."
[bq_right]It's public information that you have a "Right-To-Know" Have a wonderful weekend![/bq_right]Center Township responded to a Right-To-Know Law (RTKL) request within 3 hours of it being sent out via email — The Beaver Countian received digital copies of the records it requested that same day.
Elaine Rakovan, secretary and Open Records Officer for Baden Borough, also had records we requested quickly sent to us in digital format. She reacted to problems the Beaver Countian was facing from other municipalities by saying "It's public information that you have a "Right-To-Know" Have a wonderful weekend!"
Not all local governments have been as receptive to the Beaver Countian's efforts.
In response to a RTKL request made to it, New Brighton Borough issued an official denial, stating the request was "Not made by a citizen of the United States." South Beaver Township sent the Beaver Countian a certified letter claiming they didn't have records on who worked for them or how often those people might work.
During this first National Sunshine Week since our inception, we deem the current weather in Beaver County to be just partly-sunny, but are dedicated to seeing bluer skies ahead.
In an effort to help all local municipalities become more open, the Beaver Countian will file a second round of records requests when denied access, followed by official appeals with the Pennsylvania Office Of Open Records, and even litigation when necessary.
A new "Research" feature of BeaverCountian.com is currently compiling information about area municipalities, including contact information for Open Records Officers, making it easier for citizens to interact with their local governing bodies.
Who says you can't control the weather?

[/text]
Cartoon courtesy © Charlie Daniel.
Reprinted with permission from the Association of American Editorial Cartoonists.