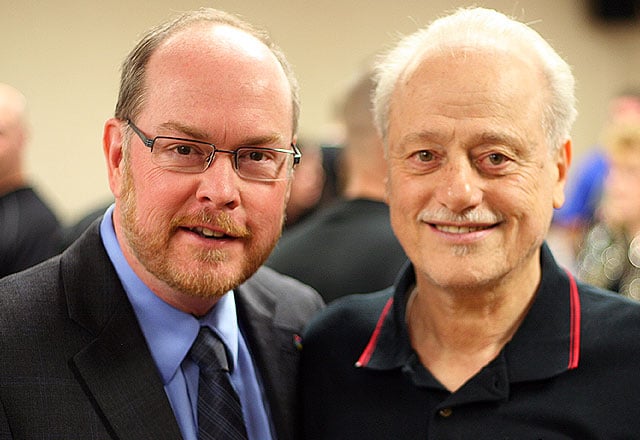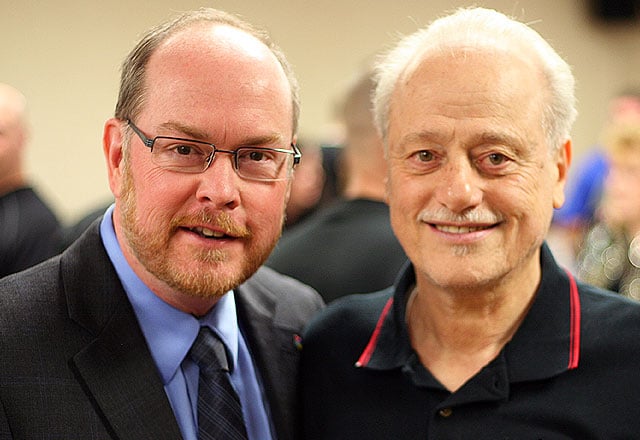 A bipartisan delegation of state representatives has met with Sheriff George David, and at least some of those lawmakers are now advocating on his behalf, according to multiple sources in Beaver County and Harrisburg. Independent sources confirm to the Beaver Countian that county officials have been pressured to drop their lawsuit against Sheriff David by state officials, and that lawmakers are drafting legislation which would allow the Sheriff to resume providing security services to private corporations.
Sources tell the Beaver Countian that a meeting was held at State Senator Elder Vogel's Office earlier this month. Those sources say Sheriff David organized the meeting attended by others from his office, along with State Representatives Jim Christiana (R), Jim Marshall (R), Rob Matzie (D), and State Senator Elder Vogel (R). According to sources familiar with the meeting, Sheriff David has convinced lawmakers to put forth legislation that would overturn provisions in the Pennsylvania County Code which makes it a criminal misdemeanor for Sheriffs to provide private security services for outside entities.
Officials in Beaver County have also told the Beaver Countian they have felt pressured by Republican lawmakers to drop their lawsuit against Sheriff David, a Democrat.
Representative Marshall's political ties with Sheriff David date back to at least April 24th of 2009, when the lawmaker first submitted a proposal to the state legislature on behalf of David seeking to grant Sheriffs full law enforcement powers. On April 13th of 2009, just days before Marshall began circulating his letter to fellow lawmakers, Sheriff David hired the Representative's brother-in-law, Steven Montani, as one of his Deputies.
Last night Representative Marshall's brother, Robert Marshall, was elected as Chairman of the Democratic Party of Aliquippa defeating Mayor Dwan Walker's bid in a landslide 14-3 vote by committeemen. Sources say several others who had expressed interest in the Chairmanship unexpectedly dropped out of the running before votes were cast. Although Sheriff David had provided political support to Dwan Walker in his run for Mayor, sources within the Democratic Party say David and his allies were working behind the scenes to help secure Marshall's win as Chairman.
Representative Rob Matzie's ties to David are similar to those of Marshall's. Representative Matzie's brother, Mike Matzie, has been a part-time Deputy Sheriff in Beaver County for over a decade. County Officials approved a promotion today for Deputy Matzie to full-time status, filling a position in the Sheriff's Office which had been left vacant for over two years. Sources say personnel documents approving the promotion began circulating just days after Representative Matzie's meeting with Sheriff David and other local lawmakers.
Although Representative Jim Christiana and Sheriff George David have kept their political ties quiet, multiple sources within the Democractic and Republican Parties confirm the two have been long-time allies, an allegiance spurred by local real estate tycoon Charles "Chuckie" Betters. Sources say Christiana offered David's wife Linda a job in his office after her employment as First Deputy Prothonotary came to an abrupt end in January of 2012.
A voicemail message left on Representative Matzie's cellphone seeking comment was not returned. Voicemail messages left with the communications directors for State Senator Elder Vogel and Representative Jim Marshall were not returned. A message left for Representative Jim Christiana on his cellphone voicemail was also not returned.
Beaver County Sheriff George David has been the target of a Statewide Investigating Grand Jury for nearly a year.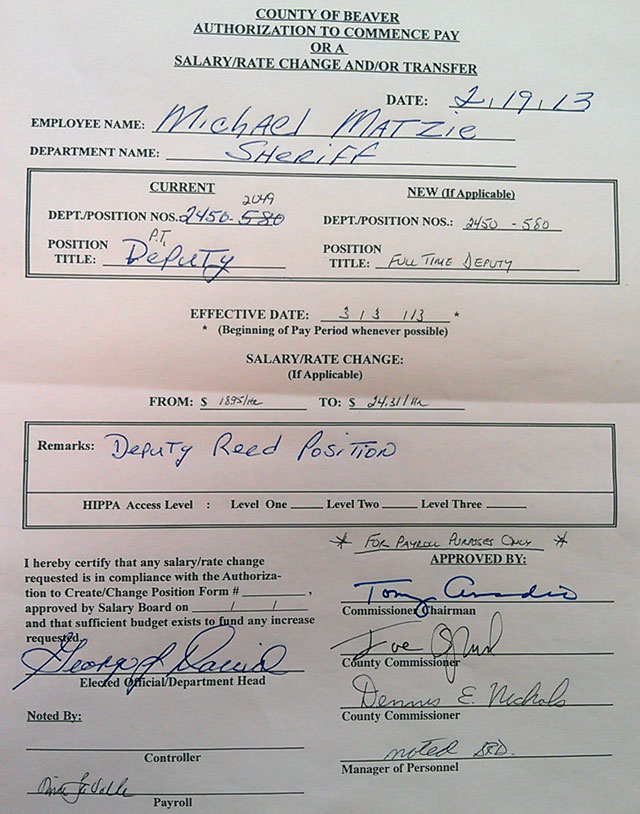 Note: In the interest of full disclosure, the Beaver Countian has released a statement regarding an incident involving Sheriff George David and this reporter.