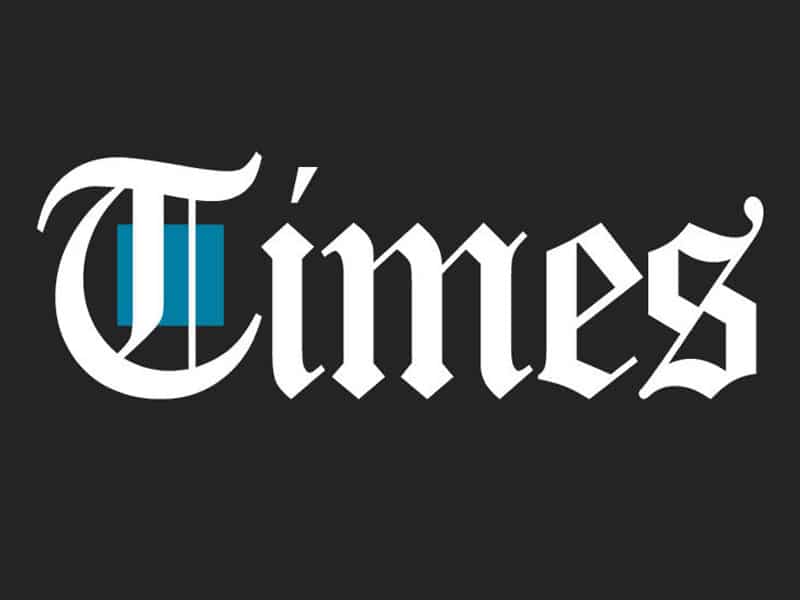 A Pennsylvania state representative says a reporter for the Beaver County Times pretended to be covering his public events for the newspaper, but instead may have been preparing to run against the incumbent in next year's election.
Republican State Representative Aaron Bernstine told the Beaver Countian he held a series of town halls in April and May of this year to hear directly from his constituents and allow them to hear from him about his legislative priorities. Bernstine said reporter Ryan O'Shea from the Beaver County Times attended four of those five town halls, and that he and his staff were led to believe the man was covering the events for the newspaper. However, no coverage of those events can be found.
Bernstine said he later learned the man has been making plans to run for state representative on the Democratic ticket.
"I have known Ryan O'Shea to be a reporter for the Beaver County Times," said Representative Bernstine. "When he came to the town halls he introduced himself to my staff as being a member of the press and handed them his business card for the Beaver County Times and Ellwood City Ledger. At that point, he asked me if he could record video for a story in the Times and Ledger. He also asked if he could put a mic on me so he could get better quality audio for his coverage. I think it's important for people in political life to be as transparent as possible, so I agreed."
Ryan O'Shea told the Beaver Countian that he did not attend Aaron Bernstine's events in his capacity as a reporter for the Beaver County Times or Ellwood City Ledger, but rather in his role as private citizen who just happens to be one of Representative Bernstine's constituents.
"Rep. Bernstine knew me before I attended his town halls so I didn't introduce myself as anything," O'Shea wrote in an email.
O'Shea further said in a text message, "I do attend as many town hall events from all elected officials as I can make it to. I did not cover any Bernstine town halls in an official capacity as an employee of The Times, but as his constituent. I applaud Bernstine for having these town halls."
O'Shea also told the Beaver Countian that he is not "currently" a candidate for public office, "[T]here is currently no announcement that I will be seeking any office. I am in the process of leaving the Beaver County Times, and my focus for now is on my startup company. If there is a change in the future, you'll be among the first to know."
Ryan O'Shea said he never intended to mislead anyone about why he was attending the town hall events.
"I don't know what Rep. Bernstine or anyone else there may have assumed about my intentions, but if he was anticipating coverage from the events, I expect I would have received a follow up asking me about it," wrote O'Shea in an email to the Beaver Countian. "I never heard from him or his staff."
The Beaver Countian had been hearing from politicos as early as the beginning of this year that Ryan O'Shea was exploring a run against Aaron Bernstine in next year's election for state representative for the 10th District, which covers parts of Beaver County, Butler County and Lawrence County, including the Borough of New Brighton where O'Shea resides.
Beaver County Democratic Committee Chairman Stephen Dupree confirmed those rumors to the Beaver Countian during an interview yesterday.
"Ryan O'Shea has talked a lot to me about running for state representative against Bernstine," said Dupree. "However, he has not made his official public campaign announcement yet."
Mandy Hyde, who serves as Representative Bernstine's Constituent Outreach Specialist, told the Beaver Countian that Ryan O'Shea first introduced himself to her at one of the events.
"I was at the Franklin Township town hall where he introduced himself to me as being with the media," said Hyde. "He gave me his business card that had the Times and Ledger on it and he put a microphone on Representative Bernstine and video recorded him for a story."
A photograph provided to the Beaver Countian of Bernstein at one of his town hall events shows him wearing a small black microphone.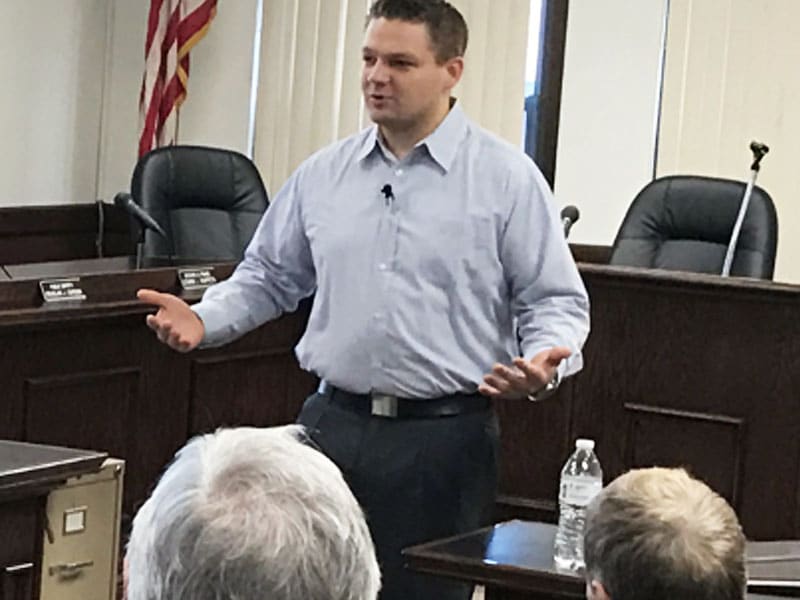 Representative Bernstine's Chief of Staff Nicholas Kerin did not attend the event in Franklin Township, but told the Beaver Countian that he met Ryan O'Shea at another town hall held in Beaver Falls.
"I'm at the event and a man showed up and started setting up a professional camera," said Kerin. "So I walked over to him as Representative Bernstine's [Chief of Staff] and asked who him who he was. He introduced himself as reporter Ryan O'Shea, gave me a business card with the Times and Elwood City Ledger on it, and said he was going to be doing some recording for the paper. He told me he was a good contact in the press for me to have and later added me as a friend on Facebook. He told me I could contact him with any information."
The Beaver Countian was provided with photographs of the business cards both Hyde and Kerin say they were handed by O'Shea at the two separate town halls, and each said they never saw any subsequent coverage of the events in the Beaver County Times or Ellwood City Ledger. A search by the Beaver Countian also did not find any reporting about the events.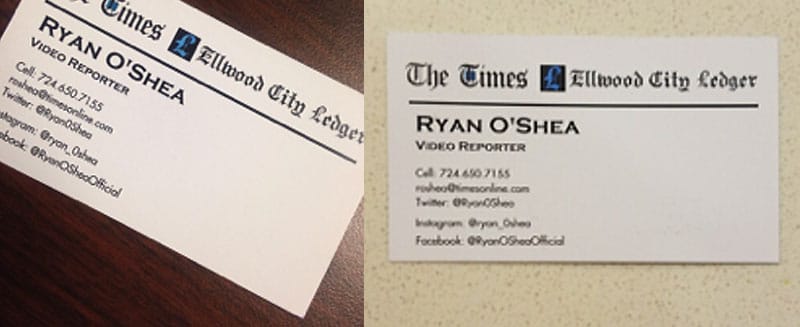 Dupree told the Beaver Countian that in furtherance of an anticipated campaign, O'Shea attended a training class for candidates several weeks ago in Harrisburg conducted by the Pennsylvania House Democratic Campaign Committee (HDCC) and that he has been active with the Beaver County Young Democrats.
"It is the goal of the HDCC to run 203 candidates for state representative," said Dupree. "Nobody gets a free pass."
O'Shea said he attended the recent House Democratic Campaign Committee training, and similar training, because he wanted to "learn about the process and become a more informed citizen." He said he had previously attended other classes including a Republican Committee of Beaver County Candidate Workshop and that he is "not a fan of partisan politics."
Dupree told the Beaver Countian that he believes O'Shea will make "a great candidate" for the Democratic party. However, Dupree said he believes being forthcoming is the best policy for his perspective candidates.
"[O'Shea] told me several months ago that he wanted to run, he asked me what he should do, and we have had many conversations since then," said Dupree. "He is an intelligent individual, so I'm sure he has a reason why he thinks saying the things he is now saying is a good decision. I'm not supporting it, I'm not agreeing with it, but he must have a reason."
Several Democratic county officials the Beaver Countian has spoken with also said they understood that O'Shea was going to be their candidate against Bernstine.
Rather than gathering information to report to the public, Representative Bernstine believes Ryan O'Shea was actually attending his town halls to do opposition research against him and believes O'Shea may use his recordings for campaign purposes.
O'Shea told the Beaver Countian that he regularly films politicians at public events for his own personal use which is separate from his work as a professional reporter, and that he had offered to provide a copy of the videos to Bernstine's staff, although they never followed up with him to obtain one.
"Filming full live events involving local politicians of both parties is nothing new for me. I do it whenever possible, and I try to make this video freely available to the politicians to use for their own purposes, just as I did for Rep. Bernstine," he wrote.
O'Shea provided the Beaver Countian with several links to his Facebook page showing videos he shot of various politicians and political events, including an interview of then-Representative Jaret Gibbons, a debate between Jim Christiana and Mike Rossi, and an interview he conducted of State Representative Jim Christiana, which he said had been done in his personal rather than professional capacity.
"All of these videos (and more that have not been posted) were filmed by me as a private citizen," wrote O'Shea in his email.
None of Representative Bernstine's town hall events were among the videos that O'Shea had posted to his Facebook page.
State Representative Jim Christiana told the Beaver Countian that the interview O'Shea had conducted of him in the past was extensive, and he was in no way under the impression that the reporter was interviewing him as a private citizen. Christiana said he understood O'Shea to be a freelance journalist for WTAE at the time and believed the interview could potentially lead to coverage on the station.
"I was never under the impression that Mr. O'Shea did any of his political coverage because it was a hobby for him," said Christiana. "At that time, as now, I was well aware of Mr. O'Shea's resume as a journalist. I was more than happy to have a substantive on-camera conversation with him in that capacity, just as with all of the other journalists I have given interviews to."
O'Shea responded in an email to the Beaver Countian, "[Christiana] was aware that I did not cover politics for WTAE. He was aware that he was not speaking to me as someone representing WTAE." O'Shea clarified that he was not a freelance reporter for the station at the time, but rather employed as a digital content producer.
A description under the video that O'Shea posted of his interview with Christiana reads: "This is part of my ongoing interview series with elected officials and important figures in Beaver County and Western Pennsylvania. Feel free to follow Ryan O'Shea WTAE for more!"
As for the microphone that Bernstine was wearing during his town hall, Ryan O'Shea insisted he did not arrive expecting to ask Bernstine to wear it.
"When I arrived and began setting up my tripod at his Slippery Rock Township town hall, Rep. Bernstine approached me to welcome me, shook my hand, motioned to my lavalier mic and said something along the lines of 'Would you like me to wear that?'" O'Shea told the Beaver Countian. "I wasn't going to ask him to wear a microphone, but since he offered I figured it would be a good idea."
Beaver County Times Assistant Managing Editor Kristen Doerschner said the paper did not know that Ryan O'Shea had been attending and filming many of Bernstine's town hall events in that manner.
"It is our understanding that he has not officially decided anything on a run for office," said Doerschner. "No official action has been taken in terms of that."
When told of Democratic Committee Chairman Stephen Dupree's statements to the Beaver Countian that O'Shea had attended candidate classes in preparation for a candidacy and had been meeting with the Democratic Party about a campaign against Bernstine, Doerschner said that was information her paper did not have.
"If that is true, I am unaware of that, as are the other editors," said Doerschner, who confirmed that O'Shea will not be working for the paper much longer. "Ryan did turn in his notice at the beginning of the week, he put in his two weeks on Tuesday [July 18th]. The reason that we were given is he is involved in a startup company and he said that he wanted to focus on his startup."
Doerschner said O'Shea is a general assignment reporter for the paper who covers diverse topics. She stressed that Ryan O'Shea is of no relation to Managing Editor Patrick O'Shea, and that the two men did not know each other before working together at the paper.
State Representative Aaron Bernstine said he is outraged about Ryan O'Shea, believes the man is now playing coy about plans he was making for a political candidacy, and dismisses claims that he was filming the town halls as part of a personal hobby.
"I am open to having a microphone placed on me by a reporter because I think that adds an additional level of transparency; it allows my constituents to understand what I am doing and allows me to gain their insights and opinions in response," said Bernstine. "Clearly I wouldn't have allowed a political opponent to put a microphone on me and my staff would not have added him on Facebook to provide him with information […] I think the greatest issue is that Mr. O'Shea misrepresented what he was there for by fraudulently claiming he was there operating as a reporter for The Times. Anytime you have someone who starts off a political campaign with that type of lack of integrity it raises great concerns."