A comment made by Republican State Representative Aaron Bernstine (R-10, New Beaver) to his Twitter account has sparked a national debate. Bernstine tells the Beaver Countian he believes the controversy is being created by "liberal commentators" who are twisting his actual words.
Bernstine's tweet was made in reply to an article published by The Hill, "Protesters shut down St. Louis streets after ex-cop acquitted in murder of black man."
"If anyone EVER tries to stop my car on a highway with negative intentions… I will not stop under any conditions," tweeted Bernstine.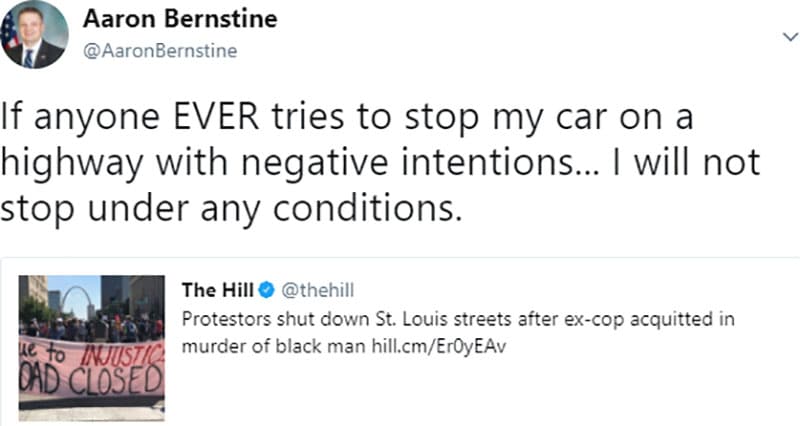 His message has quickly garnered thousands of replies so far, including ones by nationally recognized reporters. Major online news outlets have also begun to write about the tweet.
Bernstine began responding to the deluge of messages with additional tweets of his own.
"Feel free to call my office and let me know if you think it is ok to refuse to stop if thugs try to stop me or my family on a highway," he wrote.
Bernstine replied to a tweet by Keystone Progress that encouraged people to call his office to complain, "Difference between me and these snowflakes is that I won't be assaulted in name of 'free speech.'"
"Apparently you think being inconvenienced in traffic entitles you to commit attempted murder," tweeted Keystone in another message, to which Bernstine replied, "Ask people in LA how that worked out for them."
Sean Kitchen was also among those who replied to Bernstine, "Odd that someone like @AaronBernstine who is against Sharia Law will advocate for a strategy used by ISIS. #PaHouse." The legislator remained unfazed, tweeting back to the man, "Wrong…. I'm saying when thugs try to stop cars and threaten drivers trying to go to work."
Salon.com, a major online news outlet with nearly 1 million Facebook followers, ran an article today about the controversy under the headline, "GOP lawmaker threatens to run over protesters who block streets." Think Progress, another online news outlet boasting 1.7 million followers, ran an article of their own featuring a similar headline, "Republican lawmaker vows to run over protesters who block highways." Raw Story, also with over 1 million followers, ran with the headline, "'I'd def not stop my car!': Pennsylvania GOP lawmaker vows to mow down protestors who block streets."
It is not just online news reporters who have taken notice of Representative Bernstine's Twitter posts. Among those replying to him are Kurt Eichenwald, Contributing editor of Vanity Fair and MSNBC Contributor. "@AaronBernstine …save this 4 ur allocution when it forces u 2 plead guilty on murder 2 charges to avoid this tweet's proof of murder 1," he wrote.
Aaron Bernstine told the Beaver Countian that he stands by his remarks and believes the fuss is being created by "liberal commentators" who have distorted his message beyond its actual meaning.
"I think people across this country have grown tired of people that are committing acts of violence in the name of peaceful protests," he told the Beaver Countian. "With the numerous situations that have happened, just as recently as the so-called 'peaceful protesters' — who chose to damage people's property and assault police officers with weapons including bricks and tried to burn buildings down to the ground — my point was that I am tired of that behavior and I know that other people in this area, across this Commonwealth, and throughout the United States are tired of it as well."
Back in August, the Beaver Countian wrote about a video posted to Facebook by Representative Bernstine that showed him receiving tactical firearms training in response to an act of vandalism that occurred on his property.