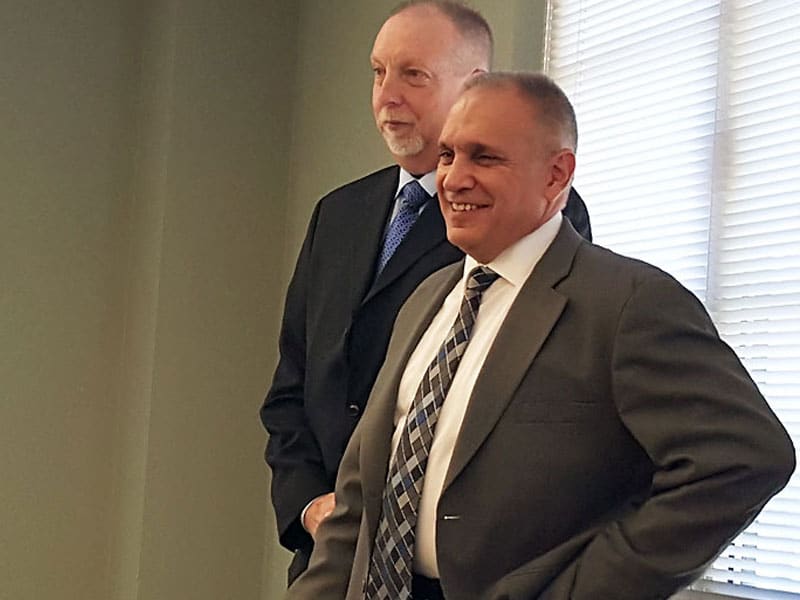 Depositions are set to begin in a federal civil rights lawsuit filed by a former deputy whose testimony in open court helped lead to then-Sheriff George David being placed on house arrest for 3 months after violating provisions of his bond back in 2014.
Curtis Larrick, who had been a Deputy with the Beaver County Sheriff's Office since 1992, was fired by the newly elected Sheriff Tony Guy when he took office in January of this year. Larrick alleges he was terminated by Guy because he supported his opponent, Democrat Wayne Kress, during the election.
After Sheriff George David was defeated by Kress in the Democratic primary last year, David and many of his most loyal deputies threw their political support behind Republican Tony Guy helping to carry him to a victory in the general election. Tony Guy aligned himself with many of the same people politically tied to George David, including local real estate tycoon CJ Betters who helped to fund Guy's campaign for Sheriff.
Officials with the Pennsylvania State Police have said that Larrick was instrumental in their investigations into Sheriff George David and corruption within the Beaver County Sheriff's Office and elsewhere in the county.
According to senior law enforcement sources, Tony Guy had met with investigators from the State Police following his election, who shared with the Sheriff-elect information about their years-long investigations. Larrick was among the only deputies that investigators specifically recommended Guy keep on staff due to his cooperation and truthfulness. But Guy ultimately terminated Larrick while keeping on staff most of the deputies that investigators specifically recommended Guy terminate — some of George David's inner-circle of deputies who were accused of stonewalling investigators or harassing and retaliating against those who assisted State Police.
Along with his assistance to the Pennsylvania State Police, law enforcement sources tell the Beaver Countian that Larrick provided information that went to the Federal Bureau of Investigations, the IRS Criminal Division, and the Federal Bureau of Alcohol, Tobacco, Firearms and Explosives — agencies which also have had ongoing investigations into alleged corruption and organized crime in Beaver County.
Tony Guy denied his firing of Larrick was politically motivated, but provided no reason for the termination — multiple sources inside of the Sheriff's Office told the Beaver Countian that George David and his loyalists lobbied hard for Larrick to be fired by the new administration.
Attorneys for both sides of the lawsuit have exchanged witness lists in preparation for depositions set to begin sometime next month.
Among those being deposed as witnesses for Sheriff Tony Guy and the County of Beaver are current and former Deputies Jay Alstadt, Charles Hurst, Richard Yonlisky, Randy Tallon and Jim McGeehan.
Tallon and McGeehan were among the deputies that Beaver Countian founder John Paul previously testified had harassed him following his criminal complaint against George David. Internal personnel investigations conducted by county officials concluded Hurst, Tallon and McGeehan were among those who had harassed Larrick.
Alstadt and McGeehan served in the chain-of-command for both George David and Tony Guy — Tallon was a vocal supporter of both Guy and David. Guy recently attempted to rehire McGeehan following his retirement as part of a county buyout, but the move was blocked by the Board of Commissioners who refused to approve the paperwork.
Among those being deposed as witnesses for former Deputy Curtis Larrick are Pennsylvania State Police Corporals Joseph Olayer and Daniel Mosura (who were responsible for the arrest of Sheriff George David), Chief County Detective Andy Gall, and retired County Human Resources Director Rick Darbut (who conducted a series of internal investigations into deputies in the Sheriff's Office).
Sources inside county government have told the Beaver Countian that the Republican-led Board of Commissioners offered Larrick a settlement proposal of $5,000 to drop his federal case against Guy — an offer which was summarily rejected. The case is being handled by the county's insurance carrier.