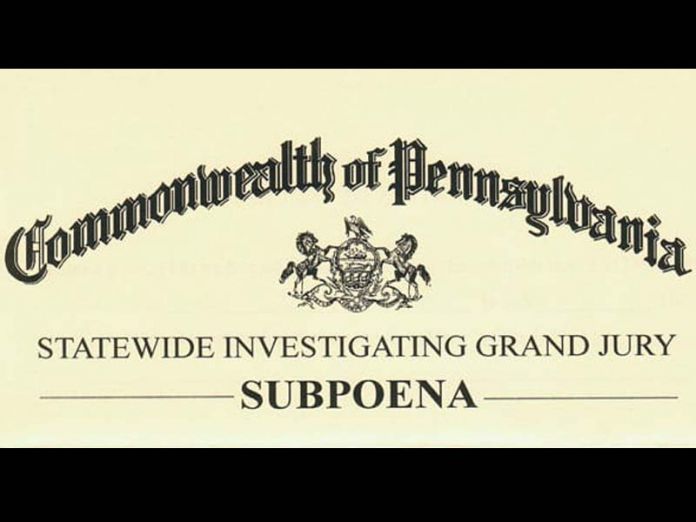 The Pennsylvania Statewide Investigating Grand Jury will be convening next week to begin hearing testimony about alleged corruption in Beaver County, according to multiple sources with knowledge of the proceedings.
The Grand Jury investigations are just a piece of a county-wide effort by the Pennsylvania State Police, Pennsylvania Attorney General's Office, and several federal agencies — including the Federal Bureau of Investigation — that was first reported by the Beaver Countian last month.
During the past several weeks investigators with State Police have conducted numerous interviews of witnesses in separate investigations involving the Aliquippa and Ambridge Police Departments, according to five sources with knowledge of the interviews. Several individuals who have been interviewed by investigators spoke to the Beaver Countian directly about the ongoing probes on condition they not be identified by name.
Some interviews involving the Aliquippa Police Department have been conducted with the assistance of investigators from the Organized Crime Section of the Pennsylvania Attorney General's Office. Sources tell the Beaver Countian that FBI Special Agents have also been making inquiries involving the Aliquippa Police Department and the City of Aliquippa. Sources say the FBI has previously conducted interviews involving the Ambridge Police Department.
Based on information obtained by the Beaver Countian it appears state law enforcement officials are taking a "ringed target" approach to their investigations, starting with probes into municipalities on the outer rings while slowly but deliberately working their way in towards a center bullseye — the courthouse and county government.
Along with the Aliquippa and Ambridge Police Departments, the Beaver Countian has confirmed that individuals in the Beaver County Sheriff's Office and officials in the Beaver County Court of Common Pleas have been targets of active investigation over the past month.
Proceedings of the Statewide Investigating Grand Jury are secretive and it is unclear for certain what next week's witness testimony will pertain to, although it appears the Aliquippa Police Department, the City of Aliquippa, and individuals associated with it are currently the subject of greatest scrutiny by state investigators.
The Beaver Countian has previously reported that Federal authorities have been investigating whether any of the alleged activities that may have occurred in Beaver County could fall under the federal Racketeer Influenced and Corrupt Organizations Act — RICO — which can be used to prosecute a pattern of crimes that would otherwise be barred by statues of limitations at the state level.
State and federal law enforcement officials have been making inquiries into prominent business figures, law enforcement personnel, and former and current county elected officials as part of their lengthy corruption investigations.
Beaver County District Attorney David Lozier and County Detectives have all been excluded from assisting in the investigations. District Attorney Lozier previously attempted to prevent the Pennsylvania State Police from investigating complaints about possible corruption in the courthouse.
Note: This article originally referred to Aliquippa as a "Borough," when it is in fact a "City." The error has been corrected.