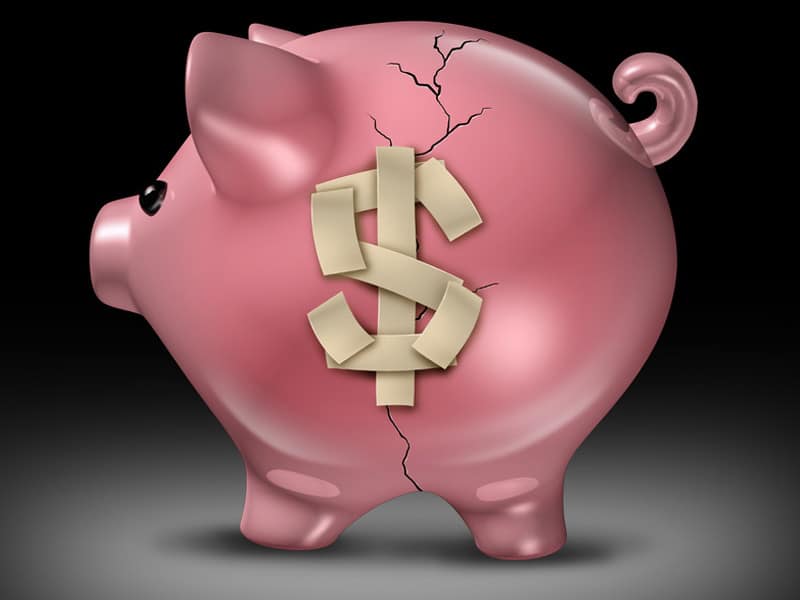 Beaver County has been spending more each year than it brings in from taxes and other regular revenues — if significant actions are not taken by the Board of Commissioners the county's finances will soon face unsustainable yearly deficits, according to a study funded by the Pennsylvania Department of Community and Economic Development.
The Beaver Countian has obtained a draft copy of a report produced by Public Financial Management (PFM) and presented to county officials as part of an Early Intervention Program grant awarded by the state. The study reveals the actual scope of Beaver County's financial problems, validating earlier reporting by the Beaver Countian that some officials have been misleading the public about the true nature of the county's economic condition.
The independent analysis sought to understand Beaver County government's financial position and the major factors underlying its performance. Beaver County was compared to other similarly sized counties in the region for benchmarking purposes and projections were made about its financial situation in coming years if the status quo is maintained.
The report addresses both the financial opportunities and challenges faced by the county.
"Beaver County has unique economic development opportunities related to the Shell ethane cracker plant in Potter Township," note analysts. "Estimates for that project are eye catching — $6 billion to $7 billion in private sector investment, 6,000 construction related jobs and hundreds of new permanent jobs directly created at the site with thousands more related to its activity."
Despite the "eye catching" numbers, the report concludes that the county's budget will see very little direct benefit from the massive undertaking.
"The most likely benefit that County government would receive from the cracker plant development would be increased real estate tax revenues related to the spin-off growth, separate from the plant site itself. There may also be increases in more minor revenues (business licenses, real estate transfer tax), but those account for a very small part of the County's budget," notes the report. "The plant itself will generate an additional $100,000 per year in payments-in-lieu-of-taxes that are included in our projections."
The report asks a fundamental question, "The key question is what other development projects can we reasonably project will be completed and added to the County's tax roles before the end of our projection period in 2022?"
The report notes that actual revenues generated for the county by each individual down-stream project is also relatively small. The report takes into account approximately $10 million in planned economic development projects county officials are currently aware of — under the county's current taxing scheme about $68,000 in yearly tax revenue will be generated as a result.
"It will take even more development to reach the level that would generate significant revenue for the County," say analysts.
Beaver County current has several specially designated "Keystone Opportunity Zones" where new development projects would not be required to make property tax payments to the county at all.
With property taxes being the only significant direct benefit seen by the county's general fund budget, hundreds of millions of dollars in development could equate to only hundreds of thousands of dollars in revenues — at best — for an operating budget that will be seeing a projected yearly defect of over $10 million within five years.
Analysts are predicting a yearly budget deficit of $1.3 million for 2018, $3.7 million for 2019, $6.1 million for 2020, $8.7 million for 2021 and $10.8 million by 2022 — the county's year-end fund balance will be -$30.7 million by 2022 if major changes are not made.
The report also shows Beaver County has no "reserve fund" to allow for unbudgeted expenses which may arise during the course of a year, leading to even greater financial instability. The report notes the Government Finance Officer's Association recommends counties maintain 16.7% of yearly operating expenditures in reserves. Rather than maintaining positive yearly reserves, Beaver County had a negative balance of -5.6% during study year 2015 — compared to positive reserves of 2.8% in Fayette County, 12.8% in Butler County, and 27.7% in Washington County. Only Cambria County scored worse in the benchmark among other 4th class counties in geographic proximity to Beaver County which were analyzed for the report.

Beaver County is currently defending against litigation that could see a reassessment of all properties in the county for tax purposes. County officials have been privately resigned to a belief they will be losing that litigation, and have publicly stated a county-wide reassessment would be an enormous expense.
Analysts note their projections do not yet include the cost of a reassessment, and if such a reassessment occurs it would not automatically mean an increase in the county's yearly tax revenues:
"Similar court challenges have occurred elsewhere. If Beaver County conducts a reassessment, that will not necessarily increase revenue. Reassessments by themselves are intended to be revenue neutral so the millage rate is lowered to offset higher property values. Washington County's tax rate dropped from 24.9 in 2016 to 2.43 in 2017. Counties can, by special vote, increase tax revenue up to 10 percent following a reassessment, but that's separate from the reassessment itself. There will be significant costs associated with reassessment, which we will factor into our projections when the timing is known. For example, Washington County's Controller estimates that the entire process costed $8.75 million over seven-plus years."
After their extensive review of the county's finances, analysts have issued a harsh warning to county officials.
"The County is projected to incur an operating deficit and completely exhaust the fund balance beginning in 2018 absent corrective action," concluded the report. "The 2017 debt refunding has provided the County with short-term budgetary relief to begin implementing initiatives to address the structural imbalance."
Although the Board of Commissioners are aware of the report's findings, there has been little talk during public work sessions about addressing the fundamental structural imbalances in the county's budget. The county's credit rating has been downgraded twice over the past two years due to these imbalances.
Under a proposal discussed during public meetings and included in the current draft budget for next year, County Commissioners plan to "balance" the 2018 budget by not making over $1 million in estimated payments into the county employee pension fund. While the nonpayment of the county's pension contribution in 2018 will not affect checks going out to retirees, it will likely mean the prospect of needing to make an even larger pension fund contribution in 2019 — a time when projections show the county's financial situation will be far more dire.
Pensions for county employees are funded with contributions made by current workers, returns on investments of those contributions, and an Annual Required Contribution (ARC) payment made each year by the county from tax revenues. The ARC payment represents a mathematical calculation of how much the county needs pay into the plan in order to balance returns from its long-term investments with outgoing pension payments being made to retirees.
County Commissioners have told the Beaver Countian that a withholding of the 2018 contribution to the pension fund has not been discussed with unions representing the county's public workers.
The Beaver County Employee Pension Fund has long been a source of pride for the Board of Commissioners, being one of the few in Pennsylvania to be fully funded — due in part to bonds issued to fill shortcomings in years past. With the county now running out of one-time revenue streams to plug its structural budgetary gaps, a shortchanging of the county's pension fund will enable the Board to pass next year's budget without making politically difficult decisions on implementing real initiatives toward restructuring government to become financially sustainable.
Public Financial Management is set to begin the next phase of its state-funded study of Beaver County's finances, which is expected to produce a list of recommendations or initiatives as part of a five-year financial plan for Commissioners to consider.
County Commissioners previously failed to implement any of the cost savings measures they publicly backed at the end of 2016 when passing the structurally imbalanced budget for this year. The Beaver Countian questioned the Board of Commissioners about the 2018 proposed budget's structural imbalances and their plans to skip a 2018 employee pension fund payment during a public work session held on October 25th. The exchange can be heard in full below.
Listen to the Beaver Countian's John Paul questioning County Commissioners about next year's budget: