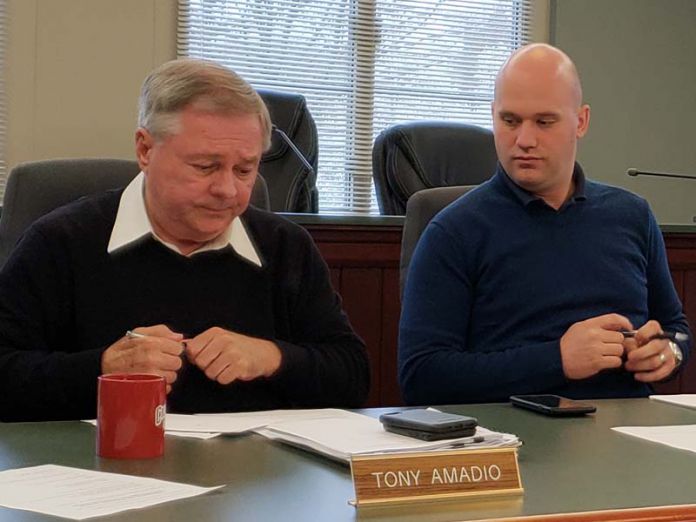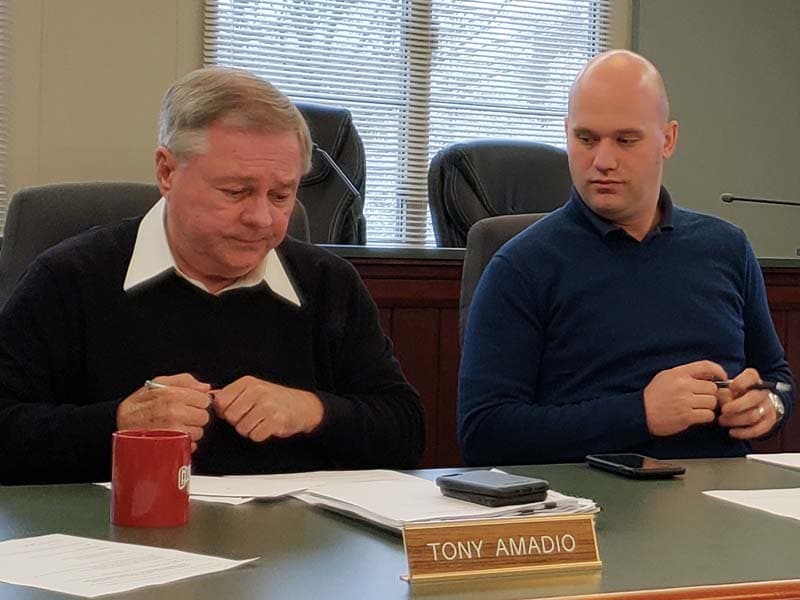 A multi-year financial management plan for Beaver County — funded by a state grant and produced by independent analysts — shows the county is in the middle of a financial crisis that must be addressed to avoid insolvency. The analysis stands in sharp contrast to public statements made by Commissioners Tony Amadio and Dan Camp, who have attempted to cast doubts about the county's dire financial position.
In a draft copy of a report by Public Financial Management (PFM) Consulting Group obtained by BeaverCountian.com, the company puts to rest any uncertainty about the condition of Beaver County's finances. The draft copy is stamped "confidential" and notes final numbers are subject to change.
Projections show the county will face a $5.4 million deficit in the General fund beginning in 2019 that will grow by roughly $2 million each and every year through 2023 — the final year studied by analysts.

The projections are consistent with prior projections released by the company in November 2017 as part of an Early Intervention Program grant funded by the Pennsylvania Department of Community and Economic Development.
"[T]he severity of the problems highlighted by the baseline projection should not be dismissed as 'just one scenario,'" analysts wrote. "During our departmental interviews, some people asked questions like, 'Are the problems really that serious?' or 'Are they any worse than other Pennsylvania counties face?'"
PFM analysts detailed how Beaver County's commissioners have been "balancing" recent budgets:
"In 2017 the County increased its real estate tax rate by 17 percent to help balance its budget. Coupled with the debt restructuring that reduced associated payments for a couple years and the pension credit related to the Friendship Ridge sale, the tax increase reportedly helped the county generate a $4.7 million surplus for 2017.
"In late 2017 the County adopted a balanced budget for 2018. To do so, the County zeroed out its contribution to the employee pension plan for one year and used $1.3 million in reserves to cover its anticipated expenditures. The actions that helped the County in 2017 and 2018 — trading lower debt payments now for higher payments later, double-digit tax increases, skipping contributions to the pension plan, using reserves to cover current year expenditures — are not sustainable over the long term. Meanwhile the County's investment in repairing and replacing its core infrastructure remains modest at $700,000 in 2018 and there is no meaningful plan in place to fund needed capital improvements beyond that."
Commissioners have in effect been "balancing" the budget by compounding the severity of financial problems the county will be facing in coming years. The county's budget remains structurally imbalanced, with recurring expenses significantly outpacing recurring revenues.
Following news of a General Fund "surplus" from 2017, Commissioner Amadio boasted that Beaver County never was facing budget deficits, that the county's budgets have been good, and that then-Financial Administrator Ricardo Luckow had been wrong in his assessments of the county's dire financial situation.
Amadio told WBVP: "For example, when it was stated that it was a $16.5 million deficit two years ago, that's 1/4th the General Fund. That's impossible to come back from that in two years. So that was my concerns, my concerns were the budgets were good, the ending surpluses were good, and I'm just happy."
As BeaverCountian.com has previously reported, the county ended 2015 without the necessary funds to repay tax anticipation loans as required. Under then-Financial Administrator Vince LaValle, the county drafted bad checks with insufficient funds in its bank accounts to repay the loans. The move carried a $6.91 million cash deficit into 2016, when additional loans were obtained to prevent the original loan payment checks from bouncing once cashed. It was news never reported by the Beaver County Times or WBVP.
"I feel vindicated," Amadio told the Times at the end of February. "I'm just happy that everyone finally realizes there's a surplus. My major concern is our chairman [Commissioner Sandie Egley] talking about the big deficit Beaver County was having, and we're sitting on $4.7 million."
The Times responded by publishing an editorial in March, "Our View: The sky is falling – or not," bolstering Amadio's claims and forwarding his false narrative. BeaverCountian.com reacted by publishing an editorial of its own, "History Will Judge The Beaver County Times Harshly," warning the public about the newspaper's reporting on county government.
Commissioner Dan Camp joined Amadio in singing praises about the county's finances — the two used the political cover provided by the Beaver County Times to fire Financial Administrator Ricardo Luckow on March 8. Luckow had been using public meetings to sound an alarm about the county's finances — it was reported following his termination that he would continue assisting law enforcement in their investigations into county government.
Commissioners Camp and Amadio last month hired "Susquehanna Accounting and Consulting Solutions" from Harrisburg to fill the vacant role of county financial administrator. Commissioner Egley came out against the contract after learning the group would work remotely and not make itself available during public meetings in Beaver County.
Commissioner Camp told the Beaver County Times: "It's important to see a different style of financial administrator than we had before. They are an outside company, and they won't be playing favorites."
Commissioners Amadio and Camp signed a contract with Susquehanna Consulting last month despite no formal vote being conducted at a public meeting.
While other counties in Pennsylvania are also experiencing the problem of flat property tax revenues against growing personnel expenditures, the PFM analysts say Beaver County's problems are far greater than most.
"As noted earlier, this County's debt burden is higher, its spending on capital projects is lower and its credit rating is weaker than other Pennsylvania counties that largely have the same constraints. The County should not be content to be at the lower end of the rankings." Analysts noted that "of the 38 Pennsylvania counties that have received credit rating scores from Standard & Poor's, Beaver County had the third lowest score as of April 2018."
Analysts also pointed out that S&P repeatedly downgraded the county's credit rating to the third lowest possible before reaching "junk bond" status, and noted that S&P found the county has suffered from "weak management" among other problems.
"Beaver County government's financial challenges are real and require deliberate action to fix now," concluded analysts. "If the County tries to address these challenges solely on a year-to-year basis through its annual budget process, leaders will back themselves into a corner where they will need to implement more severe tax increases, service cuts or both with the sole purpose of remaining solvent."
See Also:
– Commissioner Amadio Is Telling The Public False Things About County Finances Again
– Commissioners Camp And Amadio Vote To Adopt A Proposed Budget For 2018 Over Egley's "No"
– Former Financial Admin Still Assisting Law Enforcement Despite Being Fired
– In-Depth: Beaver County Hid Massive Deficits – Wrote Millions In "Bad Checks" At The End Of Last Year
– In-Depth: Beaver Countian Challenges Amadio On Statements About The Budget – Amadio Tells Egley To "Keep Smiling"
– Amadio & Camp Remove Egley As Chair & Fire Financial Admin Luckow
– Commissioners Did Not Post Job Opening For Financial Admin – Conducted One Interview Of One Candidate
– Commissioners Camp And Amadio's Sole Candidate For Financial Admin Turns Down Job Offer
– Another Candidate For County Financial Administrator Falls Through
– Beaver County's Credit Rating Downgraded By S&P Again
– Treasurer Connie Javens Misleads Taxpayers About The Budget During AM Radio Interview
– Annual Financial Report Provides Further Proof Of County's Massive Budget Deficits Caused By Prior Board