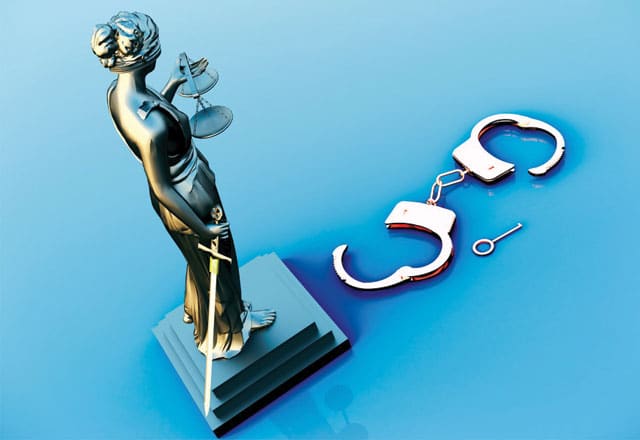 A criminal defendant represented by a Solicitor for the Sheriff's Office was granted special treatment during his appearance in court this week. Ohioville Police Chief Ronald Lutton managed to evade news crews on Thursday, after being ushered in and out of a courtroom through restricted entrances and secured hallways by a Sheriff's Deputy.
Ronald Lutton appeared in court on Thursday for a preliminary hearing on allegations he bilked Ohioville taxpayers out of tens of thousands of dollars by forging documents and falsifying time sheets. The Beaver Countian and a camera crew from WTAE waited for Lutton to appear in front of Courtroom 3, where his case was scheduled for 9am. Lutton was never seen entering the courtroom, but court dockets were updated to show he had waived his preliminary hearing.
Sources who were in the courtroom for other cases say Ronald Lutton was escorted in through a secured door in the back of the courtroom by Sheriff's Deputy Captain James McGeehan, and was quickly escorted back through that same door after making his brief appearance before the Magisterial District Judge.
Chief Lutton is represented by Attorney Myron Sainovich, who also serves as the Sheriff's Office Solicitor.
Since Lutton was not in custody, the special accommodations saw the criminal defendant being walked past judges' private chambers without being in handcuffs and shackles as is part of the standard security protocol. Defendants not in custody are normally made to sit in a public waiting room that has a glass front, and then enter Courtroom 3 through a set of double doors in the public hallway. Officials in the Court Administrator's Office say they were unaware of the arrangements made for Lutton, and several defense attorneys characterized the accommodations as being "unprecedented."
Ronald Lutton has tentatively agreed to a plea deal in the case which is said to include a long period of probation, restitution to the taxpayers of Ohioville, and a lifetime ban from law enforcement. A status conference in the case is scheduled for September 18th.
Chief Ronald Lutton and several other officials for Ohioville Borough are currently being sued by Ohioville Patrolman Nevin Beatty, who alleges he was retaliated against after exposing the apparent wrongdoings.
Note: In the interest of full disclosure, this reporter is a named victim in criminal charges filed against Sheriff George David by the Pennsylvania State Police.