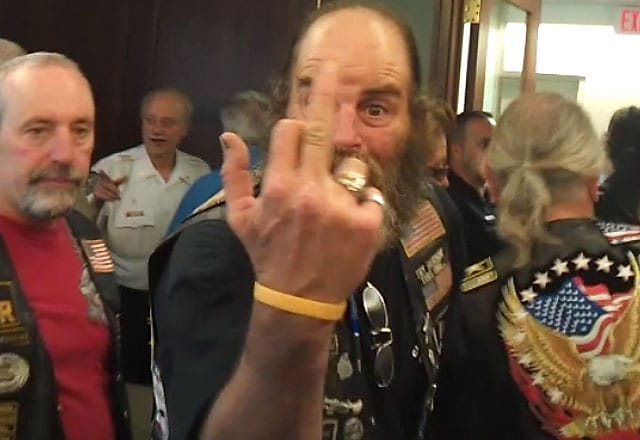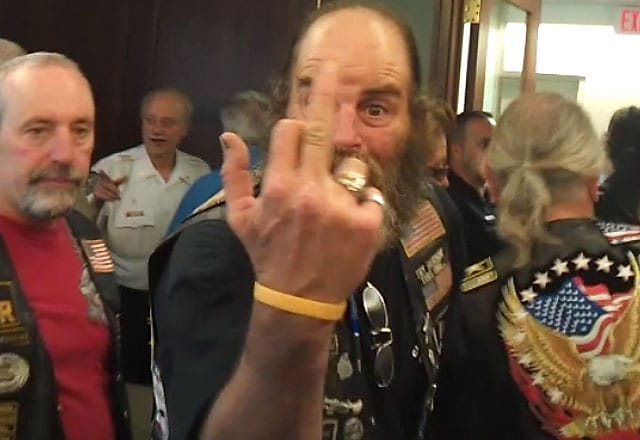 Several dozen bikers attended a public meeting of the Commissioners at the courthouse today, where they expressed their support for Sheriff David and his practice of providing security services for private entities.
The county's law department recently issued a letter to Sheriff David stating the practice was in violation of state law, demanding he cease. When David subsequently went on Channel 11 News to say he would continue to defy the Commissioners, they filed a lawsuit against him seeking an injunction.
Hookstown resident John Wakeley introduced the various biker groups being represented in the crowd prior to addressing the Commissioners directly.
"There are several things going on in the community that bother us" began Wakeley. "The special services that the Sheriff's Department provides, number one being out in the public is a great public relations tool to use for support for law enforcement within Beaver County. One reason why that is so important is with the downsizing of local police departments, and or the disbanding of local police departments, it's important to have some type of law enforcement out there to help make the community safe for our children and citizens."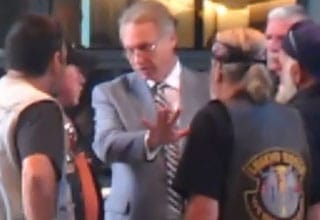 Sheriff's Solicitor Myron Sainovich had been heard before the meeting coaching Wakeley and several others in attendance on what to say to the Commissioners. Many of those who spoke at the meeting said they had been asked to attend by Sheriff David directly, including former Sheriff Frank Policaro.
"I'm here because George David asked me to come down, and I thought being Sheriff for 21 years I've got to lend a little bit of support for him" said Policaro, who later misled the crowd about the training Sheriff's Deputies receive. "As far as the training of the Deputy Sheriffs, they're all under Act 120, they're all well trained. They are better trained, believe it or not, and I am not downgrading any police officer […] Really the Deputy Sheriffs are more trained than the police officers, a lot of police officers in Beaver County anyhow."
"So please I'd like for you to just rethink what you want to do […] If you want to make six people happy over this deal fine that's your choice but if you want to piss off about 190,000 people, do it any way you want to do it" concluded Policaro to thunderous applause from those in attendance.
Deputy Ronald Costanza, who attended the meeting in full uniform, spoke out publicly against the Commissioners' actions and in support of Sheriff David. "First of all I want to thank all of the organizations that came here to support my Sheriff and my Department" he said. "I also want to say I'm happy to work for Sheriff David […] I'm making sure that the public is safe, and I just want you to know that's what my Sheriff wants to do, he wants to make sure that the public is safe. It's all about the safety of the public. Come on, we got to think of the public, and we want their safety first. That's all that I have to say."
Others who spoke in favor of the Sheriff's practices included John Dudo who organizes an annual sportsmen's bash, former Aliquippa Code Enforcement Officer Bobbie Williams, and the manager of Cinemark in Center Township.
Several of those in attendance encouraged the Commissioners to ignore state law. "We are sworn to uphold the law, as is the Sheriff's Department" said Commissioner Dennis Nichols. "To say that if the Sheriff can't do this nobody else can provide security is not really appropriate."
The meeting progressed in an orderly fashion with citizens voicing their opinions to elected officials about law and policy. "It's a testament to Beaver County how we can have a meeting like this and keep it under control, and I thank you for that" said Commissioner Tony Amadio, wrapping up the public meeting. But before it could be adjourned, Commissioner Joe Spanik interjected.
"I think they need an answer as to why we're in this position" he said. After a short discussion the tone in the meeting room degraded, with this reporter being mentioned by some in the crowd.
Following the public meeting, this reporter was lambasted by several in the crowd who swore, threatened, pushed, and knocked a smartphone being used to record the event to the ground. At least two of those individuals had spoken about the need for public safety and security just moments before.
"Four eyes, four eyes. Ya fuck that phone, ya. Asshole" said one man, showing his middle finger before being escorted from the room by another biker. A woman then came up from behind this reporter, knocking the phone to the ground. A courthouse source tells the Beaver Countian that woman is a part-time jail guard for the county.
"Ask a deputy for help" laughed another person in the crowd, as further harassment was taking place from other individuals.
Citizens Concerned About Public Safety – Video 1

Citizens Concerned About Public Safety – Video 2

Note: In the interest of full disclosure, the Beaver Countian has released a statement regarding an incident involving Sheriff George David and this reporter.