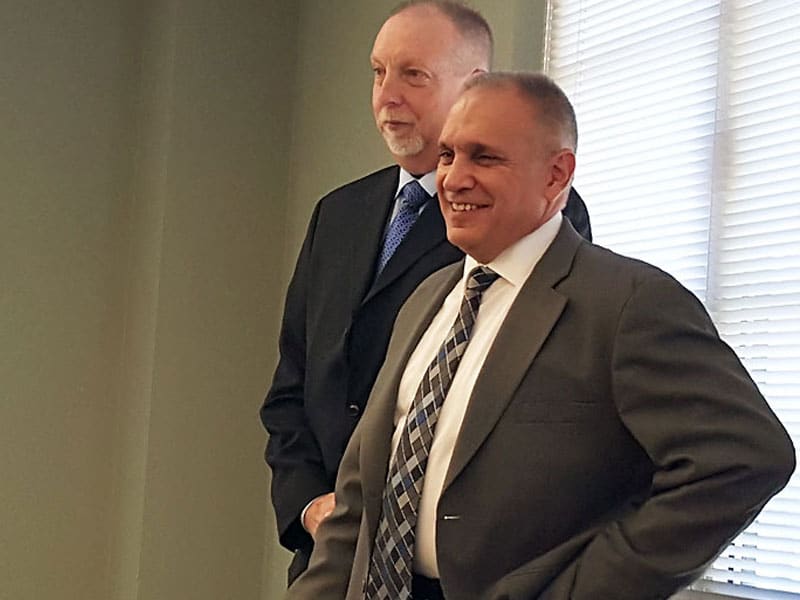 The Beaver County Sheriff's Office says it is unable to recruit qualified new applicants to become Deputies because of reporting by the Beaver Countian. The stunning claim was one of many contained within a lengthy email sent this week by Chief Deputy Dean Michael to the Board of Commissioners and Salary Board.
Chief Deputy Michael sent county officials the three page letter ahead of a voting meeting of the Salary Board this week, asking them to reconsider their publicly stated support for eliminating several full-time positions from the Sheriff's Office. The Salary Board was ultimately unmoved by Michael's lengthy rant, voting to approve a motion removing the unfilled positions.
The Beaver Countian was provided with a copy of the email — which declares itself "not for public dissemination" — by multiple county officials who characterized the document as manipulative propaganda. This publication is in the process of having Chief Michael's entire email analyzed by a group of current and former sheriff's deputies and law enforcement professionals for a potential future report.
Along with claiming the Beaver County Sheriff's Office is inadequately staffed to deal with "a large scale or coordinated assault on the Beaver County Courthouse," Michael also provided officials with an ominous warning about the "courthouse blogger," one of Sheriff Tony Guy's nicknames for Beaver Countian founder John Paul.
"Attempts to hire and recruit good quality personnel have been seriously hampered by the continued attempts to dismantle this office," wrote Chief Deputy Michael. "At the present time, no one with necessary experience wants to subject themselves to the visceral attacks that are routinely levied by the courthouse blogger. These attacks serve no legitimate purpose and are nothing more than a disruption of County government. Nothing good will ever come of this if the negative influence is allowed to continue."
Chief Michael did not specify in his email how the Beaver County Sheriff's Office proposed to stop the Beaver Countian's reporting. The previous Sheriff, George David, attempted to intimidate the Beaver Countian into ceasing its coverage by brandishing a firearm and threatening murder — a tactic which proved unsuccessful and problematic for the official.
Among the articles published by the Beaver Countian about the Beaver County Sheriff's Office in recent months included a piece detailing an investigation conducted by the county's law department which concluded Chief Deputy Michael violated the employee sexual harassment policy.
Just a few of the other articles published about the Sheriff's Office over the last year by the Beaver Countian which purportedly served "no legitimate purpose" include:
– Sheriff's Office Solicitor Resigning – Sheriff Guy Preparing To Name Replacement
– Commissioners Cut Off Funding To Sheriff's K-9s After Tony Guy Failed To Respond To Concerns Raised Months Ago
– Sheriff Guy Hires Several Deputies Including Two Aliquippa Cops And A Man Previously Arrested Twice For False Statements
– District Attorney Withdraws Controversial Escape Charge Filed By Sheriff's Office
– Democratic Chairman's Remarks About Republican Sheriff Tony Guy's Budget Causing Political Firestorm
– Six Full-Time Positions Eliminated From The Sheriff's Office By Salary Board Members
– Beaver Countian Asserts Public's Rights After Sheriff Guy Calls For Private Budget Meeting With Commissioners
– In-Depth: Sheriff And Commissioners Hold Public Budget Meeting – Reach No Consensus Or Conclusions
– Arbitrator Rules In Favor Of Terminated Sheriff's Deputies – Orders County To Pay Up
– County Investigation Determines Chief Sheriff's Deputy Violated Sexual Harassment Policy
– Jury Finds Former Beaver County Sheriff's Deputy Guilty Of Obstructing Justice
– Sheriff's Office Has No Financial Records For K9 Fund – Needs Time To Figure Out How It Got Its Dogs
– County Policy Changed After Sheriff's K9 "Grabs" Courthouse Employee In Its Mouth
– Investigative Report: Sheriff Tony Guy Working Part-Time Deputies More Than Full-Time Hours
– Full Disclosure: Sheriff's Office Falsely Alleged Beaver Countian Founder Breached Courthouse Security
– Former Deputy Who Testified Against Sheriff George David Files Federal Lawsuit Against Sheriff Tony Guy
– In-Depth: Commissioners At Odds With Sheriff Tony Guy After Deputy Injured While Responding To Drug Bust
– Gift To Sheriff Guy From A Supporter Caused Bomb Scare – Led To Courthouse Being Evacuated
– Former Deputy: Sheriff George David And His Men Are Supporting Tony Guy For A Reason
– MUD FLIES! Sheriff David – Supporting Tony Guy – Confronts Wayne Kress At Police Chiefs' Luncheon