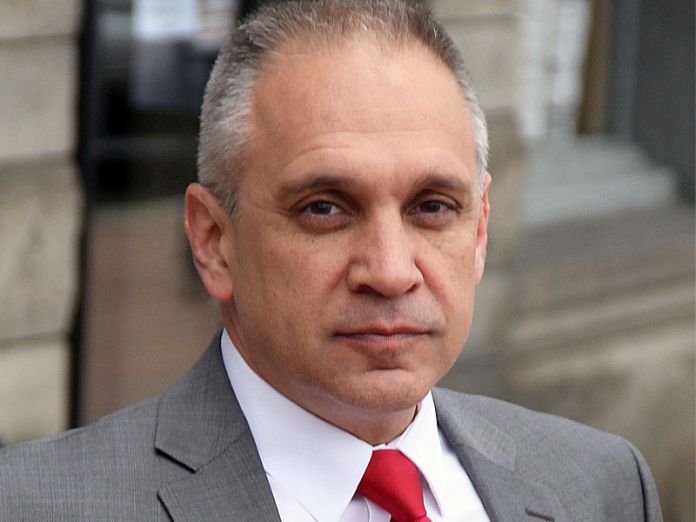 Beaver County Sheriff Tony Guy promoted a long-time acquaintance as one of the newest full-time deputies in his department. Deputy Justin Rapko was moved to full-time status back in September.
According to records maintained by the county's Human Resources Office, Rapko had been working as a part-time deputy since June of 2013 — his full-time status became effective on September 24th. Rapko fills a position in the department vacated by Deputy Kristen Chapes, who is now working as a full-time officer with the Center Township Police Department (Chapes is the girlfriend of Sheriff's Deputy Jim Brown).
County officials say Rapko was not the most senior part-time deputy in the Beaver County Sheriff's Office, but was moved to full-time status by Tony Guy through what the Sheriff has called his "merit-based system."
Sheriff Guy previously testified about personally knowing Justin Rapko during a deposition he gave in an ongoing federal lawsuit filed against Guy by former deputy Curtis Larrick.
"Yeah, I knew Justin Rapko's parents," testified Guy, according to a transcript filed as an exhibit in federal court. "I knew him as a young man and probably when he was an adolescent growing up."
Sheriff Guy also testified that Justin Rapko had supported him during his election. Rapko had supported Sheriff George David in the primary, according to testimony given in the case by Captain Jay Alstadt.
During his campaign for Sheriff, Guy submitted an op-ed that was published by the Beaver Countian where he promised to end "a patronage system, which places value on personal and political relationships above professionalism and process," saying, "the system of cronyism, political hiring, and protecting political friends must end."
Despite his personal ties to Rapko, Guy has assured county officials the deputy was promoted to full-time status based on an objective system, ensuring only the most qualified personnel with integrity and good character are hired or promoted in the Sheriff's Office.