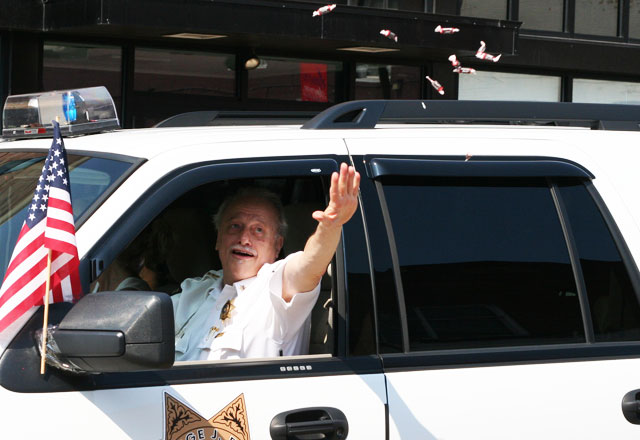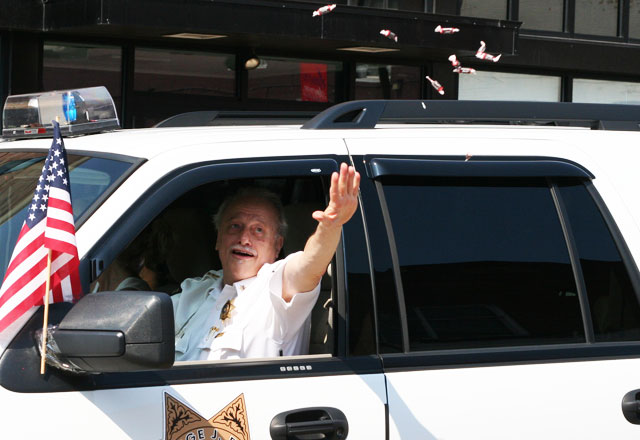 Beaver County Sheriff George David has promoted a deputy who filed a materially false criminal complaint against a destitute African American man to the position of Lieutenant.
Deputy John Joe Fratangeli was promoted to Lieutenant this week. Fratangeli, previously a Corporal in the Sheriff's Office, came under scrutiny in January of 2013 after an investigative report by the Beaver Countian first called into question an Affidavit he filed to substantiate criminal charges against a man named Larry A. Hicks. Deputy Fratangeli had accused the man of threatening to commit acts of murder at Friendship Ridge.
The alleged incident came just one day after Sheriff David pleaded his Fifth Amendment Right against self incrimination during a hearing for a lawsuit filed against him by the County Commissioners.
Sheriff David held a press conference in his office to announce the arrest and marched Larry Hicks past cameras, declaring he and his men had saved the county from a possible mass murder while diverting media attention away from his own legal problems.
But exclusive reporting by the Beaver Countian revealed Deputy Fratangeli had never even spoken to the alleged witnesses he claimed to have interviewed in his official Affidavit charging Larry Hicks. When the Beaver Countian interviewed the individuals named in the complaint, they said they had no first hand information that Hicks had made any threats. Witnesses told the Beaver Countian that Hicks was calmly doing his mother's laundry, who was a resident at the facility, at the time of the alleged incident.
An independent investigation conducted by Beaver County Detectives as a result of the Beaver Countian's reporting confirmed those findings. The original charges against Larry Hicks were dropped, but District Attorney Anthony Berosh failed to charge Fratangeli for filing the materially false affidavit and has refused to hand the case over to the Pennsylvania Attorney General's Office for prosecution.
District Attorney Berosh has declined comment on dozens of occasions when asked by the Beaver Countian about his office's investigation.
Fratangeli has previously commented on the Beaver Countian about his arrest of Larry Hicks at Friendship Ridge, writing "I was brought to be loyal to all brothers. I wont stoop to the lower level that most are now a days. I believe in brother hood And i will not change [sic]."
This reporter has testified under oath before a Statewide Investigating Grand Jury that Fratangeli engaged in acts of harassment and intimidation following the Beaver Countian's reporting of his misconduct.
These weren't the first controversies involving Fratangeli. Back in 2008, the deputy was suspended after being discovered intoxicated at the MPI Club in Aliquippa while on duty.
Along with being a Sheriff's Deputy, John Joe Fratangeli is also a part-time Beaver Borough police officer and serves as a Supervisor for Independence Township. His mother is a Councilwoman in Aliquippa. Fratangeli has a sister who works in Beaver County Treasurer Connie Javens' Office and another sister who is married to County Commissioner Tony Amadio's son.
– County Officials Investigating Sheriff's Handling Of Friendship Ridge Incident
– Serious Questions About Sheriff David's Account Of Events At Friendship Ridge
– Woman At Friendship Ridge Claims Deputies Never Even Interviewed Her
– District Attorney Drops Charges After Investigation Into Friendship Ridge Incident
– District Attorney: This Case Has Almost Reached Mythical Proportions
– Judge: Man To Stand Trial Following Alleged Friendship Ridge Incident
– Friendship Ridge Suspect Out Of Jail After Community Donates Bail Money
– District Attorney's Office Files 11 New Charges Against Friendship Ridge Suspect
– Union Takes A Stand Against Sheriff David After Clerk Files Grievance
– District Attorney Dispels Rumors Circulating About Clerk In Sheriff's Office
– Man To Stand Trial For Lying On Concealed Carry Permit & Gun Applications
– Clerk In Sheriff's Office Restored To Her Position Following Hearing
– Sheriff's Deputy May Soon Be Criminally Charged Over Sworn Statements
– Sheriff's Deputy Abandons Post – Follows Beaver Countian Taking Photographs
– Larry Hicks Pleads Guilty To Making False Statement On Background Check
– Sources: County Detectives Were 1 Day Away From Charging Sheriff's Deputy