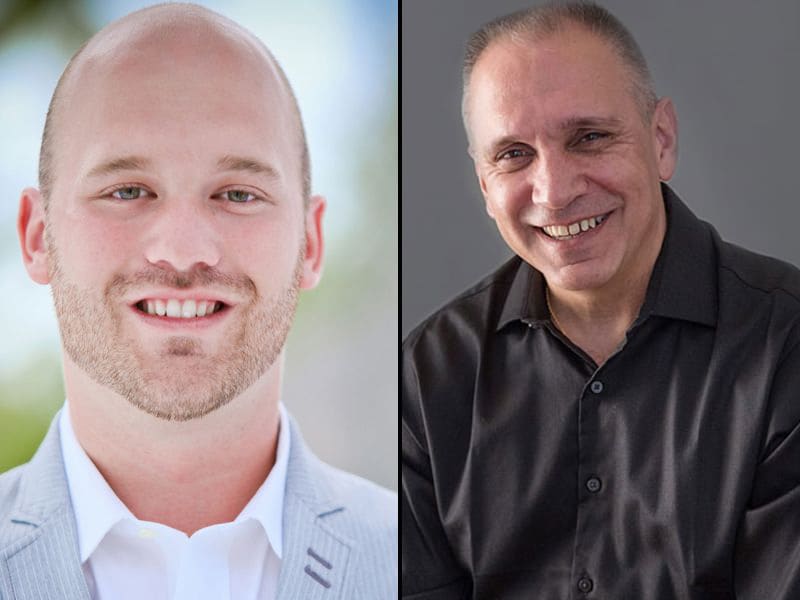 Beaver County Sheriff Tony Guy said he was "unable" to comply with his budget during a radio interview today, telling listeners that Commissioners gave him an "unreasonable" and "unrealistic" budget for the year which does not provide the funds necessary to perform core duties of his office. Sheriff Guy's radio interview came in direct response to an interview conducted by the Beaver Countian of Commissioner Sandie Egley last week, in which Egley said Guy "refuses to follow his budget and refuses to stop his deputies from doing things they shouldn't be doing."
Now Commissioner Dan Camp is also speaking out, telling the Beaver Countian that Sheriff Tony Guy's budget is more than adequate to fund the mandated activities of his office and that Guy continues to insist on performing functions outside the scope of the Sheriff's Office.
Sheriff Tony Guy, Chairwoman Sandie Egley, and Commissioner Dan Camp are all Republicans.
"The work we do in the Sheriff's Office isn't driven by things I want to do, it's driven by the things that I have to do," said Sheriff Guy during the radio interview. "I presented a vast amount of information to not only Mrs. Egley but the financial administrator. They presented their revised budget and when I saw that revised budget I knew I could not make that work."
Guy went on to say the information he provided "went in one ear and out another."
Throughout the nearly hour long radio interview, Sheriff Guy repeatedly singled out Commissioner Sandie Egley, never mentioning either of the other two Commissioners by name.
"I took what was being presented to me by Mrs. Egley as her being new to a position, having a lack of experience in anything in her former professional career that came anywhere close to the amount of authority she had," Sheriff Guy went on to say. "I hoped she would learn, ask questions, and grow into that position, and it's been 6 months now and things seem to be moving in the opposite direction. There is no level of cooperation between her and myself and my office."
Sheriff Guy also emphasized that Commissioner Egley has no experience working in or with law enforcement.
"Between myself and my command staff we've got about 120 years of federal, state, and local law enforcement experience. We understand what needs to be done with the Sheriff's Office," said Sheriff Guy. "Commissioner Egley I don't think she has any law enforcement, and specific knowledge, never on a board or a council that oversaw any law enforcement field. But my input was completely dismissed and I've been fighting a battle. I've done everything I could to comply with those numbers from that point on, it's just an impossible task, it can't be done."
Commissioner Dan Camp told the Beaver Countian that Sheriff Tony Guy has continued to direct deputies to perform duties outside the mandated scope of the Sheriff's Office, and that the department is more than adequately funded to carry out its functions if Sheriff Guy made the decisions necessary to restructure.
"I don't believe his budget is unreasonable or unrealistic," said Commissioner Camp in reaction to Sheriff Guy's interview. "I know we can't compare our Sheriff's Office budget to every Sheriff's Office in the same class county as us, but if we look broad spectrum throughout the state we are still very over budget with what we spend compared to other counties […] If he was doing his job as stated in the County Code that would be a very realistic budget."
Sheriff Guy said today that his office is so understaffed he has been unable to go after people wanted on county warrants, and has even been slow in transporting prisoners to courtrooms for hearings.
"They didn't give me enough money to fund the basic things that we need to do," Guy said during the radio interview. "Routinely I get calls from the judges about where their prisoners are, they want prisoners in their courtroom […] I got to say, judge, I don't have the personnel to bring them, as a matter of fact, you're 3rd in line; when I get the personnel to deliver these prisoners to your courtroom I will bring them. That is all a result of these budget limitations I have been put under […] Let me say this too, I got a three man warrant team, who goes out there and picks up county warrants — people that are violent offenders, violent criminals who have failed to appear in court. Our list continues to grow. I was contacted by one of the chiefs of police a week or so ago, he said that list used to be a few pages long, now it's reaching to the floor in my patrol room. There's more and more of these guys out there because of those budgetary limitations, I've had to pull that warrant team into the basic operations of courtroom security, transporting prisoners — those guys are lucky if they get out there one day a week now to try to pick these guys up. These are public safety issues and when it comes to budgetary problems public safety is not the first thing that should be used to pay for it."
Commissioner Camp said that Sheriff Guy has failed to reduce the scope of the Beaver County Sheriff's Office in any meaningful way since taking office in January, and any problems he is having performing his core duties is a result of his own managerial decisions.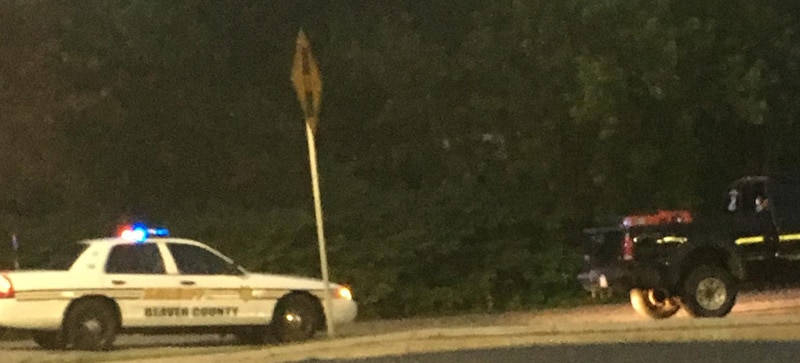 "I don't believe he is only doing just his core duties," said Camp. "He had deputies pulling people over on traffic stops in Bridgewater after 9:00 pm on Friday night […] I don't have any background in law enforcement but I see what the job description is, and what they're suppose to do and not suppose to do under Pennsylvania County Code. If you're shorthanded on what you're supposed to be doing, you should reorganize to make sure you have the staff to do what you're required to do under law."
Sheriff Guy again touted his K-9 Division during his radio interview, emphasizing his belief that they play an important role in the county's war on drugs. Commissioner Camp said he is "100% supportive" of the role of K-9s in law enforcement, but he disagrees that the Beaver County Sheriff's Office is a proper place for them when it comes to narcotics work.
"I think it's really important that the municipalities themselves have K-9 units because they have the powers to conduct investigations, the Sheriff's Office does not," said Commissioner Camp. "My position as a County Commissioner is not to tell another elected official what to do or what not to do, but I see the Sheriff's Department doing work outside the scope of what the County Code says it needs to do, so if you're short on your Warrants Division maybe he should move your K-9 Deputies there instead."
Investigative reporting by the Beaver Countian has shown that several of the K-9s being used in the Sheriff's Department are privately owned by deputies, and that those deputies have been personally profiting from the animals — the training and care of which has been taxpayer funded.
Sheriff Guy also noted that his office's D.A.R.E. program (Drug Abuse Resistance Education is a substance abuse prevention education program for school children) may not be able to continue due to the funding cuts in his department. Guy said he's seeking financial assistance from the districts themselves in hopes of keeping the program alive.
Commissioner Camp said the program is a waste of money and needs to go. "It is a proven fact that the D.A.R.E. program has failed. The federal government used to help fund this program, but it dropped the funding years ago after finding out it doesn't work."
Throughout his radio interview today, Sheriff Guy repeated his directed criticisms of Commissioner Sandie Egley.
"The feeling about the way Sandie Egley is handling the affairs of the county, that feeling within county government is universal and is the same feeling that I have about it," said Sheriff Guy. "She hasn't learned much in six months, that's not only in county government — I'm hearing it more and more from members of the public, over and over again, daily."
Commissioner Egley told the Beaver Countian she was not impressed by Sheriff Guy's radio interview. "I presented the facts and although Tony doesn't like it, that doesn't mean it's not true. As to whether people universally like me or not, the county is going to be in a far better financial position in three and half years because of the work we're doing now. Voters will have their say then as to whether they like what I have done."
Commissioner Dan Camp said Sheriff Tony Guy's focus on Commissioner Egley is unwarranted and the entire Board of Commissioners is in agreement on how they have been dealing with the Sheriff's Office, "I can say that it takes more than one Commissioner to approve a budget, and the Sheriff's budget was approved by all three of us, not just her."
The county's amended budget for 2016 allocated $3,163,993 in total expenses to the Sheriff's Office.