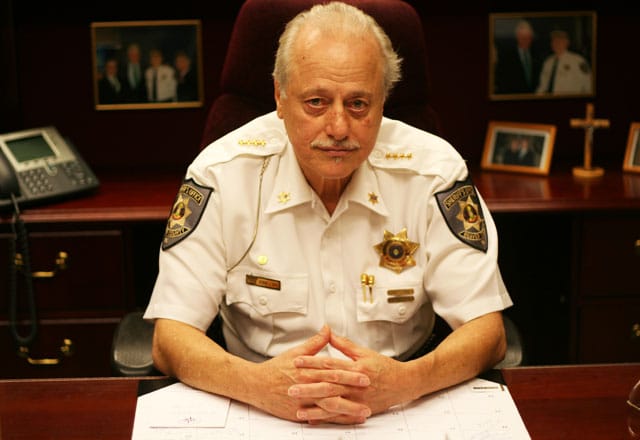 A group of five secretaries who work in the Sheriff's Office have come forward to the County alleging they are being harassed, bullied, degraded, and otherwise mistreated by Sheriff George David. Without the authority to remove the Sheriff from office, County Commissioners have been struggling for months to find ways to improve conditions for the people who work for him.
Sources within the Sheriff's Office and the courthouse say the secretaries have filed formal written statements with the county detailing some of the alleged incidents of abuse.
Among the allegations made by the secretaries include that Sheriff David has falsely accused them of wrongdoings, unjustly disciplined them, failed to discipline others who have mistreated them, screamed at them in fits of rage, and used degrading and derogatory language to demean them.
In one incident the secretaries say Sheriff David referred to them as "cunts" — in an earlier incident he allegedly said one female Deputy "needs six inches up her ass" to "teach her a lesson."
In April of last year Sheriff David falsely accused one of his secretaries of hiding evidence against a man he had falsely accused of preparing to commit mass murder at Friendship Ridge. In May of last year, a female Deputy abruptly retired after she said Sheriff David tried to get her to lie about a secretary. In August of last year, David falsely accused one of his secretaries of criminal wrongdoing which led to a four month long investigation by the District Attorney's Office. In September of last year David allegedly began making another secretary sit quietly at a desk all day without having any assigned duties to occupy her time.
The County's former Director of Central Services, Mary Anne Ruskin, had previously made similar complaints about harassment by Sheriff David before her employment was abruptly terminated last May. She has filed a lawsuit against the county alleging violations of the Pennsylvania Whistleblower Law. Commissioners have denied any retaliation.
Sources say some of Sheriff David's secretaries have been so mistreated in the office, their doctors have prescribed antianxiety medications to help them cope with the hostile working environment.
County officials have debated a wide range of remedies to the situation, at one time even considering the possibility of renting portable office trailers and placing them in the back parking lot of the courthouse for the secretaries to work from. County Officials tell the Beaver Countian that Commissioners have made desperate calls to both the Governor's Office and the FBI seeking help in dealing with Sheriff David, and have also talked with State Representatives.
County Officials have also spoken with top attorneys from the union which represents the secretaries, and the two organizations are considering filing an unprecedented joint lawsuit together against the Sheriff on their behalf.
Despite Sheriff David's mounting legal problems his secretaries say their mistreatment continues.
Within the last few weeks, several of Sheriff David's own Deputies have also begun coming forward to the county filing formal complaints about mistreatment and bullying in the office. Among those accusations include alleged physical outbursts in the office, which some Deputies have attributed to widespread steroid abuse in the department. Those Deputies allege that Sheriff David has allowed an inner circle of loyalists to "run rough shot" (sic) over the entire office.
David is currently awaiting trial on charges filed against him by the Pennsylvania State Police and the Attorney General's Office after he pulled out his service revolver and threatened to murder this reporter and several others. He faces unrelated charges stemming from another incident in which he allegedly threatened to dismember and cannibalize one of his campaign workers.
Some county officials had previously asked the Beaver Countian not to report this story because they feared it could inflame Sheriff David and make the situation even worse for his secretaries and other employees. Officials now say the public needs to be informed about his behavior, and say it is time for someone with authority to finally take action to remove him from office.
According to the Pennsylvania Constitution, the State House can vote to begin impeachment proceedings to remove elected officials due to "misbehavior in office." An impeachment trial would then occur in the State Senate, where a two-thirds vote of members would be required for a conviction.
State Representative Robert Matzie's brother, and Representative Jim Marshal's brother-in-law, were both hired as full-time Deputies by Sheriff David. Sheriff David's brother, Morry David, has given thousands of dollars in contributions to Representative Jim Christiana's campaign committee.
Political observers say it is "extremely unlikely" that legislators will bring the Beaver County Sheriff up for impeachment, and "even more extremely unlikely" in a year when State Representatives and the Governor are up for reelection.
Sheriff George David's term of office doesn't expire until 2016. Pennsylvania law has no provisions which allow for recall elections of officials at the County level.
Note: In the interest of full disclosure, this reporter is a named victim in criminal charges filed against Sheriff George David by the Pennsylvania State Police.