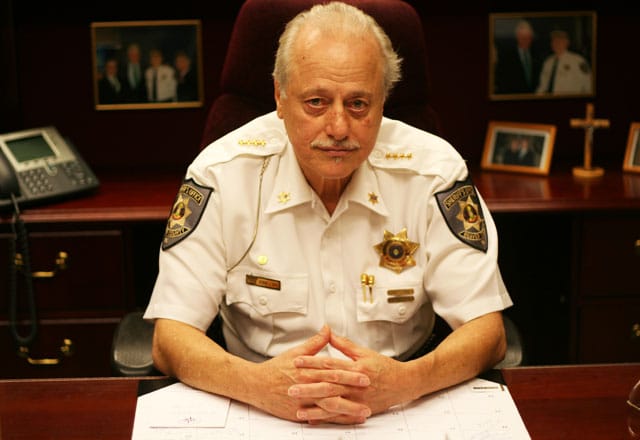 Sheriff George David was caught racking a long gun in the criminal division of his office in direct violation of his bond, according to court documents filed this week in the criminal case against him.
The Pennsylvania Attorney General's Office filed a motion on Monday asking Mercer County Senior Judge Francis J. Fornelli to revoke Sheriff David's bond.
In response to a previous bond violation by Sheriff David, Judge Fornelli had ordered that David "shall not be physically present" in the criminal division of his office where two of his alleged victims, Lieutenant Ochs and Sergeant Tibolet, both work. Other provisions of David's bond forbid him from carrying or being in constructive possession of a firearm.
According to a motion filed by the Attorney General's Office, on March 24th Sheriff David crossed over into the criminal division of his office. David then entered the Sheriff's Department Armory when a witness began to hear the racking of a long gun and saw him in possession of a firearm.
Both Lieutenant Ochs and Sergeant Tibolet were present in the criminal division side of the Sheriff's Office at the time.
The motion does not specify why Sheriff David was allegedly in possession of the firearm.
Judge Fornelli has set a bond revocation hearing for April 14th which could potentially result in Sheriff David's incarceration until July 28th, the date tentatively set for his trial.
According to multiple courthouse sources, Sheriff David has blamed his secretaries for informing the Pennsylvania State Police about his alleged bond violations. Without first notifying the County Commissioners, David attempted to have a wall constructed in his office this week to further insulate himself from his own secretaries. The county has prevented the construction of that wall, according to Beaver County Solicitor Joseph Askar.
Note: In the interest of full disclosure, this reporter is a named victim in criminal charges filed against Sheriff George David by the Pennsylvania State Police.