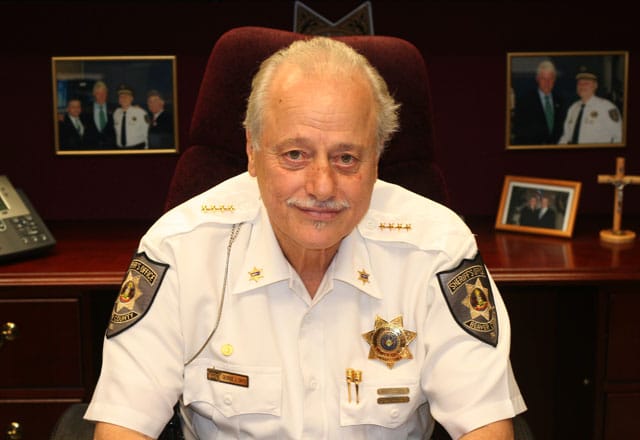 County Officials have opened an investigation into Sheriff George David's handling of an incident yesterday involving a man with a gun at Friendship Ridge Nursing Home, the Beaver Countian has confirmed. Law enforcement sources say Sheriff David bypassed the county's entire emergency response apparatus, and acted in a unilateral fashion when responding to the incident. Officials say they fear lives may have been placed at risk as a result.
The Incident
According to a report by the Sheriff's Office, Deputies Sgt. Michael Tibolet and Cpl. John Joe Fratangeli were dispatched [by Sheriff David] to Friendship Ridge. On their arrival, they discovered Larry A. Hicks, 53 of Rochester, sitting on a bench outside of the facility's front door. Upon searching Hicks, they reported discovering a ".22 cal. automatic pistol" in his front waistband, along with "a magazine with four live .22 cal. rounds" in his right pants pocket. Hicks was also allegedly carrying a "buck knife with a three and a half inch blade" in his left pants pocket.
The report states that a nurse told the Deputies she had been threatened by Hicks. "[…] she observed Hicks counting down the calendar days on the hallway calendar pointing at January 13th, 14th, 15th, 16th, and stopping on the 17th. After Hicks counted the on the calendar [sic] multiple times Cathy asked Hicks what he was doing. Hicks then counted the days again and stopped on the 17th and said 'This is the day I kill.' Cathy asked him 'What?' and Hicks responded 'This is the day I kill her.'"
Deputies charged Larry Hicks with two misdemeanor counts of defiant trespass and harassment. He was also charged with two felony counts of carrying a firearm without a license and terroristic threats. A preliminary hearing in the case has been scheduled for January 24th.
It wasn't the first time such charges had been filed against Hicks. The man had previously been charged with terroristic threats, simple assault, and harassment stemming from an incident at Friendship Ridge back in November. Brighton Township Police said a man reported that Hicks threatened him with a gun outside of the facility. He pleaded guilty to a misdemeanor charge of harassment in the case, with all other charges being dismissed because authorities were unable to locate a firearm at the time.
"Grave Concerns"
Sheriff George David has told several media outlets that he personally received the call about alleged threats by a potentially armed man being at Friendship Ridge. The Beaver Countian has been unable to ascertain why the Friendship Ridge staff member, described as being a "maintenance supervisor", phoned David instead of calling 911. David responded by sending two of his deputies, Sgt. Michael Tibolet and Cpl. John Joe Fratangeli, to the scene.
Law enforcement sources say Sheriff David failed to contact the county's 911 Emergency Services Dispatch Center to notify them that he received the call, or of the potential danger. But WPXI's Amy Marcinkiewicz was contacted, and was present with a camera crew as the suspect was taken to jail by Deputies. David was seen gloating to news cameras that he had averted tragedy. "We stopped him, myself and my men stopped him, thank god," he said.
The controversy comes just one day after Sheriff George David pleaded his Fifth Amendment Rights against self-incrimination during a court hearing held about private security services performed by his office.
Law enforcement sources tell the Beaver Countian that Sheriff David's failure to properly report the incident meant that emergency procedures, which had been meticulously planned and thoroughly rehearsed, were never set in motion.
Chief among those "grave concerns" is that the nearby New Horizon School had not been placed on an immediate lockdown, and what could have happened if the allegedly armed suspect had fled as Deputies approached.
New Horizon, a special education facility overseen by the Beaver Valley Intermediate Unit, is located in close proximity to Friendship Ridge. Director Of Special Education Dr. Robert Italia said the school was never warned about the potential danger. "We were never notified about this incident by authorities […] but our facility's supervisor took immediate action when she learned about what had happened," said Italia. According to Dr. Italia, school officials learned about the incident only when concerned parents began calling the facility after seeing a news report about a man with a gun being discovered nearby. "I was briefed on the situation after that."
Dr. Italia said the school's supervisor contacted the Brighton Township Police as soon as she heard about the incident. "We have a Memorandum of Understanding with the Brighton Township Police Department, because the facility is located within their jurisdiction," said Italia. Procedures dictate that Brighton Township Police notify the school of any potential threats in the area, and that the facility would subsequently go on lockdown.
Law enforcement sources tell the Beaver Countian that Brighton Township Police never contacted the school, because they hadn't been notified about the threat either. Authorities say it is just one in a series of failures that occurred because the Sheriff's Office neglected to follow proper protocol and notify county dispatch as required.
"The county is investigating how the incident yesterday at Friendship Ridge was handled," County Commissioner Tony Amadio told the Beaver Countian. "I have directed Friendship Ridge to review its policies and procedures, and [Beaver County Emergency Services Director] Wes Hill is investigating why the county's Emergency Dispatch Center wasn't notified about what was going on […] We will be meeting next week to discuss the situation."
County Emergency Services Director Wes Hill told the Beaver Countian he has serious concerns about how the situation was handled. "What I am concerned about most is making sure things like this don't happen again" said Hill. "I will do everything that I can do to make sure all emergency calls come through the 911 center as they are suppose to." Hill added that the incident was a "criminal matter being handled by investigators," and that he can't comment more specifically until that investigation has been completed.
"Friendship Ridge is always reviewing its policies on a regular basis to ensure the safety of its residents and staff," said Charles Rhoads, the facility's administrator. "I am unable to comment further due to the sensitive security issues involved."
A Problematic Prosecution
Along with expressing concerns about how Larry Hicks was apprehended, some officials say there could also be complications with his future prosecution.
Beaver County Detectives, who normally investigate incidents that take place at Friendship Ridge, say they didn't learn about the situation until after it appeared on the news. The fact that Deputies conducted an investigation, and subsequently filed charges based on information they received from witnesses, could become problematic.
Under Pennsylvania State Law, Sheriff's Deputies generally do not have the legal authority to investigate crimes, and doubts are being raised as to whether some of the charges filed by Cpl. John Joe Fratangeli were done so lawfully.
District Attorney Anthony Berosh declined to comment specifically, but said his office is looking into the matter and will follow the law. "Charges will be prosecuted consistent with existing case law as to who can file the particular charges in question," he said.
Law enforcement sources say discussions are taking place to determine if some of the charges filed by the Sheriff's Office against Hicks need to be dropped, and then re-investigated by an agency with full police powers such as Brighton Township Police, County Detectives, or the State Police.
Note: In the interest of full disclosure, the Beaver Countian has released a statement regarding an incident involving Sheriff George David and this reporter.