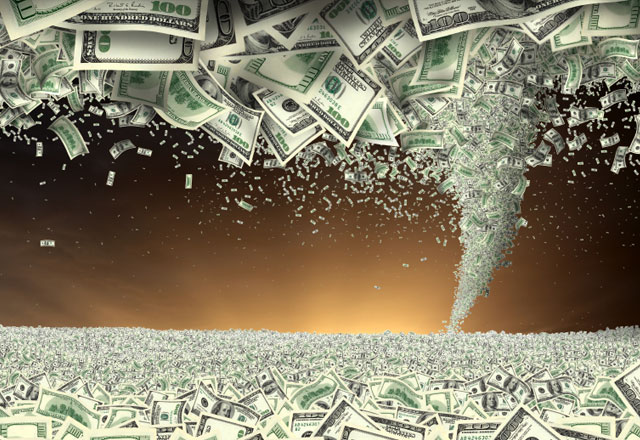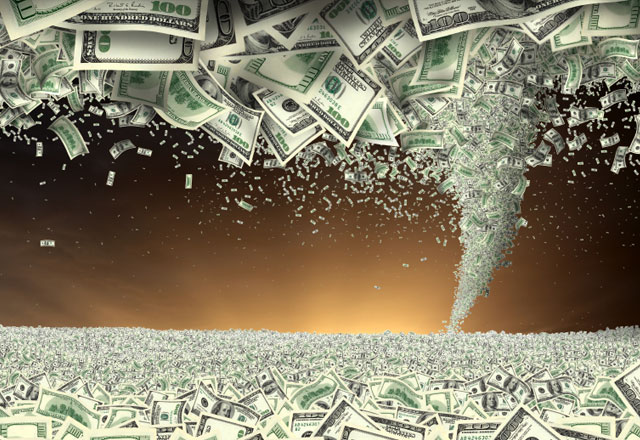 Beaver County Sheriff's Deputies say they are routinely not being paid for overtime hours, often being forced into taking "comp time" instead. Some deputies say they've been having trouble redeeming those hours, and county officials say the entire practice is in direct violation of both union contracts and county policies. Now taxpayers might be paying big to remedy a situation which may involve federal labor law violations.
Compensatory Time Off, or "comp time", is the practice of providing an employee with paid time off from work instead of overtime pay. Federal labor laws surrounding the issuance of comp time in lieu of cash payment are strict, and include provisions which require pre-negotiated contracts in writing. Those agreements must detail how and when comp time is earned, and how and when it can be redeemed.
But County officials who would be involved in negotiating those agreements say they had no idea the practice was even taking place.
Beaver County Human Relations Director Rick Darbut told the Beaver Countian he was "stunned" when he learned Sheriff David had been issuing comp time to his deputies. Darbut said not only does the county lack written agreements with deputies involving comp time, agreements the county does have in place directly contradict its use.
"The county's policy on comp time is simple, there is no comp time" said Rick Darbut. "The Sheriff's Deputies contract does not allow for comp time, and the county prohibits it."
"I had no idea about any of this" said County Solicitor Joseph Askar when asked about the use of comp time in the Sheriff's Office. "I can't even believe what I'm hearing right now."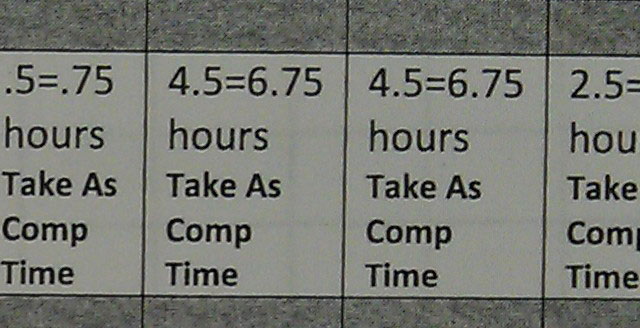 The Beaver Countian began investigating Sheriff David's use of comp time after several deputies, who agreed to speak on condition they not be quoted by name, discussed their frustrations with the practice. The deputies allege there is inequity in the process, with some officers being allowed to rack up large paychecks with overtime, while others must instead accrue comp hours which they claim can be difficult to use.
Sources point to Deputy Mike Tibolet as an example, whose last gross two-week paycheck for $4,180 included $1,839 in overtime on top of his regular pay of $2,341. Tibolet clocked nearly a thousand dollars in overtime for each of the two pay periods prior to that.
Those sources say Tibolet logged work days which ranged from 13 hours to over 20 hours long, with many of them being worked consecutively. A normal work day for a deputy is 8 hours.
Deputy Tibolet is union president of the Beaver County Deputy Sheriffs' Association, which broke away from the Service Employees International Union (SEIU), before being sued by Sheriff David and conceding to controversial changes to their contract.
While a small handful of deputies have seen a boon in overtime pay, other deputies have been receiving only a fraction of that, with most not getting any overtime pay at all. Some of those deputies tell the Beaver Countian they've been working overtime, including special functions, but have been told they'd be receiving comp time rather than pay.
When asked by the Beaver Countian, one deputy conceded there are some in the department who prefer receiving comp time over pay. "But those are mostly the guys who could get the pay if they wanted it instead" that deputy added.
"Earning comp time from the Sheriff is like earning airline miles from a credit card company" said another deputy. "Everytime you go to cash it in, you're told all the days are blackout dates."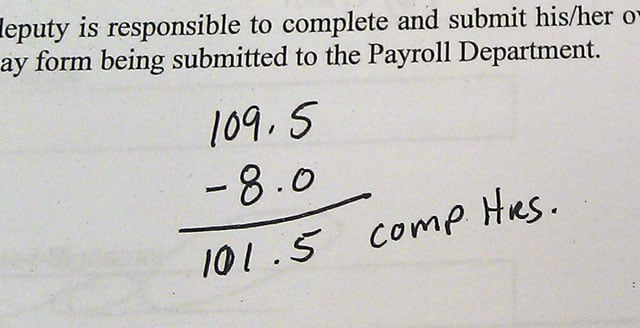 The deputies say they're unsure how much total comp time is currently being banked by the Sheriff's Office, but they all agree it's likely thousands of hours. The Beaver Countian was unable to independently verify those estimates.
A Right-to-Know request previously filed by the Beaver Countian seeking access to time cards for deputies was denied, with the county claiming their release would "be reasonably likely to jeopardize a public protection activity in that it discloses staffing levels and or a pattern of scheduling." Deputies say the request was moot, as most employees of the Sheriff's Office don't mark comp time on their time sheets.
"There are a few guys who have been burned in the past that I know write on their time cards, just to make sure they don't lose the hours" said a deputy. "But most don't because the office down here is supposed to keep track of it all."
While the county has a centralized Payroll Office which tabulates sick and vacation time, they keep no records on comp time as it's not permitted by the county.
County officials say unlike overtime, monies owed to deputies in the form of comp time are not reflected on any budget line. While the Sheriff's Office currently shows it has used 46% of its $109,000 overtime budget for the year, if estimates by deputies are accurate, the county's current financial obligations could already far exceed that. The total yearly payroll budget for the Sheriff's Office stands at $2,550,000.
Other allegations made by deputies include that comp time is sometimes given out in straight hours instead of time and half, that comp hours are sometimes not recorded at all, and that some ranking deputies are pressured into "volunteering" to work security details at special functions for free.
Beaver County Solicitor Joseph Askar said his office is now researching the situation.
The deputies sourced in this article declined multiple requests by the Beaver Countian to be identified by name, saying they feared for their jobs and felt it unlikely the county would take action to improve their current circumstance.
Note: In the interest of full disclosure, the Beaver Countian has released a statement regarding an incident involving Sheriff George David and this reporter.