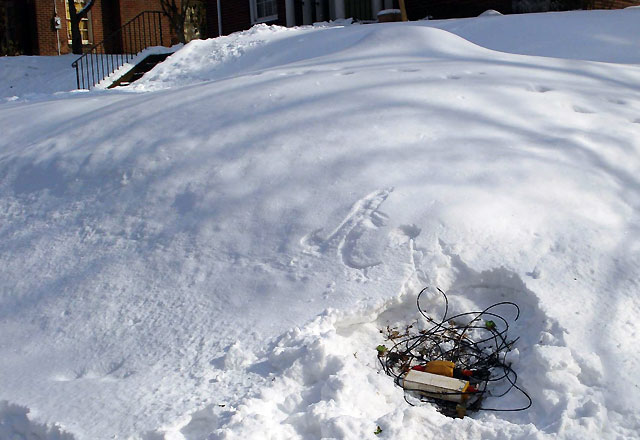 Several residents of Aliquippa and Hopewell contacted the Beaver Countian today, expressing alarm after discovering mysterious tangles of wires and devices laying in their yards. The devices were planted by a company that's doing seismic mapping in the area, although there seems to be more questions than answers available from even local officials about what rights homeowners may have.
"I go out in my yard and there it is, it looks like a bomb," said Lou Bolli of Aliquippa. "There's this box, I think it's a battery, connected to another device, I don't know what in the hell it is, that's all connected to three things that are down in the ground. It's a big mess of wires […] No one came and explained to me what is in my yard, they left me no letter, no information, they left me nothing. I don't know if this thing is dangerous or not, I don't have a clue what it is. I never gave anyone any permission to be on my property, nobody."
It was a sentiment shared by Burt Mamula of Hopewell Township.
"It's just a big bunch of stuff, it's a box and it's wires and it says if I tamper with it I could face consequences," said Mamula. "This Dawson Company is all over the place I guess. I called them and they said there was absolutely nothing to worry about and to just let it be there and leave it alone."
Several people told the Beaver Countian they contacted police about the devices.
"Dawson Geophysical" trucks with Texas license plates were seen along with large groups of workers in Hopewell and Aliquippa. There are also reports from residents of the company being in Monaca and Center Township today as well.
While many of the devices provided no hints as to their origin or purpose, one of the devices left in a yard in Aliquippa had a pink tag attached to it reading in part, "Dear Landowner, We'd like you to know that this equipment has been placed within the rights-of-way pursuant to the recent Order issued by the Pennsylvania Commonwealth Court." The tag goes on to quote a court case from Hopewell Township, and then provides a website link which contains information about Ambridge Borough. "Accordingly, please do not remove any of this equipment as it may result in a criminal investigation. We respectfully request that you leave this equipment in place for the next few weeks while operations in the area are completed, after which time it will be removed by authorized Seitel/Dawson representatives."
Hopewell Township has information about its ongoing lawsuit against Seitel on its website. The town also began robocalls to residents warning that the devices may be installed soon.
Aliquippa Mayor Dwan Walker said residents of his City have nothing to worry about because the devices in their yards are simply receivers. He said the actual explosives are being located in Hopewell Township.
"The geophone devices in Aliquippa pick up the small explosives in Hopewell," said Mayor Walker. Walker said that the City of Aliquippa has given no permission for devices to be placed on private property, but did not answer when asked if the City gave permission or permits for the companies to operate on public property or right-of-ways. "I have calls in to Seitel and Dawson right now," he said.
Messages left with representatives for Dawson Geophysical by the Beaver Countian were not returned. Calls to their corporate headquarters in Texas today were repeatedly forwarded directly to voicemail.
Dawson Geophysical appears to be acting as a subcontractor for Seitel Data, which describes itself as an "oil and gas service company that is engaged with the creation and marketing of 2D and 3D seismic data."
Documents reviewed by the Beaver Countian show that the company installs "receiver stations" and "source points" in grids, with each unit being spaced approximately 220 feet apart in rows. The "receivers" and "source points" are installed in intersecting rows 880 feet and 1,320 feet apart respectively, which can stretch for well over 100 square miles.
"Source points" are created for seismic mapping by underground explosions of dynamite.
The Beaver Countian was unable to reach a representative from Seitel Data willing to speak on the record about their activities in Beaver County. A diagram on their website shows a large area of southwestern Beaver County where they are working to create seismic maps for the gas industry.