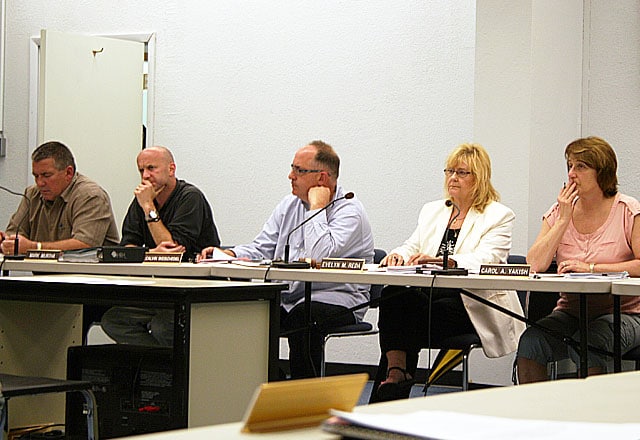 Rochester Area School District violated multiple provisions of school code, had conflicts of interest involving a former school board member, and entered a severance agreement with a former superintendent that cost taxpayers more than $146,000. That's according to an audit conducted by the State Department of Auditor General.
Pennsylvania Auditor General Eugene DePasquale spoke about the audit's findings today in an exclusive interview with the Beaver Countian.
State auditors found that an employment contract with former Superintendent Carolyn Wilkovich did not contain adequate termination provisions, and the district subsequently spent $146,328 in legal fees, wage and benefit payments to remove the woman from office back in 2012.
Of that total, more than $25,000 was paid to Attorney John Havey to act as "special outside counsel." Rochester School District Solicitor Myron Sainovich has offices in the same building as Havey in Aliquippa.
"Management needs to do a better job of running the Rochester School District," said Auditor General DePasquale. "There needs to be a concerted effort, especially in this difficult economic time, to make sure that every penny is put to use in classrooms for the education of children. I'm going to keep banging away to make sure not only the Rochester School District, but every school district in Pennsylvania is meeting that test."
Along with wasteful and needless spending, Auditor General DePasquale said his office also found conflicts of interest involving a now former school board member's business dealings with the district.
The controversy dates back to April 2009, when the Rochester School Board awarded a $354,636 contract for indoor swimming pool renovations.
"For the cost of it, I really hope the pool is at least nice," said Auditor General DePasquale. But it wasn't the cost of the pool that troubled state auditors.
The contract for renovations was awarded to a company owned by a man named John Martino, who became a member of the district's school board three weeks later.
While a member of school board, and while serving as the board's treasurer, Martino approved payments of bills to his own company. He also approved a change order to the original contract for his company, which along with three others approved before he took office, were worth over $56,000.
Auditors say John Martino likewise failed to file financial interest statements with the district as required by the Pennsylvania Ethics Act. He abruptly resigned from office back in September, 2012.
"It's more than troubling on the ethics side of things," Auditor General DePasquale told the Beaver Countian. "Votes were cast that were of a financial benefit to him. He had an obligation not only to disclose that but also to recuse himself from voting."
"He did not even file a statement of financial interest, which in today's day and age is absolutely staggering," continued Auditor General DePasquale. "Not filing a statement is extremely rare, and having this conflict while not filing raises significant questions […] Pennsylvania State law is clear, and we have forwarded this matter along with others to the State Ethics Commission. We need to see if there is formal action that needs to be taken other than just me calling him out."
"The public has the right to know how you make your money, and where the potential conflicts are, where the potential landmines may be," concluded Pennsylvania Auditor General Eugene DePasquale.
John Martino was unavailable for comment when his business was contacted by the Beaver Countian Wednesday afternoon. The Rochester Area School District declined to respond to state auditors about their findings.