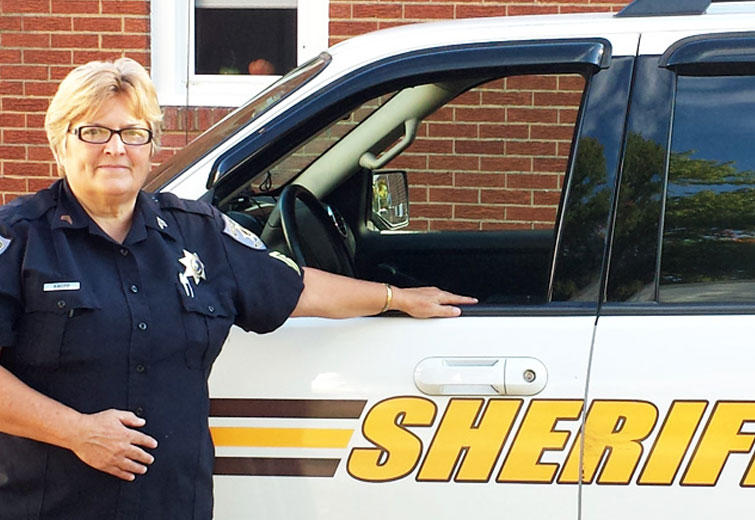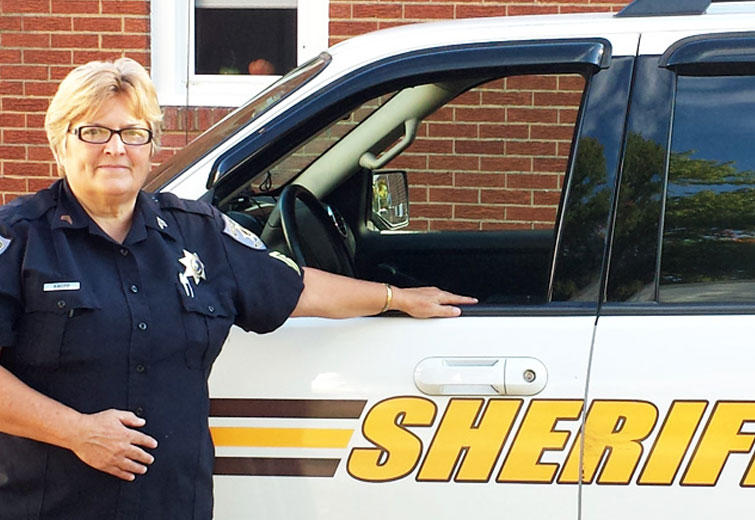 Although Beaver County Sheriff George David recently oversaw a nearly $100,000 upgrade of the courthouse's video surveillance system, dangerous blind spots still exist in some of the building's most sensitive areas. After a gun belonging to an employee of the District Attorney's Office temporarily went missing last week, it was revealed that gun storage lockers at both the front and rear doors of the courthouse are still completely blind to the cameras.
A retired Beaver County Sheriff's Deputy, with over 25 years experience in the department, says those blind spots were well known within the Sheriff's Office. She also says the Sheriff's Department is being filled with unqualified and untrained individuals who are creating other security concerns as well.
"Sheriff David keeps the cameras pointed at the doors," said retired Deputy Sgt. Donna Knopp. "You can see who is coming in and out of the building, but you can't see the entire security checkpoint areas, you can't see the gun lockers, you can't see the places you should be watching the most."
A nearly $100,000 upgrade to the building's security cameras was supposed to remove blind spots in the courthouse, but those glaring security lapses still remain at the entrances.
"The Commissioners don't need to sit behind a desk and listen to what George David tells them about this," said Knopp. "They shouldn't be listening to him, they should be going downstairs to the Sheriff's Office to see for themselves on the monitors how the cameras are angled, what blind spots have been created, and find out why those blind spots are there. Then they can decide how they as Commissioners want to fix these problems. Go to each door and see where Sheriff David put these new cameras, then decide how to do it right."
While the new video surveillance system was being designed and installed the Beaver Countian published several reports expressing concerns, raised by deputies and full-time clerks of the Sheriff's Office, that George David had assigned a part-time secretary to oversee the security rollout. Karen Hopkins, a resident of Ohio, has been given broad authority over the Sheriff's Office by David. She now oversees everything from the security cameras that monitor the building to purchasing and acquisitions. Hopkins regularly reviews surveillance video, interfaces with vendors for items ranging from uniforms to firearms, and holds meetings with senior courthouse officials including Court Administrator Rich DeFilippi.
Hopkins had worked as a secretary in a chiropractor's office before coming to work for Sheriff David. According to staff in his office, the Sheriff had given broad responsibilities to Hopkins because she is related to several men from Aliquippa who are his longtime friends and hunting buddies. The Sheriff has openly been trying to find a way to bring Hopkins onto county payroll as a full-time employee. Hopkins has spoken out on Sheriff David's behalf in television news interviews, testified for him at one of his bond revocation hearings, and created "not guilty" party signs she hung throughout the public office after his acquittal at trial.
Donna Knopp said Hopkins isn't the only crony Sheriff David has been putting into positions they are grossly unqualified for. She said a string of deputies recently hired by David should have the entire county concerned.
"The hiring practices in the Sheriff's Office right now are just ridiculous," said Knopp. "You can't run a department with people you owe favors to — he's hiring people that have never even handled a gun. He's just bringing these people in from the streets and handing them a weapon, they're putting these guns in their holsters and that's it," said Knopp. "Then he just throws them to the wolves, sticking them on the front doors to secure the building."
Under Pennsylvania law, deputies have one year to receive training and become certified after being hired. Knopp said the Sheriff's Office has policies in place that should be providing some on the job training, and that deputies who aren't yet certified shouldn't be doing security work without certified deputies present with them. But Knopp said that Sheriff David has ignored many of those standards, as he has many of the other rules and regulations which govern his office.
"He's hired people that aren't even allowed to carry a gun outside of work because they're not even 21 yet," said Knopp. "All he wants are political hires for political reasons. He's not hiring people with experience or even with training […] There are people who put themselves through school, spent their own money to get the necessary training like I did 25 years ago, but he wouldn't even interview them because they can't get him votes or do other favors for him. Now the taxpayers will be paying for these construction workers, and movie theater attendants, and waitresses to be put through 19 weeks of training with no guarantees they'll ever be able to do the job. The only reason this is happening is because of who these unqualified, and in some cases very troubled, people happen to be related to. It's wrong, he's wrong, and it needs to stop."
Donna Knopp abruptly retired from duty last year after she said Sheriff David tried to get her to lie about a secretary in his office. She was subsequently given a commendation for her service to the county by District Attorney Tony Berosh.
Knopp said she fears for the safety of the people who work in the courthouse or have to visit the building for business, and has already announced she's running against David next year for Sheriff.
"Sheriff David is not only putting law enforcement personnel in danger, he's putting the public in danger," said Knopp. "This is what the Sheriff's Department has come to, it's a political office now. He's got policies in place for purely political reasons, he's making hires for purely political reasons, it's not about performing the duties of that office — it's about giving himself more power and getting himself more votes […] The problems in that office all start at the top, you have a Sheriff who doesn't know how to lead, who doesn't know how to run a department, and who doesn't even know what a real Sheriff is supposed to be doing."