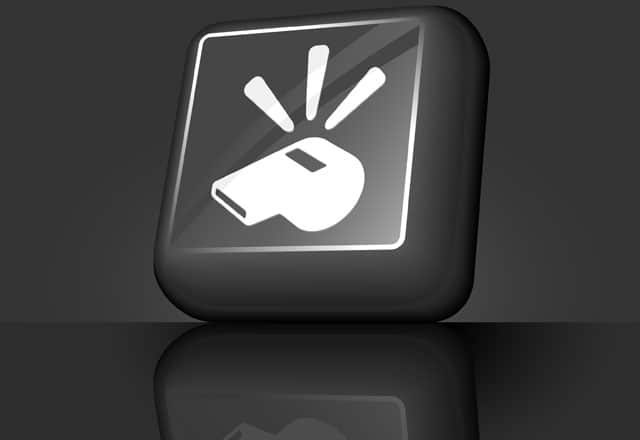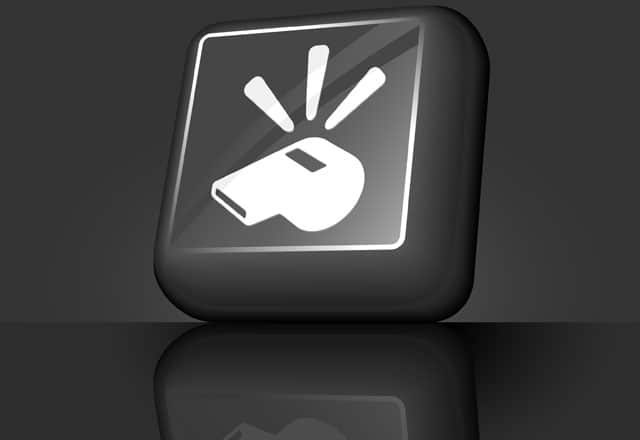 A part-time police officer for Ohioville Borough who sparked a criminal investigation into the town's chief, has now been removed from the department's schedule "indefinitely."
Officer Nevin Beatty went to the Pennsylvania State Police last August, alleging he discovered the town's Chief may be bilking taxpayers out of tens of thousands of dollars. According to law enforcement sources familiar with the ongoing investigation, Ohioville Police Chief Ronald Lutton has been accused of altering and resubmitting court appearance slips and falsifying time cards. Sources say evidence turned over to State Troopers by Officer Beatty allegedly showed the improprieties had been taking place since the 1990s. Documents now in possession of the State Police allegedly show Lutton had been resubmitting court appearance slips from cases up to a dozen times each, and that the dates on those slips appear to have been altered. Chief Lutton has been suspended with pay for nearly six months, while authorities continue their investigation.
Ohioville Mayor John Szatkiewicz told the Beaver Countian that he believes the allegations against Chief Lutton are untrue. "It sounds like a witch hunt to me. I think highly of the chief, because I've seen him out in the parking lot at 5am, two hours before he was suppose to be there. He has an office in his home, he's out all the time, he gets called constantly. It wouldn't surprise me if he's still getting called even though he's suspended."
Sources say officials with the town first became aware that Beatty had gone to the State Police in August, after receiving an "anonymous phone call" tipping them off. Officials tell the Beaver Countian that "part-time" Officer Beatty saw his hours reduced significantly by Assistant Chief Mark Smilek following the revelation. Sources say Beatty had been averaging over 40 hours per week with the department for years.
Just weeks later, sources say Mayor Szatkiewicz had Assistant Chief Smilek issue a directive requiring all officers to visit him at his home one day each week to discuss department scheduling. On October 16th, Borough Council overturned the Mayor's directive at its public meeting, deeming it "inappropriate." Sources say that on October 18th, Officer Beatty, who had been urged by a councilmember not to sign the directive, was called by Mayor Szatkiewicz who informed the officer he was being placed on an unpaid suspension for insubordination.
It was during Beatty's suspension, say sources, that the Mayor began contacting citizens of the town asking them to file complaints against the Officer. Mayor Szatkiewicz subsequently produced over a half dozen written complaints against Officer Beatty. But town officials tell the Beaver Countian that many of those complaints didn't check out. "At least 3 of the complaints handed in by the Mayor came from incidents where Officer Beatty wasn't even on duty at the time," said one town official, who spoke on condition they not be quoted by name while discussing personnel matters. "I've had several people tell me they've been approached by the Mayor who told them he wanted to get rid of [Officer] Beatty."
At a public meeting following Beatty's suspension, several of those individuals appeared in person to register their complaints. "The mayor had a lot of residents come in, all the years I've been there the only time we had a crowd before that is when we tried to pass a junkyard ordinance," said the official. "There's never a soul there. All these people were talking about profiling, this and that, all about Officer Beatty."
Councilman Richard Decker, Chairman of the town's Police Committee, spoke up at the meeting in Officer Beatty's defense. "Yes I remember that," said Councilman Decker when reached by phone. "It was during a public meeting after we had just reinstated Officer Beatty from a 10 day suspension for insubordination the Mayor had placed him on. I just wanted to make sure everyone understood that it's my position as the Police Committee Chair that I've had nothing but praise for Officer Beatty. He's a very smart individual, he's very thorough, and I find him to be very fair […] We've had some disgruntled residents since the Chief has been suspended, so it's a tough line to walk […] It's been tough to squash rumors started about Officer Beatty."
Mayor Szatkiewicz denied contacting people and encouraging them to file complaints against Officer Beatty. "Nope, you tell them to tell me that," Mayor Szatkiewicz told the Beaver Countian. "I'm involved with 8 veteran's organizations, how many are you involved with? What branch of the service did you ever serve in? Who writes your paycheck?"
One of those complaints, filed on October 20th by Ohioville resident William C. Pittser, detailed an alleged incident involving Officer Beatty that took place back on July 17th. Pittser alleged Officer Beatty "rapped" on his windshield during a traffic stop, causing "a small crack right along the bottom of the inspection stickers." A search of court records shows Pittser was charged with "Operating A Vehicle Without A Valid Inspection" by Officer Beatty on that date, a summary charge he was found guilty of by District Judge Tim Finn on August 30th.
"I did my job," said Officer Beatty when asked about the incident. "I conducted a traffic stop. I did what I should have done under the vehicle code, I summarily removed an expired inspection sticker. I didn't do anything that I shouldn't have done, I didn't do anything improper. I didn't crack Mr. Pittser's windshield."
Pittser went to the District Attorney's Office seeking to file a private criminal complaint against Officer Beatty over the incident from last July. "He wanted to file a misdemeanor charge against Officer Beatty," said First Assistant District Attorney Ahmed Aziz. "I determined that even if what he was saying were true, it would not have been a misdemeanor offense […] I did not approve his complaint." District Attorney Anthony Berosh told the Beaver Countian that Pittser may have been able to file a private criminal complaint for a summary offense, but he never followed through. "He never submitted the paperwork" said Berosh. "There are no pending criminal charges against [Officer Beatty] that I know of."
But pending criminal charges are exactly what purportedly saw Officer Beatty removed from the town's schedule last Friday. An official with Ohioville Borough told the Beaver Countian that Assistant Chief Mark Smilek alleged he was informed by Ahmed Aziz that Beatty would soon be facing criminal charges. "Paul Steff [the town's solicitor] advised that Beatty be removed from the schedule as a result of what everyone was told by Smilek. If Beatty isn't facing criminal charges then we really have a mess," said the official.
According to law enforcement sources, statements provided to the Pennsylvania State Police by witnesses alleged Assistant Chief Mark Smilek was aware of the alleged misconducted by Chief Lutton, and had attempted to prevent the State Police's involvement in the investigation. The Beaver Countian made multiple attempts to reach Assistant Chief Smilek for comment, leaving messages for him at the Police Department and on his cellphone voicemail. Those messages were not returned.
"The matter involving [Chief] Lutton is an ongoing investigation and I have cooperated fully," Officer Beatty told the Beaver Countian. "I'm now viewed as an interloper down there, I'm now a pariah […] It's difficult to beat the archaic good old boy mentality."
Officers in the Ohioville Borough Police Department were made to sign a directive, ordering them not to discuss the suspension of Chief Lutton. Officials for Ohioville Borough say they were advised not to discuss the matter publicly, anticipating a whistleblower lawsuit being filed against the town due to alleged retaliatory actions taken against Officer Beatty. The Beaver Countian was able to report these allegations of public corruption by guaranteeing the anonymity of those who cooperated with our investigation.