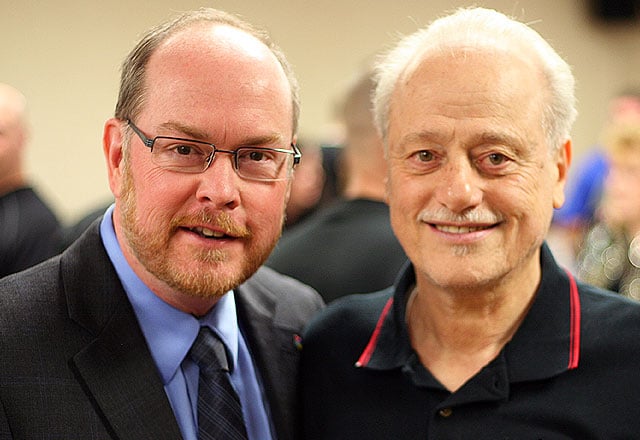 State Representative Jim Marshall is now circulating a co-sponsorship memorandum in Harrisburg, seeking support for legislation he intends to introduce that would expand the authorities of Sheriffs and Deputies. Marshall wants the state to allow Sheriffs to contract out their official duties to corporations.
The move follows a private meeting held back in February between Beaver County Sheriff George David and a delegation of state representatives.
Marshall's brother, Robert Marshall, was elected as the Chairman of the Aliquippa Democratic Committee just day after that meeting, as Representative Robert Matzie's brother was promoted to the position of full-time Beaver County Sheriff's Deputy. In 2009, Sheriff David hired Representative Marshall's brother-in-law just days after Marshall submitted a proposal to fellow lawmakers that would have given Sheriffs full law enforcement powers.
Representative Marshall has previously told the Beaver Countian that those occurrences are "absolutely a coincidence."
The Beaver County Board of Commissioners is currently engaged in a lawsuit against Sheriff David, in an attempt to stop him from violating Pennsylvania County Code by having his office perform official duties for private corporations. Sheriff David pleaded his Fifth Amendment Rights against self-incrimination during a hearing held as part of those proceedings.
An audit released by Controller David Rossi last year revealed that Sheriff David had been undercharging for his department's services, leaving taxpayers to subsidize security for private corporations including Walmart, Boscovs, Toys R Us, Target, and Cinemark.
The full content of Marshall's memorandum reads as follows:
To All House members
From Representative Jim Marshall
Contracts for Official Services or Duties of the Sheriff or Deputy Sheriff
In the near future, I plan to introduce legislation to better protect citizens of this Commonwealth by authorizing a county sheriff to contract with a person, association, corporation or political subdivision to obtain the official services or duties of the sheriff or deputy sheriff. This legislation is about the safety of individuals, not corporations.
The person, association, corporation or political subdivision must reimburse the county for the total amount of salary, benefits and any other costs associated with employment of the sheriff or deputy sheriff during the period covered by the contract. If the sheriff or deputy sheriff receives any compensation for the period covered by the contract, they shall be paid only from county funds in the amount and in the manner prescribed by law, and may not directly or indirectly receive any other compensation, gifts or gratuities.
Under current law, a county sheriff or deputy sheriff is not precluded from outside employment, including security work, but is precluded from performing any official services or official duties for any person, association or corporation. This legislation will authorize the performing of official services or duties by the sheriff or deputy sheriff but require the county to be reimbursed for the employment costs, and will authorize the provision of security services in those instances where additional public safety is a concern, particularly at public events in a municipality that has no police department.
Thank you and I hope you will consider joining me in support of this legislation.
Note: In the interest of full disclosure, the Beaver Countian has released a statement regarding an incident involving Sheriff George David and this reporter.