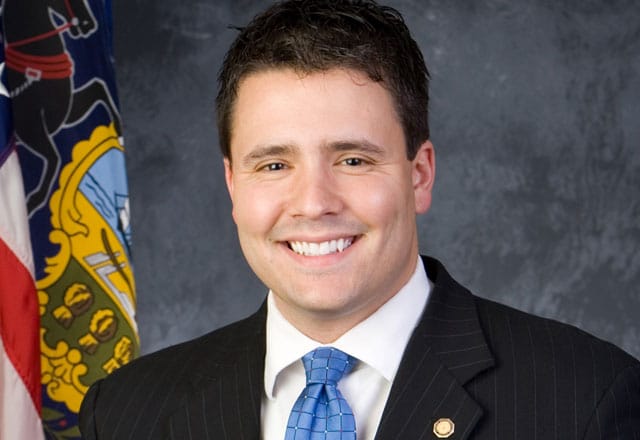 State Representative Jim Christiana (R-Beaver) has raised over $50,000 so far this year from political action committees (PACs) promoting "school choice" initiatives, and an investigation by the Beaver Countian has revealed hidden ties between the legislator and an additional $120,000 in PAC money.
The funds originated from two well-financed political action committees: The Fighting Chance PA PAC, which shares the name of a purported grassroots campaign affiliated with the Pennsylvania Catholic Coalition, and the Students First PAC, which has spent millions promoting school choice and voucher initiatives.
In March of this year Students First donated $25,000 to Jim Christiana's campaign committee, which was followed in May by a donation of $25,000 from Fighting Chance.
One month later, Representative Christiana helped to pass legislation which saw an increase and expansion of the Educational Improvement Tax Credit (EITC). The EITC allows students a choice to attend religious or private schools instead of their local public school district. Companies who donate to the "scholarship funds" see as much as 90% of their contributions come back from the state in the form of a tax credit. Tax credits available to businesses that give to the program went from a previous $75 million to $100 million. The legislation also created an EITC 2.0 program, which made an additional $50 million in business tax credits available for "opportunity scholarships." Those funds allow children attending the lowest achieving 15% of public schools to switch to other educational institutions.
"The perception is he could have run this bill a long time before now" said Democratic House Candidate Bob Williams, who is running against Christiana in the 15th Legislative District. "But he waited until the funds were presented to him and then ran with the bill. Would he have run it without the money or was the money the real influence?"
"I've been a supporter of school choice initiatives for a long time, and organizations who also want to see reforms have begun to support me" said Representative Jim Christiana in an interview with the Beaver Countian. "In the past my opponents have benefited from large sums they received from the Pennsylvania State Education Association, which is the state's largest teacher's union. I don't receive donations from the PSEA, but I continue to work with them and continue to compromise for the benefit of our public school system […] Some people may be opposed to my efforts because I'm willing to hold schools accountable if they under-perform."
The $50,000 in total campaign contributions makes Christiana one of the single largest recipients of donations from school choice groups in the Pennsylvania House of Representatives. But it's another $120,000 in donations made to a mysterious new political action committee (PAC) which is raising questions.
On the same days the Students First and Fighting Chance PACs made their $25,000 donations to Christiana, they made additional contributions of $60,000 each to a newly formed political action committee dubbed "Commonsense 4 The Commonwealth."
The Pennsylvania Department of State doesn't show a registered PAC with the name "Commonsense 4 The Commonwealth", but further searching did reveal a similarly named group "Commonsense For The Commonwealth." That PAC is registered to an address in Harrisburg. But financial disclosure forms show the combined $120,000 it received from Students First and Fighting Chance were both mailed to 592 A Third Street in Beaver — The same address as Representative Jim Christiana's campaign headquarters.
"I'm aware of the organization, but I'm not affiliated with them" said Representative Christiana. "I don't know what the mixup was or why the mixup happened. But I know the folks there and we got their checks to the correct address."
Financial disclosure forms filed by Commonsense For The Commonwealth list a "Scott Welford" as the organization's Treasurer. But further research by the Beaver Countian revealed the actual spelling of the Treasurer's name is in fact "Scott Wolford." Wolford is a long-time personal friend and political supporter of Jim Christiana who resides in Brighton Township, just minutes from Christiana's campaign headquarters.
Records obtained from the Beaver County Bureau of Elections show Scott Wolford and his wife Amy have donated thousands to Christiana's campaign committee through the years, and sources say the couple has organized fundraisers which helped the candidate raise thousands more.
When asked about his relationship with Scott Wolford, Christiana acknowledged strong ties. "Scott is a supporter of mine and I'm thankful to have him as a friend" he said. "But he doesn't work for me, he's [Commonsense For The Commonwealth's] local treasurer who helps balance the books and I'm sure he'll do fine working with that PAC."
Commonsense for the Commonwealth has begun making some payments to other Republican candidates, including a $5,000 donation to Kathleen Coder's campaign (Coder is running against Democratic State Representative Rob Matzie for the 16th Legislative District). But the organization has yet to spend a vast majority of the funding it received from Students Choice and Fighting Chance.
"I should also mention that I've never received any campaign contributions from Commonsense For The Commonwealth" said Representative Jim Christiana. "Despite all of the questions, I've never seen a dollar."
Scott Wolford could not be reached for comment. A message left with Kathleen Coder's campaign was not returned.
Commonsense For The Commonwealth PAC Digital Registration:


Financial Reports Filed By The "Students First" PAC:


Financial Reports Filed By The "Fighting Chance PA" PAC: