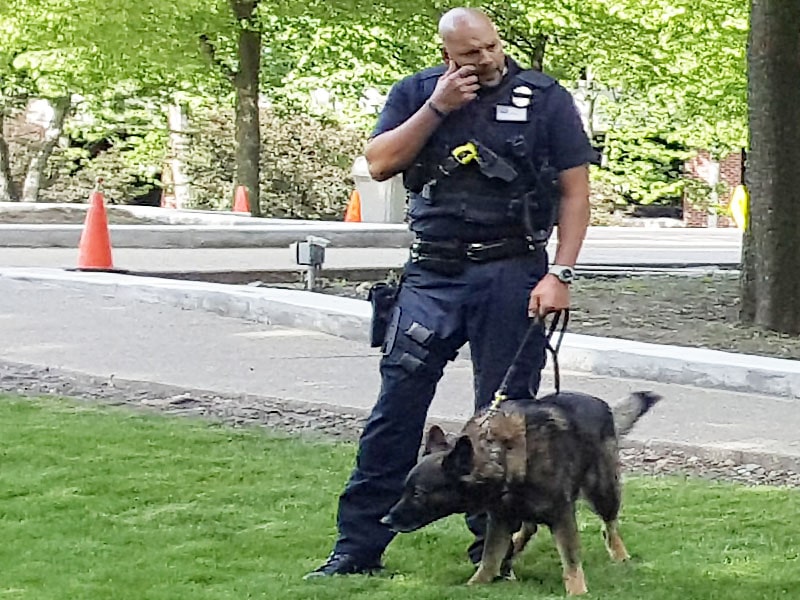 Warning – This article contains graphic images.
In a recorded phone conversation that took place shortly after the incident occurred, a Beaver County 911 dispatcher and a Beaver Borough patrolman can be heard laughing while discussing serious injuries sustained by a man bitten by the officer's police K-9.
The Beaver Countian received a copy of the recording from a confidential source; county officials denied a Right-To-Know request for the file earlier this week.
The conversation between Beaver Borough Patrolman Jeffery Wijnen-riems and Beaver County 911 Dispatcher Jocelyn Sabol occurred at about 11:30pm on August 18th, as Wijnen-riems was preparing to go to the hospital to take photographs of bite wounds sustained by James Edward Cicco. The conversation took place on a line used by dispatchers that is recorded as standard practice — notification beeps can be heard in the background as Sabol and Wijnen-riems discuss the incident.
Listen To The Phone Call:
"Dude, you got dogs chewing people up and shit," said Sabol.
"Yah, oh listen, it's bad," responded Wijnen-riems, before describing how Cicco had failed to yield to Beaver Patrolman Bo Blinn as the two officers were separately driving to a call in Industry Borough, and then failed to pull over when Wijnen-riems attempted to initiate a traffic stop.
"He turned in a driveway and tried to take off and run," said Wijnen-riems.
A dash cam video played in open court during a preliminary hearing for Cicco did not depict Cicco running, but instead showed the officer engaging the man while he was still inside of his vehicle — Wijnen-riems has testified that Cicco briefly grabbed a hand-drill during the encounter. At one point Officer Wijnen-riems is seen returning to his patrol car, with Cicco then getting out of the vehicle parked in front of his house having both hands up and palms exposed.
Witnesses to the incident told the Beaver Countian that after Officer Wijnen-riems announced he was going to get his dog, Cicco was heard shouting, "I surrender sir, I surrender," and then, "no, no, no," as the officer returned to the man's car, this time accompanied by his K-9 partner Czar. The dash cam recording played in court did not have audio. Cicco is seen retreating back into his vehicle and shutting the door as the dog approaches. Officer Wijnen-riems could be seen on the video opening the door again to allow Czar access to the man, whose face can then be seen contorting with pain while the dog chews at him as he goes down to the ground.
The animal can be seen attacking Cicco a second time as Officer Wijnen-riems is handcuffing him while he is laying on his stomach. Wijnen-riems testified the man kicked at the dog which he alleges provoked the second attack, actions not readily discernible on the video played in court. The dog continued biting at the man after he was secured in handcuffs — in both instances it appears the K-9 did not release Cicco from its jaws until Officer Wijnen-riems physically extracted it.
James Cicco was transported to UPMC Presbyterian Hospital where he was admitted for three days for treatment of his injuries.
Along with misdemeanor charges for possession of controlled substances without a prescription, driving under the influence, and fleeing, James Cicco is being prosecuted by the District Attorney's Office on a felony charge of "taunting a police animal." Dozens of other charges filed by Officer Wijnen-riems against Cicco were previously dismissed by Magisterial District Judge Edward Howe during a preliminary hearing in September, including fifty felony counts of possession with intent to deliver a controlled substance and a felony charge of aggravated assault against a law enforcement officer.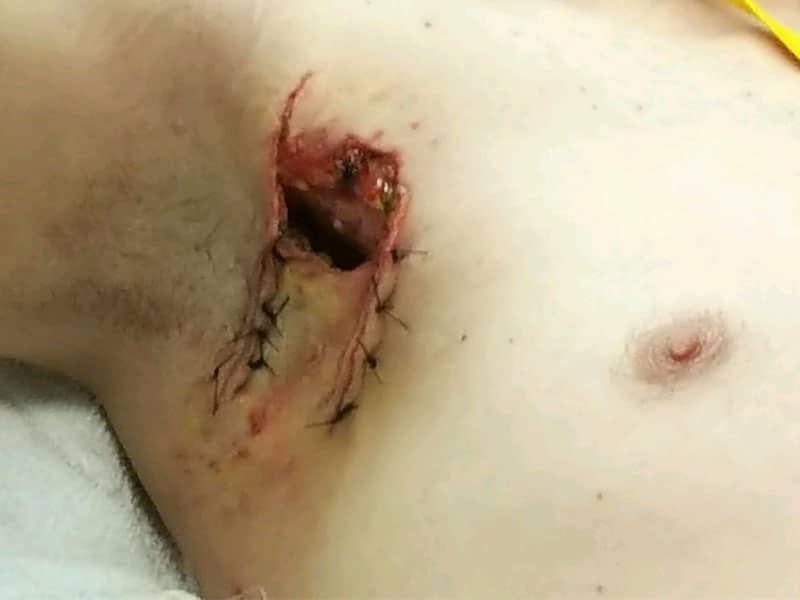 "It's bad, it's the worst one I've seen," said Wijnen-riems on the recorded phone call, characterizing the way his K-9 tore flesh from Cicco's body. "There's a hole, like, you can see almost into his chest."
"You better take him for a steak when you're done, you hear me," responds Sabol.
Officer Wijnen-riems continued describing the injuries to Cicco, "I knew it was bad when, I could see like, meat on the outside of his shirt."
"He won't run no more I bet," continued Wijnen-riems after a period of laughter.
"No, he won't be able to. Well, I guess he didn't get his legs," replied Sabol.
"No, no, he never gets legs," said Officer Wijnen-riems.
"Oh goodness how funny," responds Sabol.
Beaver County District Attorney David Lozier has denied a Right-To-Know request by the Beaver Countian for the dash cam video, even though the recording contains no audio and the video was previously marked as an exhibit in open court. This publication is in the process of appealing Lozier's decision and if the video is not released then intends to file litigation seeking the public record and sanctions against the District Attorney's Office.
Law enforcement sources tell the Beaver Countian an investigation conducted by the Pennsylvania State Police at the request of Beaver Police Chief Dan Madgar has been finalized, which concluded Officer Wijnen-Riems acted in accordance with acceptable use of force parameters as outlined by state law when he deployed his police K-9 on James Cicco. The State Police investigation similarly concluded there were no violations of criminal statutes by Beaver Patrolman Bo Blinn. As the Beaver Countian first reported on August 27th based on accounts by law enforcement sources, Officer Blinn forcibly placed James Cicco against the hood of a vehicle following the incident — actions which are depicted on the dash cam video but were not played in court by prosecutors.
The results of the State Police investigation have still not officially been made public. Beaver County District Attorney David Lozier and Beaver Police Chief Dan Madgar have both repeatedly refused comment or not responded to requests for comment about the incident.
Following the Beaver Countian's initial report about the incident in August, a Facebook page for Jeffery Wijnen-riems went offline when criticisms arose about some of the images that had been posted to it. Among the images were an illustration of a wolf with blood on its mouth accompanied by a brief poem which included the line, "The have nots, cannots, and will nots are the sheep of our nation. They sleep without fear because I am the wolf that keeps the other wolves at bay," an illustration of a dog with a caption which reads, "And when I get there, I will arrive violently," and a picture of a lion with blood on its face and a caption reading, "everyone wants to be a beast until it's time to do what real beasts do."
The Ambridge law firm of Bowers & Fawcett has notified the Borough of Beaver they have been retained to represent James Edward Cicco and expect to file a civil lawsuit in the near future against Officer Wijnen-Riems and the Beaver Police Department. Cicco is being represented in his criminal case by defense attorney Gerald Benyo.
While this was not James Cicco's first run-in with police, it was also not the first time the amount of force used by Officer Jeffery Wijnen-riems has come under scrutiny. In 2005, five residents of Beaver County sued Officer Jeff Wijnen-Riems and the Beaver Borough Police Department in federal court, alleging they were brutalized by the man and had their civil rights violated. Several of those complaints were later settled after the parties reached out-of-court agreements on financial compensation. The Beaver County Citizens' Police Review Board has previously recommended criminal charges be filed against the officer for excessive force, although the District Attorney's Office at the time chose not to follow through with prosecution.
Several individuals the Beaver Countian has spoken with over the past two months say they have in previous years been approached by agents of the FBI who were conducting investigations into the officer's use of force, although no federal charges of wrongdoing were ever brought.